Analysis
Orioles Kick Off Trade Deadline, Add Shintaro Fujinami From A's
Shintaro Fujinami has an 8.57 ERA in his first 34 MLB games, but the Orioles are betting the three-time NPB All-Star can turn things around.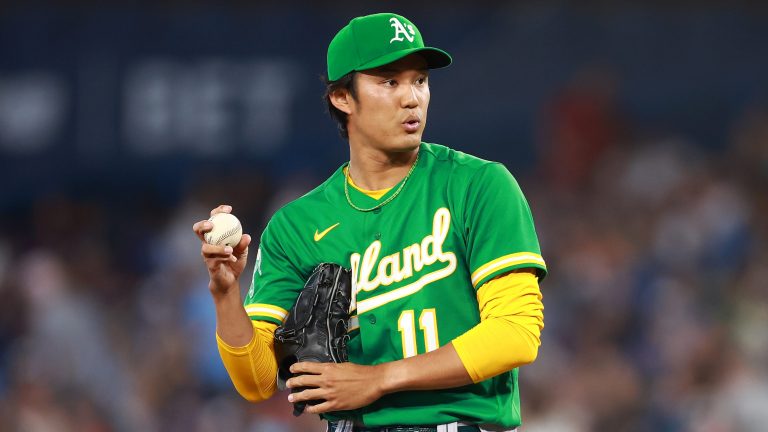 On Wednesday evening, the Baltimore Orioles finalized a deal for right-handed relief pitcher Shintaro Fujinami of the Oakland Athletics. In exchange, the Orioles are sending 26-year-old southpaw Easton Lucas to the A's.
In other words, deadline season is officially upon us.
It's hard to pinpoint what exactly counts as a trade deadline deal. After all, when we say a player was "traded at the deadline," it doesn't actually mean he was dealt as the clock struck six on deadline day.
It's safe to call any trade within 2-3 days of the deadline, or even a week of the deadline, a quote-unquote "deadline deal." It's equally safe to say any transaction before July is decidedly not a deadline deal. But what about everything in the middle? There's no easy answer.
To make things even more confusing, the significance of the trade also makes a difference. If a bench player were traded three weeks before the deadline, I wouldn't call it a deadline deal. Yet I think I would change my tune if a superstar were sold in early July.
Ultimately, trade deadline season is a feeling, not a well-defined time period. If it feels like a deadline deal, it's a deadline deal. And the move the Orioles and Athletics pulled off last night? It feels like a deadline deal to me.
Shintaro Fujinami spent the first ten years of his professional career with the Hanshin Tigers of Nippon Professional Baseball. This past winter, the Tigers posted him to MLB, and Oakland signed the 29-year-old to a one-year, $3.25 million contract.
A starting pitcher in Japan, Fujinami transitioned to a bullpen role after a disastrous debut with the A's. While he has an ugly 8.57 ERA, his numbers look much better with his first four starts removed. Since April 26, he has a 6.03 ERA in 30 games. More importantly, his 3.90 FIP and 4.55 xFIP suggest he's due for some regression in the right direction.
The Orioles have one of the best bullpens in baseball, led by All-Stars Félix Bautista and Yennier Cano. However, they could use more depth (especially right-handed depth) at the back end of the 'pen. Fujinami checks that box. As a converted starter, he can provide his new team with plenty of innings, thereby easing the burden on his fellow relievers.
While the Orioles have announced the trade, they have yet to make it official. First baseman Josh Lester was DFA'd to make room on the 40-man, but Baltimore still needs to free up a spot on the 26-man roster.
The 29-year-old Lester had four hits in 22 at-bats for the Orioles this year. He spent the first seven years of his career in the Detroit Tigers organization, finally earning a call to the show in September 2022. He signed a minor league deal with the Orioles this past winter.
Meanwhile, the Miami Marlins drafted Easton Lucas in 2019 and traded him to Baltimore shortly thereafter. The A's will be his third professional organization. He has been a full-time relief pitcher since 2021.
Lucas was excellent in 11 games at Double-A this season, posting a 1.59 ERA and 2.67 FIP in 17 IP. He even contributed to a combined no-hitter in May.
Unfortunately, he has struggled since his promotion to Triple-A. His 4.26 ERA isn't so bad, but his 7.29 FIP is frightful. He has allowed seven walks and four home runs in 12.2 IP.
At 26 years old, no one would call Lucas a prospect anymore, but the Athletics couldn't have expected more than a lottery ticket in exchange for two and a half months of a middle reliever. For his part, Lucas should have an easier time reaching the majors with the A's, who are expected to part with several more big leaguers before the August 1 deadline.
The Orioles, on the other hand, should be major buyers over the next two weeks as they prepare for an epic battle in the AL East. Deadline season has begun, and the trades will only get more and more exciting over the next twelve days.