Analysis
2023 Free Agent Profile: Christian Vásquez
Catcher Christian Vásquez hits the free agent market after a disappointing second half with the Houston Astros.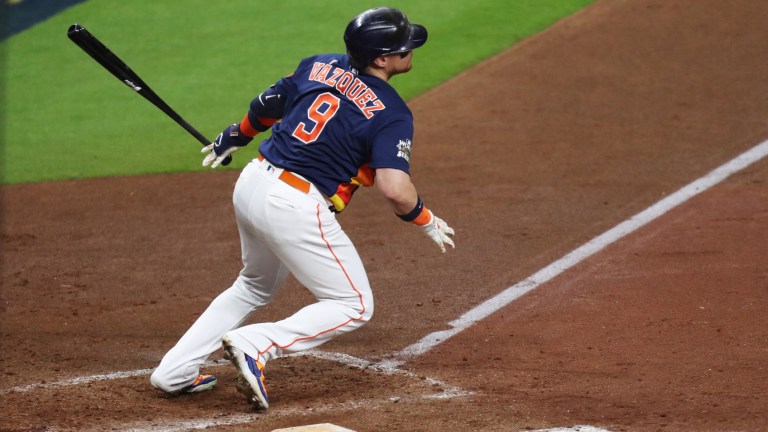 Position: C
Bats/Throws: R/R
Age: August 21st, 1990 (32 years old)
Traditional Stats: .274/.315/.399, 9 HR, 32 XBH, 52 RBI, 41 R, 69 K, 426 PA
Advanced Stats: 16.2 K%, 5.2% BB%, 99 wRC+, .312 wOBA, 1.6 fWAR
Christian Vásquez took the good with the bad in 2022. On one hand, he was dealt to the Houston Astros midseason and won a World Series title. On the other hand, he lost out on a significant amount of playing time after the trade, starting only 23 games at catcher during the final 59 games of the year.
This winter, as Vásquez hits free agency for the first time in his career, he will look to find a team that can offer him the best of both worlds: a starting job and another chance at postseason glory.
Christian Vásquez's Path to Free Agency
Christian Vásquez was drafted by the Red Sox in 2008, just a couple months ahead of his 18th birthday. He excelled as a defender straight away, but his bat took a little more time to blossom. Eventually, however, Vásquez showed just enough promise at the plate to earn a major league call-up in mid-2014.
He had a solid rookie season, showing off his talents behind the dish and hitting just enough to get by. Unfortunately, he was unable to build off that momentum the following year, as he lost the entire season to Tommy John surgery and the subsequent recovery period.
Vásquez returned in good health in 2016, but his bat struggled to keep up with major league pitching. He was eventually demoted to Triple-A, where his offense picked up once again. He looked even better the next season, hitting .290 with a .735 OPS in 99 games with the Red Sox. In 2018, however, he was a disaster at the plate, hitting just .207 with a .540 OPS.
This up-and-down, hot-and-cold pattern has been the story of Vasquez's career. He has the ability to be a great offensive catcher, but he is prone to lengthy, debilitating slumps. And while he is a good fielder behind the plate, he's not so good as to fully compensate for his cold streaks. When he's hitting, he's an above-average backstop. When he's not, well… he's not.
The 2022 season was more of the same for Christian Vásquez. He got off to a terrific start in Boston, hitting .282 with a .759 OPS and 110 OPS+. He was one of the better hitting catchers in the league. After a midseason trade to Houston, however, his bat seemingly disappeared, specifically his power and plate discipline. He still hit for a .250 average, but his on-base percentage dropped by 49 points and his slugging percentage dropped by 124. According to FanGraphs, he was worth -0.1 WAR during his time with the Astros.
Nevertheless, he heads into free agency as one of the best catching options available. Willson Contreras is the crown jewel of the catching market, but after him, Vásquez looks like the best option out there. He should draw interest from plenty of teams.
Christian Vásquez Contract Projection
As a 32-year-old catcher, who struggled in the back half of the season, Vásquez will probably have to settle for a one-year deal, especially if he wants to be guaranteed a starting job. His best bet will be to find a team looking for a veteran backstop to fill the gap before their top catching prospect is ready for the show.
A good comparison is Jason Castro, who signed a one-year deal for $6.75 million with the Angels ahead of the 2020 season. He was 33 years old and coming off a similar season to Vásquez's 2022. Expect Vásquez to sign for $6 to $8 million on a one-year pact.
Top Five Landing Spots for Christian Vásquez
After a midseason trade to the Astros, Vásquez lost out on a lot of playing time. He will, presumably, be looking for a new team that can offer him a full-time catching position.
St. Louis Cardinals
The Cardinals haven't had to worry about the catching position for nearly 20 years, but with Yadier Molina retiring, they'll finally need to think about his replacement. Iván Herrera should take over the job eventually, but he might not be ready quite yet. That's where Christian Vásquez comes in.
He might have to step aside if Herrera proves himself ready for a bigger role, but that's a risk Vásquez would have to be willing to take with most of the contending clubs looking for a catcher this winter.
Pittsburgh Pirates
The Pirates have no shortage of promising young catchers in their system, but they need someone to bridge the gap before Henry Davis or Endy Rodriguez is ready to take the job full-time. With Roberto Pérez hitting free agency, Vásquez could take over catching duties for a year in Pittsburgh.
Boston Red Sox
Christian Vásquez spent the first several years of his career with the Red Sox, and he might already be gearing up for a return. Boston needs a catcher next season, and Vásquez makes as much sense as anyone else.
Minnesota Twins
Gary Sanchez had a decent year for the Twins, but it seems unlikely he'll return to Minnesota in 2023. The Twins already have their catcher of the future in Ryan Jeffers, but they might like to have a veteran catcher in place for a year while Jeffers settle in.
Cleveland Guardians
Austin Hedges, Cleveland's primary catcher in 2022, is a free agent. Bo Naylor, their top catching prospect, might not be quite ready for a big league job behind the dish. Vásquez is a good fit as a one-year stopgap before Naylor is ready to take over.
Final Prediction for Christian Vásquez
Christian Vásquez signs a one-year, $8 million contract with the St. Louis Cardinals.
The Cardinals should be able to offer Vásquez ample playing time and a strong shot at the postseason. In return, his strong pitch-framing and game-calling skills should help smooth over the loss of Yadier Molina.