Analysis
Top 10 Most Underrated 2023 MLB Free Agents
Sometimes it's the free agents that fly under the radar who prove to be the most valuable. Here are some of the best from this year's class.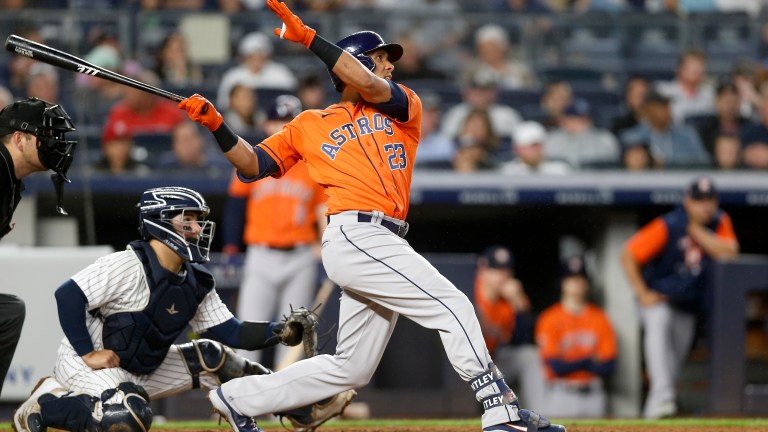 When the free agent window opens, it is natural to look straight at the top of the board and dream about what it would be like for an Aaron Judge to enter the middle of your favorite team's lineup. Or imagine now reigning AL Cy Young Justin Verlander taking the mound on Opening Day.
We have spent plenty of time focusing on the top of the free agent class over the last few weeks, profiling each of our top 20 free agents and ranking our top 50. Today though, we wanted to take a look at some of the more underrated players on the market. Veteran guys who can still fill big roles, without requiring long-term commitments or hefty salaries.
Last year, the New York Yankees signed Anthony Rizzo to a two-year, $32 million contract. He went on to hit 32 home runs and drive in 75. After he opted out of the second year of that deal, the Yankees wasted no time this offseason signing him to another, keeping last year's underrated addition in pinstripes.
Zack Greinke signed a one-year, $13 million deal to return to Kansas City last offseason. Considering his veteran impact on a young staff, as well as the 26 starts he made while pitching to a 3.68 ERA, you can say that was money well spent.
This year, there are plenty of underrated free agents hitting the market that could be real difference-makers. Whether it be aiding a rebuild or putting a playoff contender over the top. Here are our top 10 most underrated free agents from the 2022-2023 class.
Solid Veteran Bats
Michael Brantley
Position: OF/DH
Bats/Throws: L/L
Age: May 15th, 1987 (35 years old)
2022 Traditional Stats: 64 G, .288/.370/.416, 5 HR, 20 XBH, 26 RBI, 28 R, 277 PA
2022: Advanced Stats: 11.2% BB%, 10.8% K%, 127 wRC+, .345 wOBA, 1.2 fWAR
You would be hard-pressed to find a hitter who has been more consistently productive than Michael Brantley over the last five seasons. The five-time All-Star has posted a wRC+ over 120 in each of those seasons, with an on-base percentage over .360.
While injuries were an issue in 2022, limiting him to just 64 games played, Brantley had been largely healthy prior to that, playing over 120 games in each of the last three full 162-game seasons. On a short-term deal, teams could do a lot worse than landing Brantley to man a corner spot in the outfield, or even be their primary DH.
Christian Vazquez
Position: C
Bats/Throws: R/R
Age: August 21st, 1990 (32 years old)
2022 Traditional Stats: 119 G, .274/.315/.399, 9 HR, 32 XBH, 52 RBI, 41 R, 426 PA
2022: Advanced Stats: 5.2% BB%, 16.2% K%, 99 wRC+, .312 wOBA, 1.6 fWAR
Christian Vazquez was one of the impending free agents who's value was most hurt by being traded for at the deadline. He went from being an everyday fixture with the Boston Red Sox, to playing sporadically with the Astros, where he did not perform well and only got 17 postseason at-bats.
Still, he got to catch a combined no-hitter in the World Series and earned a ring, so it's not all bad for Vazquez.
Now he hits the market trying to get paid for the 110 wRC+ he posted in Boston, rather than the 67 wRC+ mark he had in Houston. Teams can still count on Vazquez to be an above-average starting backstop, giving him great value at a position that does not have much depth.
Elvis Andrus
Position: SS/UTL
Bats/Throws: R/R
Age: August 26th, 1988 (34 years old)
2022 Traditional Stats: 149 G, .249/.303/.404, 17 HR, 49 XBH, 58 RBI, 66 R, 577 PA
2022: Advanced Stats: 6.8% BB%, 15.9% K%, 105 wRC+, .310 wOBA, 3.5 fWAR
Elvis Andrus might not be the sexiest of names, but he was still mentioned in our top five free agent shortstop rankings for a reason. Despite being 34 years old, Andrus showed that there is still plenty left in the tank for him to be a starting shortstop in 2023.
In 43 games spent with the Chicago White Sox down the stretch, Andrus hit .271/.309/.464, with nine home runs. Combine that with the eight he hit in Oakland and Andrus is coming off a 17 home run season. Pair that with the 18 bags he swiped, along with quality defense at shortstop, and you have a really productive player.
Mitch Haniger
Position: OF/DH
Bats/Throws: R/R
Age: December 23rd, 1990 (Will be 32 years old)
2022 Traditional Stats: 57 G, .246/.308/.429, 11 HR, 19 XBH, 34 RBI, 31 R, 247 PA
2022: Advanced Stats: 8.1% BB%, 26.3% K%, 113 wRC+, .319 wOBA, 0.8 fWAR
When Haniger is on the field, he rakes. After launching 39 homers and driving in 100 in 2021, Haniger was on pace to do the same in 2022, but ankle and back issues limited him to just 57 games. Haniger consistently saw a lot of time in the outfield as a Mariner, even playing some centerfield in 2019.
His value is of course with the bat and his next team may try to keep him healthy by splitting his time between DH and right field rather than predominantly playing the outfield. There are few players in Haniger's presumed price range that are capable of producing close to 40 homers. If he can stay healthy, he could be a cheap middle-of-the-order masher.
Brandon Belt
Position: 1B/DH
Bats/Throws: L/L
Age: April 20th, 1988 (34 years old)
2021 Stats: 97 G, .274/.378/.597, 29 HR, 59 RBI, 381 PA, 157 wRC+, 3.4 fWAR
2022: Stats: 78 G, .213/.326/.350, 8 HR, 23 RBI, 247 PA, 96 wRC+, 0.0 fWAR
Much like Haniger, injuries have continuously hampered Belt over the last couple seasons, most recently struggling through a knee issue in 2022. In the 148 games that Belt was on the field between 2020 and 2021, he was as productive as anyone in baseball. No, seriously.
The first baseman slashed .285/.393/.595 with 38 homers and a 162 wRC+ across that 560 plate appearance span. In just 97 games in 2021, Belt set a career-high for homers with 29 before getting hit with a pitch on his thumb.
Belt had surgery on his knee in September and could be a great bounce back candidate for 2023. Given his power breakout at 33 years old, it would be fair to assume that he has more in the tank for his age 35 season.
Quality Starting Pitchers
Jameson Taillon
Position: SP
Throws: RHP
Age: November 18th, 1991 (31 years old)
2022 Traditional Stats: 32 GS, 177.1 IP, 3.91 ERA, 151 K, 1.13 WHIP, 2.3 fWAR
2022 Advanced Stats: 20.7% K%, 4.4% BB%, 3.94 FIP, 4.20 xERA, 3.79 xFIP, 1.32 HR/9
There were exactly 35 pitchers in Major League Baseball who eclipsed 175 innings pitched in 2022. Jameson Taillon was one of those 35, and did so while keeping his ERA under 4.00.
No one will confuse Taillon with being a frontline starter at this stage of his career, but he has proven to be a quality middle-to-back of the rotation arm that can be invaluable eating innings during the regular season. Taillon can still get hit hard at times, but he has mitigated the damage by cutting his walk rate all the way down to under 5% this past season.
Ross Stripling
Position: SP
Throws: RHP
Age: November 23rd, 1989 (Will be 33 years old)
2022 Traditional Stats: 32G, 24 GS, 134.1 IP, 3.01 ERA, 111 K, 1.02 WHIP, 3.1 fWAR
2022 Advanced Stats: 20.7% K%, 3.7% BB%, 3.11 FIP, 3.57 xERA, 3.67 xFIP, 0.80 HR/9
Similar to Taillon, Ross Stripling might not be the arm you sign to start Games 1, 2 or 3 of a playoff series, yet he can still be a huge boost to any starting rotation to get you through the season.
Stripling began the season outside of the rotation in Toronto, before ultimately earning a spot due to the injury of Hyun-jin Ryu and never looked back. Stripling finished the season with a tidy 3.01 ERA, to go along with a low WHIP thanks to a miniscule 3.7% walk rate.
Nathan Eovaldi
Position: SP
Throws: RHP
Age: February 13th, 1990 (Will be 33 years old)
2022 Traditional Stats: 20 GS, 109.1 IP, 3.87 ERA, 103 K, 1.23 WHIP, 1.0 fWAR
2022 Advanced Stats: 22.4% K%, 4.3% BB%, 4.30 FIP, 4.31 xERA, 3.46 xFIP, 1.73 HR/9
When it comes to ceiling, you can dream a little bit higher with Nathan Eovaldi, as he is not far removed from being an All-Star. In 2021, Eovaldi made the first All-Star appearance of his career and even finished fourth in the AL Cy Young voting.
That season, Eovaldi pitched to a 3.75 ERA, with 195 punchouts in 182 1/3 innings pitched. He led the American League with a 2.79 FIP and led all of baseball with a 1.7 BB/9. While walks plagued Eovaldi as recently as 2019, when he posted a walk rate of 11.6%, he has since walked just 4.4% of the batters he has faced over the last three seasons.
Andrew Heaney
Position: SP
Throws: LHP
Age: June 5th, 1991 (31 years old)
2022 Traditional Stats: 16 G, 14 GS, 72.2 IP, 3.10 ERA, 110 K, 1.09 WHIP, 1.1 fWAR
2022 Advanced Stats: 35.5% K%, 6.1% BB%, 3.75 FIP, 3.39 xERA, 2.83 xFIP, 1.73 HR/9
The new-look Andrew Heaney can rack up whiffs with the best of them, but can also give up homers with the worst of them. In 72.2 innings last season, Heaney struck out more than a third of the batters he faced. His 29.4 K-BB% was second among all pitchers who threw at least 70 innings, trailing only Spencer Strider.
He also surrendered a whopping 14 homers in the small sample. With the uptick in stuff, Heaney should surely be a popular target for teams hoping to buy low on a high upside southpaw. If he lands in a pitcher-friendly environment and stays healthy, Heaney could be one of the steals of the offseason.
Drew Rucinski
Position: SP
Throws: RHP
Age: December 30th, 1988 (Will be 34 years old)
KBO Stats (2019-2022): 121 GS, 3.06 ERA, 732.2 IP, 1.19 WHIP, 8.1 K/9, 2.3 BB/9, 0.7 HR/9
2022 Stats: 31 GS, 2.97 ERA, 193.2 IP, 1.13 WHIP, 9.0 K/9, 1.6 BB/9, 0.7 HR/9
A former MLB journeyman, Rucinski appeared in the big leagues for parts of four different seasons before heading out to the Korean Baseball Organization in 2019. Over the last four seasons Rucinski has been one of the best arms in the KBO, while his stuff has continued to get better as he has piled up innings.
Rucinski sits 92-94 mph with his fastball, touching 96 while improving both his cutter and curveball. With impressive command and more than 730 innings under his belt over the last four seasons, Rucinski good be a nice back-of-the-rotation innings eater for a big league team.
In fact, because he played in the KBO in 2020 and they played a full season, Rucinski has thrown more innings over the last four seasons than any pitcher in Major League Baseball.