Analysis
Chris Young Masterclass: How the Rangers Became a Contender
The Texas Rangers are one of the favorites to come out of the American League this season, with a chance to shock the world and win it all.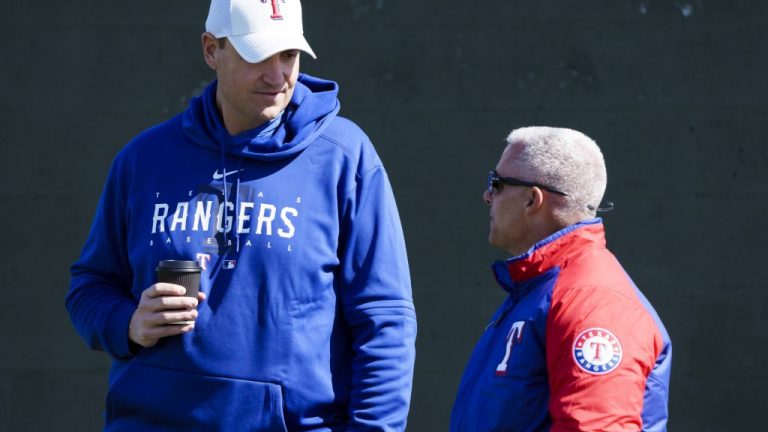 The Texas Rangers have been a revelation this year, putting it altogether to become one of the best teams in the American League and a clear World Series contender. When people look at the success the Rangers have had, a big credit is given to their aggressive approach in free agency, signing top tier talent in each of the last two winters, including Marcus Semien, Corey Seager and Jacob deGrom.
Their smaller acquisitions like the signings of Jon Gray and Nathan Eovaldi, amongst other moves, have panned out brilliantly as well. Combine their free agent efforts, with a budding young core of former top prospects and you got a really great ball club.
Ranger GM Chris Young has impacted this ball club at every step. He has acquired top talent, traded for the right guys, and raised a top-tier farm system. He has been the orchestrator making the decisions who has put this team in position to succeed.
Chris Young's Vision for the Texas Rangers
Let's start this by looking at the MLB debut of a young Princeton pitcher on August 24th, 2004. It was a tough first four years for this rising pitcher, he had been traded around, and this was his third professional team to represent, and it wasn't the best start.
After pitching 5 2/3 innings, he left the game with no run support. I like to think that this 25-year-old kid didn't believe his effort was enough that day. After he was lifted, he knew that he was likely in line for his first professional loss, but after seeing an eventual 5-4 walk-off win, Texas came through for a young Chris Young. And Chris knew he would build something great here.
Fast forward 16 years to December 4th, 2020. Baseball just finished one of its weirdest seasons, and the Texas Rangers needed something new. Jon Daniels had previously been the General Manager of the Rangers organization for 15 years, and the organization needed a fresh perspective.
The Rangers hadn't made significant postseason waves in almost 10 years, and Daniels was running out of respect in the metroplex. The Rangers needed something new. Welcome the General Manager, Chris Young, to the plate. This 6'10" former Rangers pitcher was coming to town.

The role of a general manager in baseball is critical to a team's success, and Chris Young has emerged as a rising star in this field. As the current GM of the Texas Rangers, Young has showcased his Ivy League mind, leadership skills, and deep understanding of the game to help revitalize the franchise.
Before taking the position as GM of the Texas Rangers, Young enjoyed a successful playing career spanning 13 seasons in MLB. Young was a tall, skinny, skilled pitcher who earned an All-Star appearance and a World Series championship.
After retiring from the field, Young transitioned to a front-office role, working for Major League Baseball as Vice President of On-Field Operations behind the great Joe Torre. This experience allowed him to gain valuable insights into the League's inner workings and further hone his game knowledge.
Upon joining the Rangers organization as the GM in December 2020, Young wasted no time implementing changes to restructure the team's front office. He believed in creating a collaborative and data-driven approach to decision-making, utilizing advanced analytics and incorporating technological advancements to enhance player development, scouting, and overall team performance.
Under Young's leadership, the Rangers have strengthened their analytics department and hired top-tier talent to optimize their decision-making processes. This commitment to embracing analytical tools bears testament to Young's strategic vision, as he aims to position the franchise for long-term success.
Young quickly noticed a rut that this Rangers system was stuck in. He knew that player development, especially pitcher development, was something the Rangers had not succeeded in years, if ever. The Rangers have had top talent rise in the rankings of MLB's top 100 prospects on numerous occasions. Still, until recently, their top talent had not materialized into game-changing major league talent.
Recognizing the importance of a robust player development system, Young quickly pushed his chips into building a solid foundation for the Rangers' future success.
He increased investments in the team's minor league system, acknowledging its critical role in nurturing young talent and cultivating a winning culture. And with Young's dedication to player development, he prioritized the acquisition of high-ceiling talent in the draft of 2021 and focused on their development. Young has positioned the Rangers for a promising future. But there was more Chris needed to change on the Major League Diamond.
A crucial aspect of Young's success is creating a positive and winning organizational culture. He understands the significance of nurturing talent while fostering a supportive environment that promotes growth and accountability.
Young has populated the Rangers' front office with experienced executives who share his vision and commitment to excellence. This collaborative approach has brought confidence in the team and gained them internal and external respect throughout the baseball community.
So with this respect being a solid foundation, Chris hoped that in 2022, the team would start to look different.
The winter meetings between the 2021 and 2022 seasons were a new feeling for Rangers fans. Texas was spending money like a winning team. Young had built up the farm system, retooled the executive team and front office, but now we needed to change the product.
And it started with spending half a billion dollars for two of the best players on the market. Corey Seager and Marcus Semien were on their way to Arlington, assuming one of the game's best offensive and arguably defensive middle infields. Texas was starting to buzz.
The building of a new stadium, the emergence of players like Adolis Garcia and Jonah Heim, drafting top talent like Jack Leiter and Josh Jung, and now spending the money to compete in a buyers market was something that started to gain attention and respect of not only the Texas fan base but the league abroad.
After a season of promise but no playoff appearance in '21, we started to hear the grumbles. "How could you not make the playoffs while spending so much money!", "This isn't how we do it down here," etc. But Young was still in his vision. The next domino was about to fall, and Chris Young convinced arguably the best pitcher on the planet to join this budding Rangers core. Jacob deGrom was coming to town.

We started to believe that we were destined for a run in 2024-2026, but what began at the beginning of this '23 season did not stop. The Rangers were genuine contenders again. Even with injuries happening to deGrom and others throughout this season, Texas has genuinely put a team on the field that can win ball games, and today Texas has the most wins in the franchise's history through the 116-game mark.

The most impressive Young move to date was the 2023 trade deadline. Texas Ranger fans of old knew what was going to happen.
The front office could feel their playoff window opening and would leverage every farm asset they have to throw everything at making a run before the team was ready for it.
With Houston, Los Angeles, Seattle, and Oakland all underperforming this year, you could see the writing on the wall. We started to see massive mock trade proposals for a rental of Shohei Ohtani, and our knees began to shake.
Would Young use everything he has built thus far and trade away mega pieces for significant assets at the deadline? Everything we knew so far was yes. But what followed over the deadline was nothing short of a masterclass.
Deadline Was a Masterclass
It was no secret that the Rangers had stables full of top talent and could be big movers at the deadline, but the worst unkept secret was that most of these top prospects were blocked by some of the top talent at the major league level.
Thus the Rangers could afford to move certain guys even if they were way up the team prospect rankings. We were all prepared to watch huge names we had dreamed on come across our Twitter feeds to tell us that we were going to watch them grow up somewhere else.
Trades came in for top talent like Scherzer, Montgomery, and Chapman, but the longer we waited, the best the Rangers had to give up was a rising shortstop (org #5 prospect), Luisangel Acuna. The Young masterclass continued with acquiring big major league help and did it without throwing all of our farm system that he has worked so hard to build away.
According to MLB.com and Fangraphs, the Ranger's farm system is ranked No. 7 in baseball, with some appealing names left in the stables to come up soon. Young created one of the best trade deadlines not only in 2023 but in recent memory without trading guys like Evan Carter, Owen White, Brock Porter, Justin Foscue, Aaron Zavala, Dustin Harris, Sebastian Walcott, Anthony Gutierrez, or the big names of Jack Leiter or Kumar Rocker.
This team is stacked for many years of upcoming top-tier talent. And to make matters even better, their division rivals have questions at the major league levels and are ranked 27th (Hou), 28th (LAA), 24th (Sea), and 22nd (Oak) according to the same MLB.com rankings.
Chris Young's tenure as the General Manager of the Texas Rangers has shown his transformational impact on the franchise. Through his vision, commitment to player development, cultivating a winning culture, and top trade negotiations, he has emerged as one of the best GMs in baseball. With Young at the helm, the future looks bright for the Texas Rangers as they strive for sustained success on the big league field and the farm.