Analysis
Did the Texas Rangers' Offseason Make Them a Playoff Team?
The Texas Rangers went out and spent big for the second-straight offseason. But will it be enough to climb the loaded AL West standings?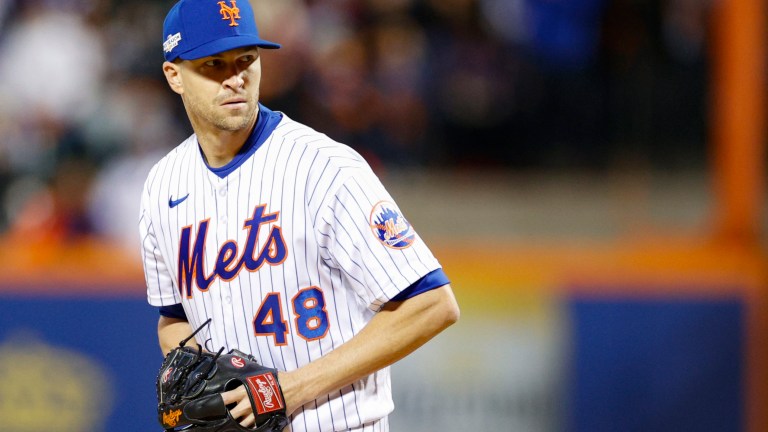 No one team in MLB may have increased its single-season expectations over the course of the offseason as much as the Texas Rangers.
Coming off a huge winter of spending the year prior, the Rangers doubled down this offseason by signing Jacob deGrom, Nathan Eovaldi and Andrew Heaney and adding Jake Oddorizzi via trade.
After winning just 68 games in 2022 and finishing fourth in the AL West, Texas is looking to add its name to the playoff conversation in 2023.
However, even with a bolstered rotation, an offense led by a pair of stars and top prospects set to graduate to the majors, are the Rangers even good enough to grab the third American League Wild Card spot?
How Do They Stack Up in the American League?
There were 11 American League teams that finished with better records than the Rangers a year ago, including three in their division.
Zooming in to the AL West, the Houston Astros, Seattle Mariners and Los Angeles Angels all made moves this offseason with the intention of contending in 2023, which will undoubtedly make Texas' playoff dreams tougher to reach.
It's safe to say that the Rangers aren't in the Astros or Mariners tier as of yet, but passing the Angels and putting themselves amongst the likes of the Baltimore Orioles, Tampa Bay Rays, Chicago White Sox and Minnesota Twins (all the AL teams to win between 78-86 games in 2022) is a reasonable expectation for the organization that hasn't made a playoff appearance since 2016.
Finishing atop this tier of teams may be too much to ask for Texas, who, yes, did make some great adds but ultimately still will be rolling out a roster that consists of a rotation with a few injury concerns, a lineup that has six hitters projected by wRC+ to be around league average and a bullpen that outperformed its peripherals in '22 and still only finished 12th in ERA.
The Rangers' win over/under total is set at 81.5 wins by Fanduel, tied with the Angles and ranked below the Rays, White Sox and Twins, so Texas will have its work cut out to climb into the six-team playoff picture.
How Does Their Offseason Spending Help?
After adding Corey Seager and Marcus Semien to help on the offensive side of the game, GM Chris Young turned his attention to a starting rotation that posted a 4.63 ERA and had the second-highest walk rate in baseball.
The Rangers retained Martin Perez when he accepted the qualifying offer in November and proceeded to add Eovaldi, deGrom and Heaney. The trio brings two former All-Stars and a pitcher who posted a 3.10 ERA in 72.2 innings last season to a 2022 rotation that constantly ran out Dane Dunning, Glenn Otto and Taylor Hearn — each of whom finished with ERAs north of 4.40.
So even with the injury risk that all three new arms bring to Texas, the Rangers now have a rotation that runs five deep when you add Jon Gray to the mix and has depth options of experienced starters in Odorizzi, non-roster invitee Danny Duffy and the handful of players that started for the team in '22.
According to Steamer's projections, the Rangers' rotation added over 450 innings of sub-4.00 ERA baseball for 2023, which should result in around a top-10 starting group.
With Semien and Seager settled in Texas, both are projected for much-improved seasons. While it may be betting on a lot of things to go right, if you get star seasons from those two, combined with a healthy season from the rotation, a Rangers playoff appearance starts to become more believable.
Where Might Reinforcements Come From?
Another bet that the Rangers may be making in 2023 is on their farm system.
With Josh Jung set to take over the starting third base job full-time, he may represent the beginning of Texas' long-term plans.
By adding premier free agents to a burgeoning group of prospects that includes the likes of Evan Carter, Owen White, Luisangel Acuna and Jack Leiter, the Rangers could be building something that follows the playbook of the San Diego Padres — adding talent as your young core starts to debut.
Carter and White could make their way onto the big league club in '23 if they start off well in the minors and provide a boost down the stretch, but it is more likely that we'll see them — along with a few other Rangers prospects — in 2024.
Texas may look to go out and add externally to shore up its outfield group, which currently consists of Adolis Garcia, Leody Tavares and Josh H. Smith.
The Rangers have been connected to free agent Jurickson Profar and Pittsburgh Pirates center fielder Bryan Reynolds. However, both reportedly come with high price tags, and Texas may not be willing to match Profar's price or deal the prospects required to land Reynolds.
Even without another splashy addition this offseason, the Rangers seem well on their way to ending their playoff drought — in the next couple of seasons — thanks to the foundation they've laid the past two winters.