Analysis
Francisco Lindor is the Best Investment Steve Cohen Has Made
Now three years into the Steve Cohen era as the New York Mets owner, the first big splash they made is still their best move up to this date.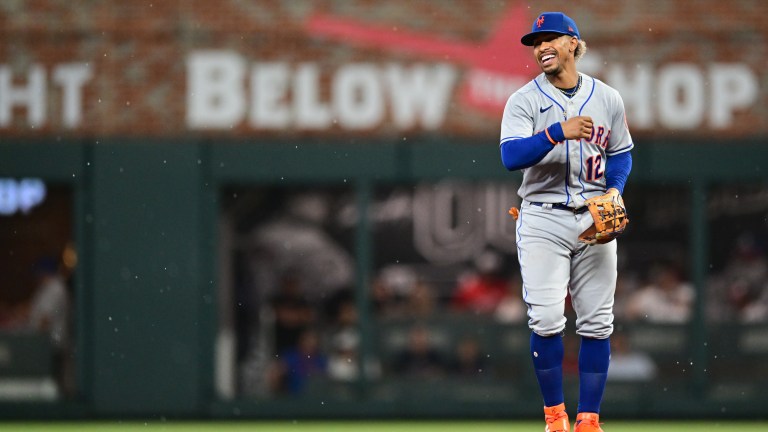 When we ranked the top 10 shortstops in baseball prior to this season, Francisco Lindor headlined our list as the best shortstop in the game. The 29-year-old was coming off a near seven-win season in 2022, helping lead the Mets to a 101-win season.
This year, the Mets have fallen off entirely from being a top tier contender, but that has not been due to the play of their $341 million shortstop.
With a little over a month left in the season, it is Lindor who is once again leading all MLB shortstops in Fangraphs' Wins Above Replacement. In fact, Lindor is ranked fifth among all position players in baseball with his 5.1 fWAR.
At a time where we have seen many of the big-money shortstops in the game struggle (Trea Turner, Carlos Correa and Xander Bogaerts), Lindor has remained a model of consistency. He has proven to be worth every penny of the deal he signed with the Mets and has really become the best move this franchise has made in the Steve Cohen era.
Best Shortstop in MLB (not named Corey Seager)
Now there is one giant caveat to the conversation about Francisco Lindor being the best shortstop in baseball. If provided health, that title would belong to Corey Seager.
Seager has been nearly as valuable as Francisco Lindor this year with his 4.9 fWAR, while playing over 40 less games. Considering the numbers he is putting up, Seager might be the best overall player in baseball if he can stay healthy, much-less the best shortstop.
Through 82 games played, Seager is hitting .341/.409/.652, with a 186 wRC+. He has hit the same amount of home runs as Lindor with 23, and has only driven in four less runs (74 RBI). Still, playing games matters and durability has been the key separator between Lindor and Seager in their careers.
Seager and Lindor each made their MLB debut back in 2015, albeit with Lindor making his a bit sooner in that season. Across their nine years in the big leagues, Lindor has led all shortstops in both fWAR (47.1) and home runs (206). Seager trails behind in both categories, posting a career fWAR of 31.2 and 160 home runs.
Had Seager played in as many games as Lindor, he likely would top him in each category. Instead, Lindor has played over 300 more games than Seager across their careers and has been able to post the better numbers because of it up to this point.
Seager is still 25 hits away from his 1,000 career knock. Lindor accomplished that feat at the end of the 2021 season. Seager could go on to have the better career, and has every right to be called the best shortstop in the game based on his otherworldly performance this season.
However, if you had to ask who is the safer bet to perform over the course of their respective $300+ million contracts though, the answer is still Lindor.
Red-Hot Stretch For Lindor
Now focusing back in on just Lindor, the Mets shortstop did not get off to the best of starts this season. Through his first 60 games played, Lindor hit .213/.284/.404, with a 91 wRC+.
Lindor was still hitting his home runs, reaching double digits with 10 and had driven in 40 runs, but the overall production was much-less than what we have grown accustomed to for the four-time All-Star. Then, beginning on June 6th, everything clicked for Lindor.
Over his past 64 games played, Lindor is hitting .295/.385/.534, with a 154 wRC+. After striking out 23.4% of the time to start the year, Lindor has cut that rate to just 18.4% and has improved his walk rated from 7.3% up to 11.7%.
Put it altogether and Lindor is hitting .254/.335/.469 on the season, with a 123 wRC+. Comparing his numbers to last season, Lindor has improved his OPS from .788 in 2022 to .804 this season. With 23 home runs and 21 stolen bases, Lindor has a chance to post a 30-30 season with a strong finish.
Lindor is second among MLB shortstops in home runs and RBIs, trailing Bobby Witt Jr. by two in both departments. He also leads all shortstops in runs scored (81) and fWAR (5.1), while ranking sixth in both stolen bases and wRC+.
In a game where every player is graded (and eventually paid) based on how many wins they can bring their ballclub. Let's really take a look at the last two year's of Francisco Lindor to ask ourselves in the Mets shortstop deserved to be paid the most at his position.
Lindor is Living up to the Contract
Let's rewind three years, when Francisco Lindor was first traded to the New York Mets prior to the 2021 season. It was less than two months since the ink dried on new owner Steve Cohen's purchase of team when they decided to make the move to trade for Lindor.
The recently-turned 27-year-old was one year away from free agency when the Mets made the trade, and it was immediately assumed that a long-term extension would follow the trade. The price tag was set at $341 million, exactly $1 million more than what Fernando Tatis Jr. had just signed in an extension with the Padres.
Cohen agreed and completed his first big money nine-figure purchase as the owner of the Mets.
Looking at the deals given to future Hall of Famers Max Scherzer and Justin Verlander, the Mets were paying for a short window to try to win it all now. In Lindor, the Mets invested in their future.
A team that has not had a quality shortstop since the early days of Jose Reyes, the Mets were keen on giving Lindor the keys to their shortstop position for the next decade and were willing to pay top dollar to do it. Nearly three years later, Lindor's average annual value of $34.1 million is still the most made by any shortstop in the game.
Carlos Correa grabbed that title briefly on a short-term deal in 2022, but re-signed for less this past offseason when he got six-year, $200 million contract that pays him $33.3 million per season. Seager rounds out the list of $30 million shortstops right now at $32.5 million per season.
At a time where a player's value hinges on the numbers so greatly, Lindor continues to show value where it matters most. In adding wins to his ball club.
Nowadays, we can attach a monetary value to what every win is worth in the game, with Wins Above Replacement being the end-all-be-all stat to measure how good each player is. The fWAR leaderboard is often how we rank players and Lindor consistently finds himself atop the shortstop rankings.
Over the past two seasons, Lindor is leading MLB shortstops by a wide margin when it comes to fWAR. His 11.9 fWAR is far better than Dansby Swanson (10.4), Corey Seager (9.4), Xander Bogaerts (8.7) and Trea Turner (8.2), who round out the top five.
Lindor has also led shortstops in runs scored (179) and runs driven in (185), while being in the top-five in home runs (49) and wRC+ (125). More importantly, he has played 285 games, the most among all shortstops, only missing three games in the past two seasons.
Combine the steady offensive production with his durability and that alone would make Lindor one of the best shortstops in baseball. When you add in the work he does with the glove, it only further cements his standing as the game's best all-around shortstop.
Across the last three seasons, Francisco Lindor leads all MLB defenders with 44 Outs Above Average. He is currently ranked in the 98th percentile, with 11 OAA. Since OAA was first tracked back in 2016, Lindor is pacing the league in the metric with 125 OAA. Nolan Arenado comes second with 95 OAA.
One can quibble about if Lindor is the best shortstop in baseball over any given season. Fernando Tatis Jr., Carlos Correa, Trea Turner and now Corey Seager have all been regarded as the best shortstop in baseball at one point or another over the past few years. Yet when you zoom out and look at who is consistently excellent at the position, one name will always top the list. Lindor.
The Best Investment Steve Cohen Has Made
If the New York Mets never traded for Francisco Lindor, Steve Cohen would have had ample of other opportunities to sign a franchise shortstop over the last few years. Whether it be Corey Seager, Carlos Correa, Javier Baez or Trevor Story two winters ago, or Trea Turner, Xander Bogaerts, Dansby Swanson or Correa again this past offseason.
All of those shortstops received nine-figure deals when they hit the open market, meanwhile Lindor got the best deal out of all of them by never getting there and signing his extension with the Mets.
Cohen paid Lindor a premium on that extension to ensure that he wouldn't test free agency. If he had coming off his 2021 season, who knows what he would have commanded. Still, when we look back at it now, you would hard-pressed to take any of those other contracts over Lindor's.
| | | | |
| --- | --- | --- | --- |
| Shortstop (Age) | Total Contract | AAV | Years Left Beyond 2023 |
| Francisco Lindor (29 years old) | $341 million | $34.1M | 2024-2031 (8) |
| Corey Seager (29 years old) | $325 million | $32.5M | 2024-2031 (8) |
| Trea Turner (30 years old) | $300 million | $27.27M | 2024-2033 (10) |
| Xander Bogaerts (30 years old) | $280 million | $25.45M | 2024-2033 (10) |
| Carlos Correa (28 years old) | $200 million | $33.33M | 2024-2028 (5) |
| Dansby Swanson (29 years old) | $177 million | $25.29M | 2024-2029 (6) |
Lindor and Seager are still the best comps for each other looking ahead to future value, and that is why they are rightfully being paid the most. If Seager is healthy, maybe he proves to be better, but Lindor has to be considered the safer investment at this stage.
Turner and Bogaerts are getting paid less money on an average annual basis, but they are under contract for two additional years while being older than Lindor as well. Turner will be 40 years old when he completes his current contract, Bogaerts will be 41. Lindor will be 37 years old when he finishes his 10-year pact with the Mets.
Steve Cohen paid Lindor to be the best shortstop in baseball and so far he has lived up to that billing. Moving forward, Lindor will continue to be the cornerstone everything is build around for the New York Mets. It's now up to Cohen and his front office to make more sound investments in the future to build a true World Series contender around Lindor while he is still in his prime.