Analysis
Can the Seattle Mariners Pull Off A Trade For Yandy Diaz?
The Seattle Mariners need to add a big bat this offseason and they should look no further than Yandy Diaz of the Tampa Bay Rays.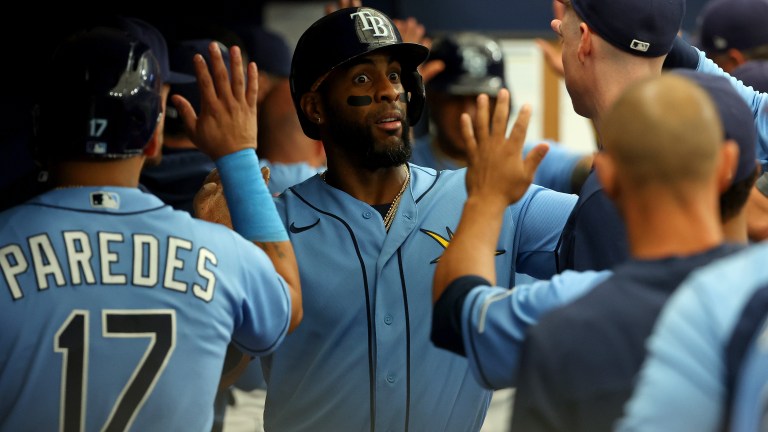 You know the narrative by now.
The free agent class is stacked with household names, but not on the offensive side of the ball (sans some guy named Ohtani).
And for the Mariners that doesn't bode well. They are a club that is on the brink of going from good to great with the addition of a couple significant bats. But their free agent options are limited, not to mention inking deals with bats on the market has not been Jerry Dipoto's strong suit (his largest free agent signing of an offensive player during his time in Seattle was a one-year, $7 million deal for AJ Pollock last winter).
That leaves the trade route, also known as Dipoto's expertise. The guy has made 155 trades in his eight seasons with the Mariners (yes, you read that right). And his number one partner? The Tampa Bay Rays, who he has made 14 of his exchanges with.
There are off-season rumblings about All-Star first baseman Yandy Diaz being on the trade block. And sure, maybe they are nothing more than your typical run-of-the-mill hot stove rumors.
But what if they are more than that? What if the Rays really are open to trading one of the best hitters in the sport who has two years of team control, along with a club option on his contract?
Could Seattle really pull off its heftiest trade yet with Tampa?
If they are serious about making difference-making upgrades to their offense, they shouldn't hesitate to do it.
Diaz isn't just an All-Star hitter, he is an elite hitter. The Rays first baseman finished top five in baseball in WRC+ in 2023 (164), only ranking behind the four players that will finish top two in MVP voting within each of their respective leagues: Shohei Ohtani, Ronald Acuna, Corey Seager and Mookie Betts.
There is not a single pitch that Diaz truly struggled with over the past season. He slugged a jaw-dropping .884 against curveballs. He hit .327 against sweepers. He held a .344 average against fastballs. And the Mariners certainly had their shares of fits with breaking balls in 2023.
While he does not possess light tower power, corralling a career-high of 22 home runs this past season, he does feature the ability to spray the gaps at will, collecting 30+ doubles each of the last two seasons. And he hits the ball extremely hard (by Average Exit Velocity and HardHit% per Baseball Savant).
His 2022 was not quite at the level of 2023, but still very much in the elite category. He finished eighth in the league with a 142 WRC+ that year rather than fifth. He hit nine home runs instead of 22, therefore his slugging percentage being a bit lower. Yet he still had nearly a four-win season.
The constant through everything with Diaz? His ability to get on-base, something the Mariners have said they are openly looking for this off-season: someone who is a contact hitter, reaches base and helps the team cut down on their strikeouts. He does exactly that.
Diaz has reached base at a 40% clip or higher in three of the last four years. He has a career walk rate above 12% and a strikeout rate below 15%. He controls the strike zone extremely well, he doesn't chase and is not prone to swing and miss.
Diaz is pretty close to a complete offensive player. Were he a free agent, he would rank ahead of every hitter outside of Ohtani. The difference with Diaz? He is owed $8 million in 2024, $10 million in 2025, and $12 million if his club option is picked up in 2026. What a bargain.
Players like this are not often available. All the more reason the Mariners should jump on the opportunity to execute a trade if the Rays really are willing.
It will not come cheap for Seattle. The Rays are in dire need of controllable starting pitching with all of their injuries, paired with Tyler Glasnow set to hit free agency at the end of 2024.
Logan Gilbert will more than likely be off the table, which leaves Bryce Miller and Bryan Woo. Each of the latter two hold six years of club control to their name and would both be very appealing to the Rays. But it will cost more than that.
Of the two, Tampa would likely be more interested in Woo, who appears to have the higher ceiling. But prospects would be involved in the deal from Seattle's side too.
Whether that would be players from the top such as Harry Ford or Cole Young or pieces that are a little further down their pipeline, it would certainly not be a one for one swap to acquire Diaz, as valuable as young starting pitching is.
A package we put together for Diaz on the Marine Layer Podcast was the following: Woo, Gabriel Gonzalez (Mariners No. 3 prospect per Just Baseball) and Jonny Farmelo, who was the 29th overall pick in the 2023 MLB Draft.
That would be a big league starting pitcher with big time stuff and top-of-the-rotation upside in Woo and two outfield lottery tickets with fairly high ceilings in Gonzalez and Farmelo.
There has been thought of the Mariners pursuing the path of signing a free agent starting pitcher in order to help offset the potential trade of young arms to reel back the bat they are searching for.
For example, Blake Snell reportedly has the Mariners at the top of his pecking order for teams he is looking to play for. Snell is a Seattle native who grew up a massive Seattle sports fan and seemingly would love to return home and play for his boyhood team.
Dipoto has not oft been a risk taker. The trade he pulled off for Luis Castillo was very much out of his comfort zone in terms of the prospect haul he was tasked with surrendering to acquire the team's now ace. But it was a more than necessary move.
A trade for Diaz is no exception. The Mariners need him. He is the exact type of hitter that they are searching for, and he fills a position of need. Seattle did not get the production they were searching for at the plate from their corner infield spots over the course of 2023. Diaz can play both corner infield spots as well as DH when needed.
The Mariners have to be comfortable getting uncomfortable this winter to acquire the offense they need, whether it be money shelled out or young talent shipped away. A trade for Diaz would fit into that category. But if they pull it off, and pair two of the game's best bats at the top of their lineup in Diaz and Julio Rodriguez, the Mariners become a whole lot more fearsome.