Analysis
The Mariners Are Reportedly Out of the Shohei Ohtani Sweepstakes… Already?
Late last week, it was reported that industry sources do not believe the Seattle Mariners will pursue Shohei Ohtani.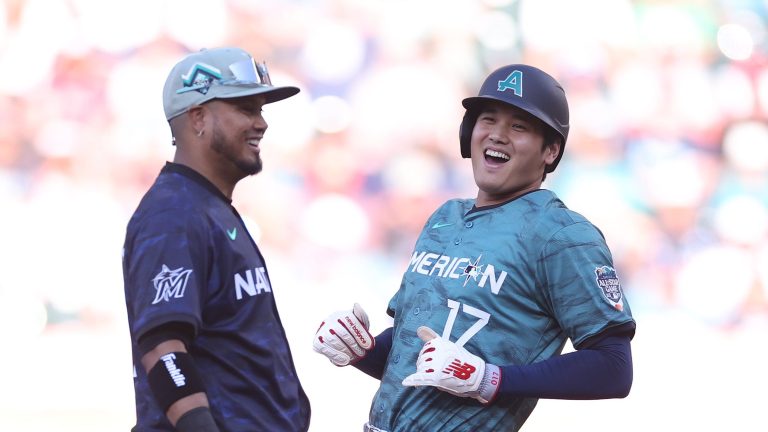 If there was hope that the Mariners would change things up with their offseason approach and willingness to spend top dollar due to the game's best player, Shohei Ohtani, hitting the open market, things are not off to a hot start.
In fact, it's the complete opposite.
Last week, it was reported that industry sources believe Ohtani to Seattle is not going to happen. ESPN's Jeff Passan stated that "the notion that Seattle will pay top dollar for Ohtani is simply not real at the moment." Then, a couple of days later, MLB.com published a similar story:
While a lot of teams are involved, the Mariners were very much expected to take part in the Ohtani sweepstakes. Due to their West Coast location, long history of Japanese players in the organization (none more prominent than Ichiro Suzuki), recent run of success (having won 90 games, 90 games and 88 games, respectively, from 2021-2023), and money to spend (their payroll ranks 18th in the league), they seem like a club that has every reason to aggressively pursue the two-way superstar.
Not to mention, the Mariners were labeled as the runners-up in the Ohtani sweepstakes back in 2017. The city greeted him with thunderous "come to Seattle" chants during this past year's All-Star Game, and the M's have not spent big over the last two offseasons, leading some to wonder if the franchise was putting funds aside to gear up for this very moment and take their best swing at Ohtani.
But less than two weeks into free agency, word has it they are not even going to try.
There is still the possibility that this is merely speculation from said industry sources. After all, the Mariners almost never let rumors leak out about free agent signings or trades, opting to keep information close to the vest. When they make a move, there are seldom social media breadcrumbs from reporters. The news just suddenly drops, usually via a Passan bomb.
Given how invested Jerry Dipoto and crew were the first time around with Ohtani, it is hard to imagine the adoration has evaporated, given the incredible MLB resume he has pieced together over the last six years. To be fair, the price was vastly different six years ago; Ohtani could only be signed with international slot money. Still, it's possible the Mariners are still in the hunt and have led others outside their own building to believe otherwise.
But that could also very well be wishful thinking.
In the Dipoto era, the veteran executive has only landed one major free agent, inking Robbie Ray to a five-year, $115 million deal shortly after he won the 2021 AL Cy Young Award. Sure, he gave Julio Rodríguez a massive extension, and he traded for and extended Luis Castillo. But signing free agents has not been his forte – especially free agent hitters. 
The one-year, $7 million contract handed to AJ Pollock before 2023 was the largest free agent contract Dipoto has secured with a position player, surpassing the one-year, $5.5 million deal Nori Aoki was on during Dipoto's first season at the helm in 2016.
Now, Dipoto is not working for Steve Cohen. He has been given a payroll budget by team owner John Stanton. The exact number has never been made public, but it has clearly been a factor as to why the team ranks in the bottom half of the league in payroll. That being said, the Mariners have continuously stated that when the time is right, the team will not hesitate to spend the necessary resources to compete for a World Series.
But they determined the time wasn't right before 2022, opting not to sign free agents such as Marcus Semien, Kris Bryant and Trevor Story. They opted not to shell out the coin on the shortstop market before the 2023 season, with Trea Turner, Carlos Correa, Xander Bogaerts and Dansby Swanson all available. And now, to kick off the current offseason, they appear to feel the best player on the planet is not worth the money either.
This has left a lot of fans asking themselves the same question: Will actions truly speak louder than words?
Ultimately, the reason people are pondering this more than ever is less about Ohtani specifically (though signing him would drastically change fans' perception of the team's willingness to spend) and more about the overarching picture. The question is simple: Will the Mariners ever truly commit big dollars to build a championship roster?
Or are they content with running out something close to the team they possess right now on a year-to-year basis? That would mean crossing their fingers and hoping to get lucky every so often with an elongated postseason run, such as the Diamondbacks did this past year.
To be clear, the Mariners by no means have to be the Rangers, Mets or Padres. But to get well above the No. 18 payroll spot and up into the top ten, similar to how the Braves and Astros did once their core was in place, is within the ballpark of the aforementioned question.
Maybe Seattle plans to distribute funds between several other important players this winter and fill multiple spots of need. They could use one to two outfield bats, a DH and potentially a corner infielder. The issue is there is a very scarce number of impactful offensive stalwarts in free agency, and none will hold a candle to the value Ohtani will bring to his new club.
In the end, the offseason could still go a number of ways. Maybe the Mariners will sign some intriguing hitters. Maybe they will ink a top-end starting pitcher, like Blake Snell (who reportedly has his hometown Mariners as his top choice), and trade from their stable of young arms to get the needle-moving bat they need. And for all we know, maybe they really are planning their run at Ohtani internally. 
But after a disappointing end to 2023, players publicly uttering their frustration with the team being unwilling to spend money, and talks of "54%" and "doing fans a favor" in terms of asking them to be patient, the latest reports of Ohtani and the Mariners certainly don't feel like much of the latter.