Analysis
Who Should Start the All-Star Game at Third Base?
There are only two finalists in each league, but still some big names left. Here's who should start the All-Star Game at the hot corner.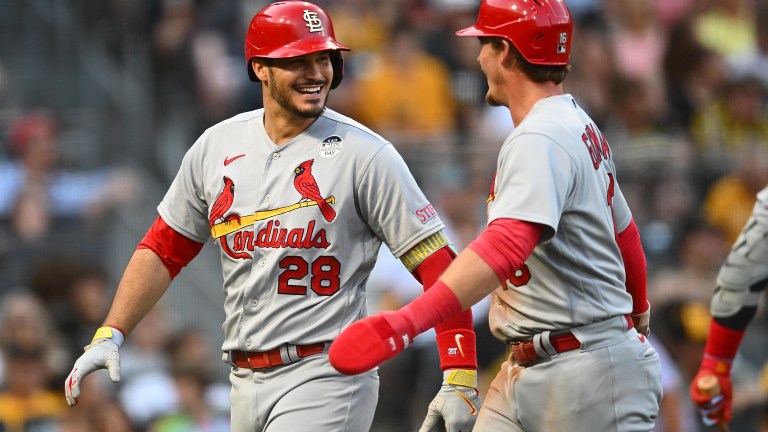 We're now onto the second phase of MLB All-Star voting with the finalists at each position determined and the starting lineups set to be announced this week.
Many positions have somewhat obvious picks in terms of who deserves the starting spot, but other spots seem up for grabs still. The reality of All-Star voting is that the deserving player is not often the one that earns the starting spot at their respective position. But that's why we at Just Baseball are here to examine who should be starting as opposed to who will get the nod.
The third base position has been a mess this season with many of the league's superstars struggling out of the gate and not performing at their expected All-Star level this year. We still ended up with a pair of familiar faces as finalists in the NL despite their numbers being lower than usual.
In the American League however, we have two candidates with only one All-Star appearance combined and neither have ever started the game.
Whether or not these four deserve to be the starting options at the position, two of them will be starting. We'll get into who was snubbed from being a finalist later, but for now, let's compare the options.
American League
The Case for Matt Chapman
2023 Stats: 325 PA, .265/.345/.460, 10 home runs, 124 wRC+, 2.6 WAR
If this race was decided after April, Matt Chapman could have been one of the top vote-getters in the entire league. He got out to a career-best start and tore the league up during an unbelievable first month of the year.
However, things have not been as pretty for Chapman in the past two months leading up to the All-Star game. While he's remained a solid player due to his always-stable defense and strong pop, he's nowhere near what he was during the early days of the season.
He accumulated over 2 WAR during the first month of the season with just 0.5 WAR coming in the last two months. Meanwhile, his OPS dropped from over 1.100 to slightly above .600 since the end of April. Recency is definitely not on Chapman's side given that his All-Star quality production came solely in one month of the season.
Chapman benefited from the Blue Jays voting frenzy that we seem to see every year as the entire country of Canada supports Toronto's players every season. His season-long numbers are solid still, but his drop in production has been noticeable and has taken him down a notch from an All-Star-level starter.
The Case for Josh Jung
2023 Stats: 323 PA, .272/.325/.480, 15 home runs, 122 wRC+, 1.9 WAR
The AL Rookie of the Year favorite has been one of many revelations for the Rangers this season as they've become one of the top teams in the league. Jung's power output has been huge for Texas in a lineup that could be considered the deepest in baseball thanks to their young players like Jung.
Unlike Chapman, Jung has progressed this season throughout the year and likely has more room to grow. He doesn't have the defensive prowess of Chapman, but his offense stacks up with more added power output.
Jung has slumped relatively to his season numbers in the past two weeks, but he's been so impressive in becoming the everyday third baseman for Texas.
Jung's batted ball data is great as he hits the ball at a very hard rate and has maintained great expected metrics as well. There's a chance Jung has even more to tap into and he's already on pace for a 30 home run rookie campaign.
Honorable Mention: Jose Ramirez
The best third baseman in baseball this season isn't even a finalist for the starting spot. Jose Ramirez is one of the most consistent players in the league and despite a slow start and playing for a struggling Guardians team, "J-Ram" is still the king of AL third basemen. He's got a 132 wRC+ to go along with 2.9 WAR, which both top that of the two finalists.
Ramirez doesn't qualify for this article technically, but I'm making an exception because the fan vote has skewed All-Star voting for years and Ramirez is simply the best third baseman in the American League. I won't include him in the final verdict, but the starter really should be Ramirez.
Final Verdict
The starting third baseman for the AL All-Stars should be Josh Jung.
The numbers offensively are close, but Jung deserves the nod due to his more consistent production and being an integral part of the AL's second-best team. Chapman's hot start will likely earn him a bench spot on the roster, but I believe many fans will reward the impressive rookie season of Jung and he deserves that nod.
National League
The Case for Nolan Arenado
2023 Stats: 321 PA, .272/.321/.476, 15 home runs, 116 wRC+, 1.2 WAR
The Cardinals' season has been a complete disaster by all standards as a team that headed into the season as the clear favorites in the NL Central. Arenado's slow start was one of the many various the Cardinals struggled out of the gate, but he's not the reason they're struggling now.
He's turned his season fully back around in the last month and a half and gotten back to being one of the top third basemen in baseball, like he's expected to be every year. After being a well-below-average player in April, Arenado caught fire in the middle of May and now there is nothing to worry about with him.
Arenado's season numbers are still far off from his 2022 season, which was one of the best in the entire league, but his power has surged to the tune of 15 home runs and he's continuing to gain steam. Arenado's WAR is oddly low even with his struggles at the plate early as his defense has been worse than ever this year actually. However, he's one of the greatest defenders of our generation and his metrics there should improve.
Arenado is awesome and that perception is not going to change anytime soon, but he frankly hasn't been all that great this season in comparison to the rest of his career. However, he's a finalist for this spot given that the rest of the third basemen in the NL have also struggled to some extent this season.
The Case for Austin Riley
2023 Stats: 350 PA, .269/.337/.450, 14 home runs, 110 wRC+, 1.6 WAR
The Braves are the cream of the crop right now in the National League thanks to a roster full of talent led by MVP favorite Ronald Acuña Jr. and many other stars. Austin Riley is in the same bucket as Arenado as a super-talented player that is playing below the level we expect to see from him.
Coming off two seasons in a row with a wRC+ above 135, he's well below this mark right now.
While he hasn't been excellent, he has been consistent for a Braves team that has the star power needed to make up for him not being excellent this year. He has been able to come up clutch at various times when needed to do so.
An interesting note about Riley is that he's been better with discipline this season with the highest walk rate of his career and the lowest strikeout rate. He's maintained a strong hard-hit rate as well this year. His biggest issue has been against fastballs, but he should be able to right the ship.
Riley's defense by the numbers has actually been slightly better than Arenado's but the difference there isn't significant.
I think Riley is likely due for some positive regression this season and Atlanta will only get more unbelievable if he performs more like he did the past two years.
Final Verdict
The starting third baseman for the NL All-Stars should be Austin Riley.
When starting to write this piece, I was actually expecting to side with Arenado considering how he's turned his season around and caught fire. However, I value a consistent season when looking at the All-Star race and Riley has been an above-average player all year despite not being the star he was last year.
Their numbers are similar enough that I believe Riley should earn the bump for his consistency and the success of the Braves. This may not be a popular opinion, but I think I'd lean toward Riley on this one actually even though I believe the vote will side with the household name of Arenado.