Podcast
Beasts of the East: The AL East's All-Star Finalists
In the latest State of the Division podcast, we discuss who could start the All-Star game from the American League East.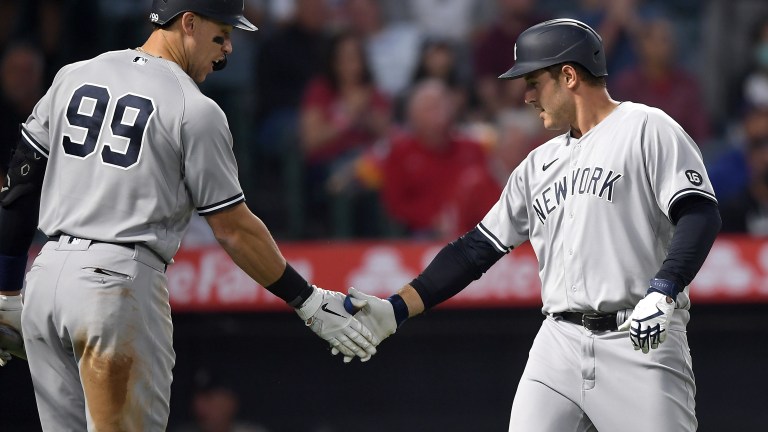 Phase one of the MLB All-Star game voting has concluded. With the AL East being one of the most competitive divisions in the entire sport, a whopping ten players have been selected as finalists to start the game. This division also includes the American League's leading vote-getter, Aaron Judge.
With so many candidates to star this year's ASG, Ryan Finkelstein and I broke down each player's 2022 thus far on the State of the Division podcast.
Let's run through every single one of them and showcase their performances during the first half. After all, these are some of the best players in the game.
The Finalists
Alejandro Kirk, Catcher, Toronto Blue Jays
Slowly blossoming into one of the best backstops in MLB, Alejandro Kirk deserves to be the American League starting catcher. Kirk has arguably been the best catcher in baseball in 2022, providing significant value on both the offensive and defensive side of the ball. His 162 wRC+ is not only the highest tally on a loaded Toronto offense, but it's the highest among all catchers in baseball. Kirk's 3.1 WAR also leads all catchers and is the 14th-highest in the sport.
The catcher's slash line of .318/.409/.512 is unheard of for a backstop. He also is the fifth-best catcher according to frame rate. Kirk finished third among all American League players in total votes, pretty much cementing himself as a starter. This guy deserves to be here without a doubt. Toronto has their guy for the future.
Jose Trevino, Catcher, New York Yankees
Jose! A complete revelation to this Yankees team, Trevino has been a well-received addition to this roster. Dealt from Texas for practically nothing, Jose has been the second-best American League catcher in 2022.
Trevino is an elite defensive catcher, leading baseball in catcher framing runs. Defense has never been an issue for the 29-year-old, it's been the offense. But in 2022, he's flipped the script.
While Trevino's wRC+ of 116 might not look impressive on this Yankees otherworldly offense, its impressive for a player that hasn't totaled 90 in that category his entire career. Splitting time with Kyle Higashioka, his numbers don't qualify as compared to Kirk. But he's been magnificent. He's elevated this Yankees pitching staff to another level. And with the incredible offensive production, that's just the cherry on top.
Vladimir Guerrero Jr., First Baseman, Toronto Blue Jays
Vladdy Daddy. The guy flat out rakes, and he's doing it yet again in 2022. He's followed up a 48-home run season in 2021 with 19 bombs in 2022. Guerrero Jr.'s wRC+ of 134 ranks as the fifth-highest among all American League first basemen. His 51 RBIs are just one shy of the American League 1B lead, just behind Anthony Rizzo. Vladdy has continued his consistent offensive output for a Toronto team that relies heavily on their bats.
Guerrero Jr. is an incredible talent, there's no denying it. But from my point of view, there are a few other first basemen who statistically have been better this year. It'll be nice to see the young phenom in the Midsummer Classic once more, but I'm not sure he entirely deserves it.
Santiago Espinal, Second Baseman, Toronto Blue Jays
Santiago Espinal has been a key contributor to a Blue Jays team that desperately needed to fill a void at second base. The digression of Cavan Biggio left Toronto puzzled about the future of the position, but Espinal has slotted in nicely. His OPS of .731 certainly isn't eye-popping, but he's made a presence as an above league average hitter with a 105 wRC+. He's mashed six home runs and driven in 37 RBIs in his 306 plate appearances.
The second baseman's DRS total of 4 ranks fourth among all AL second baseman behind Andres Gimenez, Gleyber Torres and Trevor Story. He's been a solid contributor on both sides of the ball for the Blue Birds. While I do think there are better candidates to fill in at the position, Espinal is fine. It'll be a nice first All-Star selection for the 27-year-old.
Bo Bichette, Shortstop, Toronto Blue Jays
Bichette experienced a rough start to his 2022 campaign but has picked it up in recent times. He's hit for an .806 OPS in his previous 39 games, trumping his season total of .722. Bichette's offensive performances have bumped his wRC+ total to 102, just above league average.
His 13 home runs are the second most among American League shortstops, trailing Cory Seager at 15. Bichette is one of the brightest young stars in the game, but his overall slash line of .257/.299/.423 has left a lot to be desired.
The 24-year-old is tuned up for his second career All-Star nod. This is also another player that I won't necessarily agree with the selection, but it is what it is. Hopefully he's able to turn it on and have a red-hot second half for the Blue Jays.
Rafael Devers, Third Baseman, Boston Red Sox
Boston, pay this man. Rafael Devers is one of the most talented hitters in the entire sport, and he's been on a tear during the first half. Its seemingly impossible to pick between him and the other third baseman finalist, Jose Ramirez. Regardless, Devers has been incredible for Boston.
The third baseman is second among all third baseman in wRC+ at 169 and ranks sixth in all of baseball in that category. Raffy D has been known as an extreme negative on the defensive side of the ball. While he hasn't been perfect with a -3 DRS, it's much improved.
Devers has mashed 17 home runs, the highest total by any American League third baseman. He's also driven in 45 RBI's, good for second place at his position.
While it's difficult to decipher who should be the starter position between two MVP candidates, Rafael Devers has been incredible in 2022.
Aaron Judge, Outfielder, New York Yankees
Another man that needs to be paid is Aaron Judge, the newly converted center fielder for the New York Yankees. The 6'7″ mammoth of a ballplayer has led the Yankees to the best record in baseball during his spectacular first half.
On pace for 66 home runs, his 29 dingers lead all of Major League Baseball. Judge's wRC+ total of 172 is good for the fourth-best tally in the sport. His 4.0 WAR is the fifth-highest in the game, and good for the best total in the AL.
Judge isn't technically considered a finalist since he was the leading vote getter in the American League, automatically placing him as a starter. There isn't much to say with the 30-year-old. He's the MVP!
George Springer, Outfielder, Toronto Blue Jays
Springer has seen a nice return of form after being riddled with injuries over the past few seasons. This is truly his first real campaign in Toronto after departing from Houston. And he hasn't disappointed!
He ranks as the fifth-best center fielder according to wRC+ at 132. Springer has slashed .258/.341/.488 in his 301 plate appearances this season. Springer actually hasn't been incredible defensively this season, posting just 1 OAA across center and right field.
The center fielder has been a consistent contributor for Toronto this season. With a plethora of outfielders in the American League to choose from, he's a good candidate. Long-time considered as one of the best outfielders in the game, he's still at that level in 2022.
Giancarlo Stanton, Outfielder, New York Yankees
This selection I have personal stakes in, as Stanton is my favorite player on the current Yankees roster. Giancarlo has stayed relatively healthy this season, as compared to previous years, appearing in 65 games. And yes, he's still mashing. His 20 home runs ranks as just the third-highest tally on the Yankees but is the fifth-most among American League outfielders. Stanton has split time between right field and DH this season, making him available for one of these outfield spots.
His wRC+ of 141 is the sixth-highest total by any AL outfielder. This also includes the fourth-most RBIs by an outfielder at 53. Stanton is producing at an elite level along with Judge, and it's a beautiful thing to see. With the health concerns out the window, he's been better than ever. The Bash Brothers continue to mash!
Lourdes Gurriel Jr., Outfielder, Toronto Blue Jays
I will never stray away from honesty as a journalist, so I need to be real with you guys here. I don't understand this selection whatsoever. Gurriel is a solid outfielder that turns in consistent 120 wRC+ seasons like he is in 2022, but there are numerous names that could fill in at this spot in the American League. In my eyes, there's no way he's had a better season than the likes of Kyle Tucker, Byron Buxton and Taylor Ward. With that out of the way, let's focus on Gurriel's 2022 season.
Gurriel's slash line of .292/.349/.431 is solid. His 121 wRC+ ranks as the sixth-best on the Blue Jays as a whole. Blasting five home runs and driving in 32 RBIs, he's been a nice piece to this Blue Jays roster. Unfortunately, Gurriel has been an awful defender in 2022, posting -14 OAA. As a whole, Gurriel is a decent bat who's a poor defender in the outfield. In my opinion, he isn't worth this nomination. But hey, you win some and you lose some.
The Snubs
Xander Bogaerts, Shortstop, Boston Red Sox
The fact that Xander Bogaerts isn't listed as a finalist in these selections is blasphemous. Among shortstops, Bogaerts ranks as the best shortstop in BASEBALL in wRC+ at 142. He has a .393 OBP. He has an .854 OPS. He's first among AL shortstops in WAR at 3.3. Where's the logic here?
While Xander has been a bad defender for a long time, his 1 DRS is the 15th-best in baseball, a long way from his consistent bottom-five finishes in the statistic over the past few years.
You will NEVER see a Yankee fan like myself defending Bogaerts, who has been a thorn in our sides for a while. However, I can't ignore his performances this season. He deserves to be a finalist. And if anything, he should be the starter!
Gleyber Torres, Second Baseman, New York Yankees
Torres legitimately has been one of the best second basemen in the American League, and that is a bias-free statement. While he hasn't been as great as Cleveland's Andres Gimenez, he's been much-improved from a lackluster 2021 season. Torres has had defensive issues in the past but moving him back to second base has improved his play more than ever. He's actually been an incredible defender, posting seven defensive runs saved, good for the second-most among AL second basemen.
Gleyber's 125 wRC+ is the sixth-best tally among second basemen in baseball. After a complete power drop off in 2021, he's bounced back with 13 home runs, the second-most among players in his position. He's surely had a better season than someone like Santiago Espinal. And while I don't think he should've necessarily been a finalist; he deserves some recognition.
Anthony Rizzo, First Baseman, New York Yankees
I suppose the Rizz has finally been beaten. Anthony Rizzo was the hottest hitter on the planet during the first month of the season, posting a 202 wRC+ in April. While he isn't an MVP candidate, his 22 home runs and 141 wRC+ deserves some love. The 32-year-old has been the Yankees second-best hitter this season. Rizzo's numbers are frankly better than Vladimir Guerrero Jr.'s.
The last time Rizzo made an All-Star appearance was back in 2016, when he won the World Series with the Cubs. Maybe we could see this happen again with how great the Yankees have been this year? Or maybe I'm just an optimistic fan.
Regardless, Rizzo deserves an All-Star shout for how great he's been this year.