Analysis
The Best and Worst in Baseball Through the First Month
A look into what award race finishes look like through one month of the MLB season.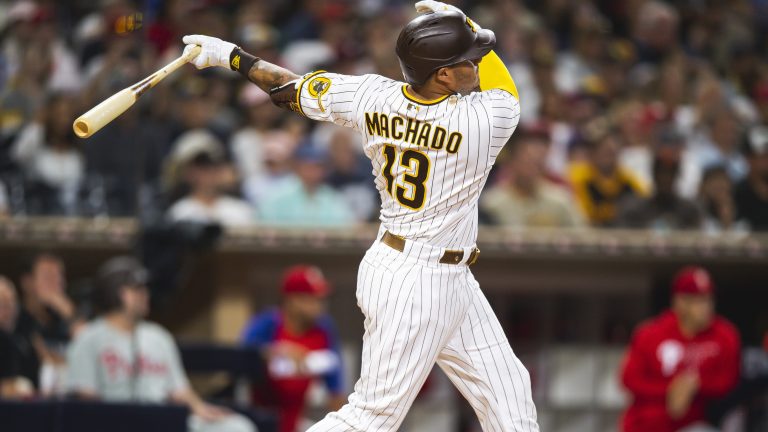 We are officially a month into the 2022 regular season. Crazy, isn't it.
On the latest episode of the Just Baseball Show, our hosts Peter Appel, Jack McMullen, and Aram Leighton break down our picks for MVP (and LVP), Cy Young (and the L+ratio+bozo Pitcher's Award) Rookie of the Month, and Best & Worst Teams for April.
MVP: Manny Machado- San Diego Padres
Remember, this is the Most Valuable Player Award, so it does not necessarily mean the best player in the MLB. With the absence of superstar Fernando Tatis Jr., the San Diego Padres have needed Machado to step up big time, and he's done just that.
Machado currently leads the league in fWAR and hits, while slashing a line of .374/.447/.657 with a 1.104 OPS. On top of the plate production, Machado is arguably the best defensive third baseman in the entire league (it may be a tough argument to win, but he certainly belongs in the conversation). The five-time All-Star has been the spark for the Padres squad that could make some noise in October if they are fully healthy and firing on all cylinders at the right time.
Finalists:
Mike Trout- Los Angeles Angels
Nolan Arenado- St. Louis Cardinals
Jose Ramirez- Cleveland Guardians
LVP: Joey Votto- Cincinnati Reds
The month of April was not kind to the Cincinnati Reds, and it looks like May won't be too great either. They are currently 3-22 (yes, they are that bad). Losing All-Star Nick Castellanos in free agency has really slowed down this lineup, and Joey Votto simply isn't the Joey Votto we've known and loved.
Votto currently has a fWAR of -1.1, which is the worst in all of baseball. That means just a month into the season he is already above a win below average. He has a .122 batting average with a .278 OBP (so he still has a good eye at the plate), and a .135 slugging percentage. He only has one extra-base hit this year. Hopefully, he turns it up as the weather warms up because this is a horrible way to end a stellar career.
Finalists:
Whit Merrifield- Kansas City Royals
Franmil Reyes- Cleveland Guardians
Nelson Cruz- Washington Nationals
CY Young: Kevin Gausman – Toronto Blue Jays
When it is all said and done, Kevin Gausman may end up as the best free agent signing from this past offseason. After an All-Star campaign where he logged 33 wins, Gausman has picked up right where he left off.
The former San Francisco Giant leads all pitchers in fWAR at 1.9. The next best is at 1.3. Gausman is absolutely shoving in the Roger Centre, pitching to a 2.27 ERA with a 0.51 FIP and 11.7 SO/9. He also hasn't even given up a home run or a walk yet. The production may not be sustainable, but his surgical approach will keep his name in the top tier of pitchers in the league.
Finalists:
Carlos Rodon- San Francisco Giants
Joe Musgrove- San Diego Padres
Dylan Cease- Chicago White Sox
L+ Ratio+Bozo Pitcher Award: Patrick Corbin – Washington Nationals
Patrick Corbin signed a six-year, $140 million contract with the Washington Nationals after an All-Star campaign in Arizona. He's now in his fourth season in Washington, and he is playing like he belongs in the Minor Leagues.
Corbin has the worst ERA in baseball at 7.16, and he has been winless in six starts this season. He has 26 strikeouts in 27 innings pitched. Last year, he ended with a 5.18 ERA and 16 losses, so he is on pace to out-do his career-lows. Corbin has had some horrendous starts to begin the season, one of the many reasons why the Nationals are sitting at the bottom of the NL East.
Finalists:
German Marquez- Colorado Rockies
Eliser Hernadez- Miami Marlins
Reiver Sanmartin- Cincinnati Reds
Rookie of the Month: Joe Ryan- Minnesota Twins
Watch out for the Minnesota Twins. Baseball is back up north, and rookie Joe Ryan has been sensational in his first month in the big leagues. The California State product has a 3-1 record with an ERA of just 1.63. He has 28 strikeouts through five starts.
In those first starts this season, his average exit velocity against is 84.6, which is down around 2 MPH from last year, and his opponent slugging percentage is at .271, which is down nearly .070 points from last year. Ryan has looked like a well-established veteran in terms of his confidence on the mound, and he is flashing All-Star potential for a team that will sneak into the Wild Card fight come playoff time.
Finalists:
Seiya Suzuki- Chicago Cubs
Jeremy Pena- Houston Astros
Steven Kwan- Cleveland Guardians
Best Team: New York Yankees
This is one of the awards that we just wanted to toss in there to highlight the teams that have performed well above par. There is a valid argument for each of our finalists to be crowned the best team in April, but the New York Yankees have the best record in the league at 18-7, and they are in first place in arguably the most competitive division in the AL East (the NL West is easily the best in MLB, but just wait for the Boston Red Sox to turn it around).
The Yankees' star-studded lineup currently ranks second in the MLB in home runs, fifth in total bases, fifth in batting average, fourth in OBP, and second in slugging percentage. Gerrit Cole and company have their rotation ranked amongst the league's best, as they are second in MLB in ERA at 2.62, fifth in saves and they have an opposing batting average at .220. Baseball is officially back in the Bronx.
Finalists:
Los Angeles Dodgers
New York Mets
Milwaukee Brewers
Worst Team: Cincinnati Reds
Remember in Little League when your team would show up to the field and notice you're playing that one team with a bunch of kids who were signed up to play by their mother so they'd have time outside, that's basically the Cincinnati Reds. They currently sit at a lousy 3-22, and they are on pace to be one of the worst teams this sport has ever been forced to watch.
The Reds have the worst team ERA in the league at a whopping 6.86, and they've allowed a league-high 34 home runs. This young and inexperienced rotation has struggled to find command on the bump, and they haven't had any run support to work with, as they have the second-worst batting average in the MLB at .201. If you're a Reds fan, I'd hop on a different wagon for the rest of the year. It's just not worth the agony.
Finalists:
Kansas City Royals
Detroit Tigers
Baltimore Orioles