Analysis
Did the Brewers Do Enough at the Deadline To Win the NL Central?
The Brewers made a handful of low-risk, low-reward moves, but did they do enough to separate themselves from the pack in the NL Central?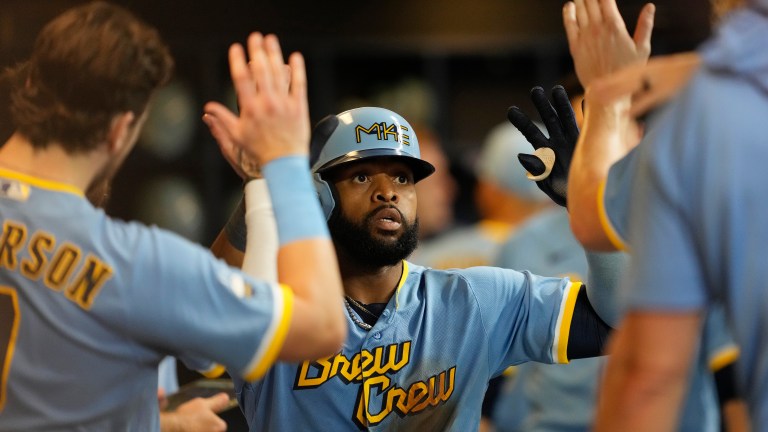 The Milwaukee Brewers were a team to monitor as the trade deadline approached. Given the winnable landscape in the NL Central, they had an opportunity to separate themselves in their division and come away as big winners at this year's deadline.
In what was a seller-friendly market, the Brewers made some low-risk, low-reward acquisitions that addressed some major holes on their roster, and they did so without sacrificing significant prospect or MLB capital.
However, there are questions as to whether the moves that the ball club made were significant enough to propel them into the next tier of contention. In what is shaping up to be a battle to the end in a fluid division, did the Milwaukee Brewers do enough at this year's trade deadline to take them over the hill and separate themselves in the NL Central?
What Moves Did They Make?
Just Baseball's Milwaukee Brewers Trade Deadline Guide highlighted three areas of need in the lineup: designated hitter, right field, and first base. While the Brewers might not have acquired some of the biggest names on the market, they effectively addressed their needs at all three positions.
They were able to improve their roster with some high-floor, low-ceiling players while also safeguarding their top prospects.
Matt Arnold, the Brewers' general manager, expressed his desire to add offense in a responsible manner at the deadline without compromising lineup flexibility or defensive talent, and Milwaukee accomplished just that.
Move # 1: Brewers Acquire Carlos Santana
Carlos Santana might not be the most impactful bat in the game, but the 37-year-old is a significant upgrade at first base for the Brewers. In his 14th big league season, Santana is slashing .230/.313/.407 for an OPS+ of 95 in 428 plate appearances.
Santana's 95 wRC+ already slots in as the third-highest mark in Milwaukee's lineup (min. 160 PA). He has 56 RBIs thus far, and he was one of the premier run-producers in Pittsburgh's lineup this season. The Brewers were in need of a run producer in the heart of their lineup, and Santana can be just that for this ball club.
Additionally, Santana already has more extra-base hits this season (39) than he had all of last season (37), highlighted by his 14 home runs and 25 doubles. His isolated power currently sits at .177, which is his highest mark since his lone All-Star season back in 2019. Santana still brings some offensive pop to the lineup while maintaining a strong approach at the plate as well.
Santana's disciplined approach exemplifies that of a seasoned veteran, and it is a driving factor behind his offensive success. He has above-average contact rates while also displaying the ability to lay off pitches outside the strike zone. This is highlighted by his strikeout rate of 17.5%, which is in the 79th percentile, and his walk rate of 11%, which ranks in the top 20% of baseball.
Not to mention, Santana also brings plus defense to the field and a strong veteran presence to the clubhouse. He should slot in as Milwaukee's everyday three-hole hitter and will see a good amount of run both at first base and designated hitter. He will be a valuable addition to this team, and the Brewers did not have to sacrifice much to get him.
Brewers Part With Jhonny Severino
The Brewers parted ways with Jhonny Severino, their top international signing from 2022. The 18-year-old shortstop has not played past rookie ball, and it appeared it was going to be a while before he would be ready to impact the big league roster.
Ultimately, Matt Arnold cashed in on a young shortstop who was buried on Milwaukee's list of infield prospects to address a hole in the lineup. Even though Santana is set to hit free agency at the end of the year, the trade could pay dividends for the Brewers down the stretch this season.
Move #2: Brewers Acquire Mark Canha
Mark Canha fits the mold of a typical Milwaukee Brewers player. He has the ability to play multiple positions, including all over the outfield as well as both corner infield positions. His positional liquidity, coupled with his reliable approach at the plate, made him a desirable candidate for Matt Arnold.
The addition of Canha is extremely similar to that of Carlos Santana. While he might not be the most electric offensive talent, he addresses multiple positions of need. Canha should bring an element of consistency to Milwaukee's lineup, which is something that the Brewers have been lacking.
In 322 plate appearances this season, Canha is slashing .242/.342/.370 for an OPS of .712 and a wRC+ of 103. He doesn't bring much power to the lineup, but he has been excellent at getting on base throughout his career.
Since 2021, Canha has gotten on base at a .358 clip and has the second-highest hit-by-pitch total in the majors at 65. His on-base consistency stems from his strong bat-to-ball skills and disciplined offensive approach.
Like Santana, Canha walks at an above-average rate (10.7%), and his strikeout rate of 16.5% is in the 82nd percentile. His numbers won't fly off the page, but he brings value to the batting order with his ability to grind out pitches and put together quality at-bats.
Canha might not be an excellent defender at any one position, but manager Craig Counsell will surely take advantage of his defensive versatility. He'll also be another player to see some run at designated hitter when he is not playing in the field.
Brewers Part With Justin Jarvis
The Brewers sent right-handed pitching prospect Justin Jarvis to the New York Mets in return for Canha. Jarvis was Milwaukee's fifth-round draft pick back in 2018, and he was previously Milwaukee's No. 30 prospect according to MLB Pipeline.
Jarvis features a four-pitch mix, and he was pitching to a 4.33 ERA through 17 appearances between Double-A and Triple-A this season. Like Jhonny Severino, Jarvis was buried on the list of prospects at his position in Milwaukee's farm system. Still, he had enough intrigue for the Brewers to capitalize on his value.
Notably, Jarvis will be Rule 5 eligible this winter. Meaning, if Milwaukee did not add him to their 40-man roster by the November deadline, he would enter the Rule 5 draft pool and the Brewers would risk losing him to another ball club. Matt Arnold capitalized on the situation and flipped him for a player who will help the team in 2023.
Move #3: Brewers Add Lefty Andrew Chafin to the Bullpen
Andrew Chafin was Milwaukee's final big league roster addition, and he will help provide some much-needed lefty relief out of the Brewers' bullpen. The Milwaukee Brewers will be Chafin's fifth team in the past three seasons, and he will bring the element of experience to a relatively young and inexperienced bullpen.
On the surface level, it hasn't been an overly successful season for Chafin. Before the deadline, he was pitching to an ERA of 4.19 and a WHIP of 1.43. However, despite posting his highest ERA since the shortened 2020 season, Chafin is putting up some of the best peripheral statistics of his career.
His hard-hit rate of 33.7% and average exit velocity of 86.5 mph are both significantly better than league average. He does a great job of keeping the ball in the ballpark, and his ability to make hitters uncomfortable in the batter's box has led to some of the best strikeout rates in the sport.
Chafin has a strikeout rate of 32.9%, which is a career-high and in the 96th percentile. He is also putting up 12.88 strikeouts per nine, which is the fifth-best rate in NL amongst qualified relievers. He has been elite at generating swings and misses, as well as making batters chase pitches outside of the strike zone.
Given Chafin's success at generating punchouts this season, it's no surprise to see him also posting career-highs in whiff rate (34.8%) and chase rate (33.8%). He ranks in the top eight percent of pitchers in both categories.
Chafin's largest shortcoming this season has been his five percent jump in walk rate, which is up to 12.7% this season. He has also given up 31 hits in 36.1 innings pitched. However, if Chafin can continue his strikeout dominance and tap into his command a bit more with his new ball club, there should be better days ahead for the southpaw.
The 33-year-old is in his 10th big league season, and he has a track record of being a reliable and consistent reliever at the major league level.
Brewers Part Ways With Peter Strzelecki
In exchange for Andrew Chafin, the Brewers sent right-handed reliever Peter Strzelecki to the Arizona Diamondbacks. Strzelecki is a talented, high-upside arm who displays an enticing four-pitch mix. However, the 28-year-old is still working to find his footing just two seasons into his major league career.
Command issues have led to spells of inconsistency, and his recent struggles led to his demotion to Triple-A back in late June.
Coupled with the emergence of several talented relievers at the back end of Milwaukee's bullpen, Strzelecki's demotion forced the team to dip into their surplus of young righties and acquire an established left-handed veteran, which was an area of need.
Minor League Transaction: Brewers Part With Luis Urías
The Brewers' most surprising move came in the final minutes before the trade deadline when they elected to part ways with infielder Luis Urías.
Urías was acquired from the Padres prior to the 2020 season in the deal that sent outfielder Trent Grisham to San Diego. He quickly became a fan favorite, but his poor play as of late left much to be desired.
Urias has shown flashes of being an electric offensive player, but his performance at the plate was far too inconsistent for him to become a reliable everyday starter. He was slashing just .145/.299/.236 in 68 plate appearances this season before being demoted to Triple-A Nashville in June.
The 26-year-old has talent, but he was never able to reach his full potential in a Brewers uniform. Perhaps a change of scenery will serve him well as he works to carve out a role in Boston's infield.
In return, the Brewers received right-handed pitching prospect Bradley Blalock from the Red Sox. The 22-year-old slots in as Milwaukee's No. 15 prospect, according to MLB Pipeline, and he displays intriguing upside for the Brewers.
Blalock is pitching to a 2.19 ERA through 11 starts this season between Low-A and High-A, and he is Rule 5 eligible this winter.
Final Thoughts: Was It Enough?
Did the Milwaukee Brewers do enough at the trade deadline to jump another tier closer to World Series contention?
On the one hand, the Brewers did improve their roster in areas of need. They responsibly added offensive talent and raised the floor of their lineup. The roster additions should add an element of consistency to their batting order, and that could be just what the offense needed.
On the other hand, the acquisitions might not have raised the team's ceiling enough to alter their postseason outlook. Offensively, both Santana and Canha have hovered around league average performance this season. So, it's yet to be seen if their injection into the batting order will be enough to take the Brewers over the top.
The Milwaukee Brewers strive to put out competitive teams while also desiring as much prolonged success as possible. They do so by improving at the margins with value additions while maintaining a sustainable farm system.
At the very least, the moves made by Milwaukee at this year's trade deadline accomplished that goal. They were the most active team in the NL Central in terms of acquiring talent, and the Brewers' lineup is more well-rounded now than it was prior to the deadline.
All things considered, it was a successful trade deadline for Matt Arnold and the Milwaukee Brewers. While fans might have wanted to see them add more high-impact players, they better positioned themselves for postseason success with the moves that they made.