News
Blue Jays Strengthen Front Office With Former Astros GM Click
The Toronto Blue Jays continue to add to their brain trust, bringing on World Series-winning GM James Click as VP of baseball strategy.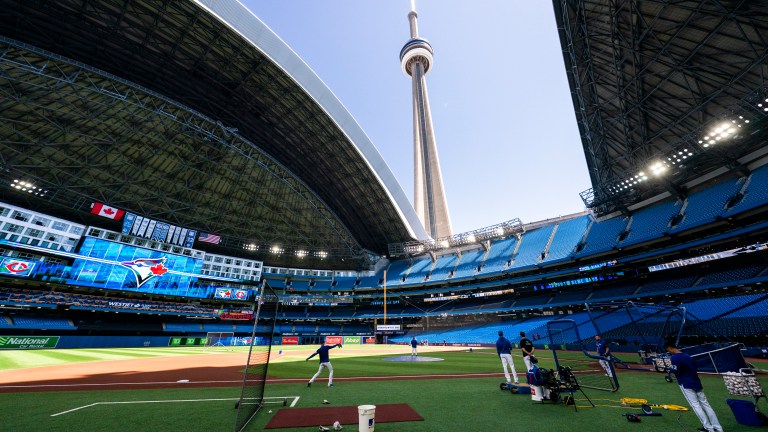 The Toronto Blue Jays have made a bevy of moves this past offseason, dealing away a few veteran players while also adding some lefty-power bats, defensive-minded outfielders, and a shutdown reliever.
Ross Atkins and co. continue to make moves even with spring training underway, although their latest addition won't see any playing time on the field.
On Monday morning, it was announced that former Houston Astros general manager James Click would be joining the Blue Jays organization as vice president of baseball strategy.
Click was the Astros general manager for the past three seasons, taking over after Jeff Luhnow was fired in the wake of the sign-stealing scandal in early 2020. With Click as GM, the Astros made the ALCS in three consecutive seasons and won the World Series last year.
Click left the team shortly after the World Series celebrations were complete. Houston reportedly offered him a mere one-year deal once his contract expired, and the top executive rejected the deal and eventually moved on.
Click Will Join the Baseball Operations Leadership Team
The Blue Jays released the following statement regarding their newest executive: "Click will join the baseball operations leadership team, working closely with general manager Ross Atkins and department heads on strategic planning, decision making, and evaluation… He will work across both professional and amateur levels to identify best practices, develop plans, and implement strategies."
After meetings in January and some time spent at the Jays' Player Development Complex in Dunedin, Florida, Click agreed to join Toronto's front office. The North Carolina native reportedly had multiple offers and options on the table but decided to take his talents to the Blue Jays at the end of the day.
With Click, the Jays are getting a strong baseball mind that worked his way up the Tampa Bay Rays organization to vice president of baseball operations in 2017 before joining the Houston Astros in 2020. Across both organizations, which operate in very different manners, Click had a hand in many different roles and at many different levels. He was successful with both clubs, which should hopefully benefit the Blue Jays heading into the 2023 season.
Speaking to the press on Monday, Atkins had nothing but good things to say about his former front office rival, "We feel very, very good about where we are as an organization, but we're always trying to get better and his perspective is one that we're certain can help us from an objective standpoint and subjective standpoint."
This move continues an offseason trend of adding established talent to various roles in the organization, including bringing on Don Mattingly to be the bench coach under manager John Schneider. On top of that, the Jays are also bringing in former big league players Paul Quantrill and Victor Martinez as special assistants to baseball operations, while Pat Hentgen and Edwin Encarnación will join the club this month as guest instructors with the possibility of taking on larger coaching roles in the future.
Adding a veteran front office mind like James Click will surely help the Blue Jays this season, with his input and knowledge being utilized across various departments. While I don't think Click will be with Toronto for particularly long before another club needs him for a larger/more important role, but the Jays will surely benefit from him being on their side for the time being.