Analysis
Five Deadline Fits for Jose Berrios
In a light trade deadline pitching market, Jose Berrios could be the biggest name moved. These are five potential landing spots for the former All-Star.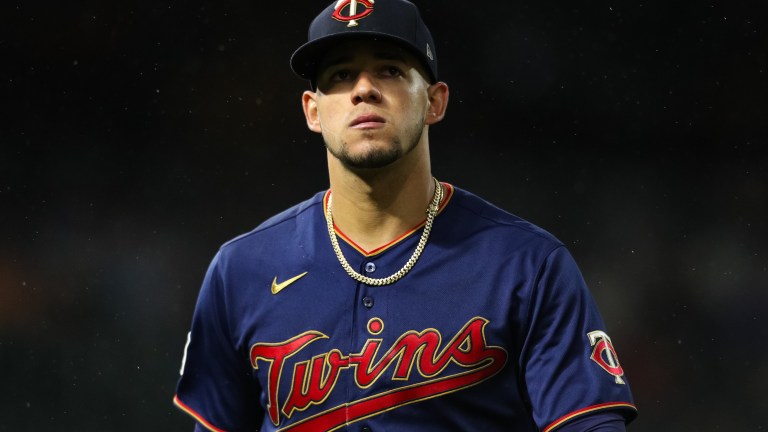 Pitching is always a hot commodity at the trade deadline. This year, it's especially true with no top arms guaranteed to be traded. While it's a near certainty that all-star bats like Kris Bryant, Joey Gallo, Trevor Story and Starling Marte will have new homes by this time next week, pitching is much more of a mystery. Some big names have been thrown around as possibilities, including Max Scherzer, but no one is a lock to be moved. Another All-Star pitcher that has surfaced in rumors is Jose Berrios, and it makes sense for him to be dealt.
In previous seasons, deadline acquisitions like Justin Verlander (2017 Astros) and Nathan Eovaldi (2018 Red Sox) helped elevate teams from contender to champion. Berrios could provide that type of boost this year. The 27-year-old righty is having the best season of his career. He owns a 3.69 ERA, career-best 3.64 FIP and a 3.8 K/BB ratio. Additionally, this is the fifth straight season Berrios has posted an ERA of 4.00 or lower, proving his consistency. The two-time All-Star also has another year of team control for the 2022 season.
With the Twins (42-56) well out of the postseason picture, and after trading Nelson Cruz to the Rays earlier this week, it makes sense for them to see what they can get for their most valuable asset, especially given the lack of difference-making arms out there. Here are five teams that could go after Berrios, and the packages Minnesota might get in return from each.
Los Angeles Dodgers
The Dodgers own one of baseball's best rotations. Their starters are tops in ERA (2.98) and third in FIP (3.54). However, with Trevor Bauer's status up in the air for the rest of the season, as well as Dustin May's season-ending injury, the Dodgers could be in the market for a starting pitcher. Additionally, trailing the Giants by three games in the loaded NL West might provide an added level of urgency for last year's World Series champs. Los Angeles also has one of the game's best and deepest farm systems, making them the favorite to acquire Berrios if they choose to pursue him. The big unknown is whether they're willing to deal their any of their top prospects. Especially if they are encouraged by Josiah Gray's ability to contribute to the big league team now.
Dodgers: Jose Berrios
Twins: Michael Busch, Ryan Pepiot
Houston Astros
The Astros are always in the mix for pitching at the deadline. This year, that's no different. On the surface, starting pitching isn't a clear need for Houston. The Astros rank sixth in starter's ERA (3.39), ninth in FIP (3.89) and second in innings pitched (535.2) from their rotation. However, it wasn't a need when they added Zack Greinke in 2019 either. What it did was make the team better just as Berrios would. Additionally, Houston's current rotation is largely inexperienced outside of Greinke and Lance McCullers. Adding a six-year veteran like Berrios would help stabilize that group and it gives the team more flexibility in October. The question is if they have enough to pry him away from Minnesota.
Houston: Jose Berrios, Tyler Duffey
Twins: Hunter Brown, Pedro Leon, Collin Barber
Boston Red Sox
The Red Sox have fully established themselves as a contender, but a big question remains: will their starting rotation hold up in October? Boston boasts the third ranked offense in baseball, but their starters are just 20th in team ERA (4.41). Nathan Eovaldi (3.57 ERA) has been great, but the rest of their current rotation has shown signs of inconsistency. It should be noted that reinforcements are on the way. Seven-time All-Star Chris Sale should be back sooner rather than later, and promising rookie Tanner Houck could play a big role in the second half, but it feels like this team is still a starter away from measuring up with the league's best teams. Bringing in Berrios is the perfect move for the Red Sox for this year and beyond.
Red Sox: Jose Berrios, Yennier Cano
Twins: Jeter Downs, Bryan Mata, Tyreque Reed
Toronto Blue Jays
It's probably fair to call the Blue Jays a moderate disappointment so far this season. Toronto entered the season with aspirations of winning the AL East, but are currently 48-45 and 9.5 games out of first. With that said, they have a +80 run differential (seventh in MLB) and seem poised to make a run. The offense is elite (sixth in scoring), but the pitching staff has some question marks. The Blue Jays are 10th in starter's ERA (3.98), but just 21st in FIP (4.48). Hyun Jin Ryu (3.32 ERA) and Robbie Ray (3.12 ERA) have been great atop the rotation, and Alek Manoah (2.90 ERA) has looked very promising in his rookie season. However, they could use another top-tier arm to solidify things. The Blue Jays also have one of the best farm systems in the league and can outbid most teams.
Blue Jays: Jose Berrios
Twins: Jordan Groshans, Adam Kloffenstein
Wildcard: Oakland Athletics
This one is more of a dart throw. Oakland doesn't typically make splashy moves like this, but the additional year of team control Berrios brings could entice the money-strapped Athletics. Chris Bassitt (3.31 ERA) and Sean Manaea (3.16 ERA) are outstanding, but the Athletics can still use another starter. While Cole Irvin (3.42 ERA) and James Kaprielian (2.65 ERA) have also been great, their limited track record makes them hard to trust. With Bassitt and Manaea both headed for free agency following the 2022 season, it makes sense for the Athletics to go all-in over the next two years. Adding Berrios would do just that by acquiring a third stud arm to lean on in the playoffs.
Athletics: Jose Berrios
Twins: Jesus Luzardo, Brayan Buelvas