Analysis
Biggest X-Factor for Each NL Playoff Team to Make a Deep Run
Taking a look at some of the biggest X-factors amongst the National League's playoff teams. Who could help their teams go the furthest?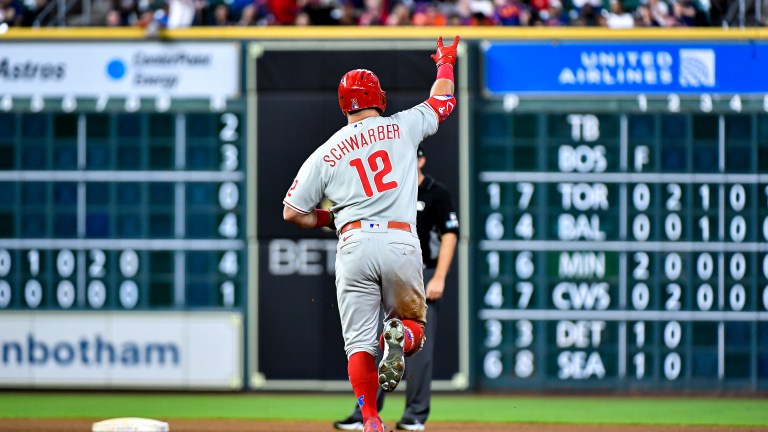 As we inch closer and closer to the start of the 2023 MLB playoffs, it's time for us to take a look at the National League's biggest x-factors. "X-factor" is a term that is widely overused and can have many different definitions.
For us, "X-factors" typically are not their team's best player, or someone who has consistently been exceeding expectations throughout the year. Instead, it's going to be somebody whose performance can singlehandedly make or break their respective clubs' playoff run.
Whether it be a player who has struggled mightily throughout the season and is slowly beginning to turn things around, one whose dealt with injuries and is just getting back into game action, or a player who is coming seemingly out of nowhere; we've got you covered.
Here is one X-factor for each National League team that could help propel them towards a deep playoff run.
Arizona Diamondbacks – OF Corbin Carroll
Corbin Carroll's presence in the Diamondbacks lineup makes it easy to forget just how deep their offensive group is. Sluggers like Christian Walker and Lourdes Gurriel Jr. are often overlooked in Carroll's shadow.
The 23-year-old is well on his way to the 2023 NL Rookie of the Year Award and seems to be a superstar in the making.
As the Diamondbacks make their run through the postseason, it is going to be paramount that Carroll remains hot at the plate. In 155 games during the regular season, he was an extra-base hit machine; posting 30 doubles, 10 triples and 25 home runs. Along the way, he had a batting average of .285 and an OPS+ of 134.
The first playoff game he gets into is going to be the first of the young stud's career. He has shown to be capable of coming up in big spots during the regular season, but the closer the club gets to the World Series, the higher the stakes will be.
Atlanta Braves – RHP Kyle Wright
This feels like an easy one.
Kyle Wright, 27, was one of the National League's best pitchers last season and arguably should've gotten more Cy Young consideration than he ultimately did (he finished 10th) in the voting. In 2022, he made 30 starts and went 21-5 with a 3.19 ERA, 3.58 FIP and 128 ERA+. Through and through, he appeared to be right on the cusp of a lengthy breakout.
Then 2023 happened.
After making just five starts to open the year, Wright was put on the shelf thanks to a shoulder strain that would keep him out of game action until the middle of September. He has made just three appearances (two starts, one relief outing) since his return from the injured list and things have not gone well, primarily in his starts.
In a combined seven innings of work spread across two outings, Wright surrendered 10 earned runs, walked six and allowed three home runs. He made a three-inning relief appearance on the 24th of September against the Nationals and looked much better, allowing just one run on three hits with two punchouts.
Getting Wright right (sorry, had to do this at least once) is going to be essential for the Braves. His only real playoff experience came in the 2021 World Series when he made two relief appearances with one earned run and six strikeouts in 5.2 innings of work. Then, he made one start in last year's NLDS against the Phillies, going six innings and not allowing a run. Clearly, he has what it takes to be successful, regardless of what role he performs in.
Los Angeles Dodgers – LHP Clayton Kershaw
So I had said that an X-factor can't be a team's best player, but Clayton Kershaw feels like the best choice to run with here.
The Hall of Fame-bound southpaw put up yet another fantastic season for the Dodgers, going 13-4 with a 2.42 ERA and 180 ERA+, making his 10th All-Star Game. He has shown little to no signs of aging as his career winds down.
What makes him such a question mark here is the fact that he has a pretty spotty track record in his playoff career. The 35-year-old plays for the Dodgers, who make the playoffs nearly every single year, so he has a ton of experience. However, the numbers suggest that he has ran into some issues at times in his 21 career postseason series.
In a total of 38 career playoff games, Kershaw has a 4.22 ERA and has either been dominant or hard to watch on the mound. Last year, he made just one start in the NLDS against the Padres, allowing three runs on six hits and ultimately taking a loss. A few years prior, he coughed up three runs on six hits and then four runs on seven hits in the NLDS and NLCS.
For whatever reason, the legendary lefty seems to run into issues when games matter most. To his credit, he's also shown that when he's on, he's on. Take the 2020 World Series for example.
In two starts against the Rays, he went a combined 11.2 innings and struck out 14 batters while allowing a total of three runs. That's the Kershaw that the Dodgers will need to show up this year.
Again, we're dealing with one of the best to ever do it here. However, his performance can carry enough weight to either make or break this Dodgers team. The lineup is deep, the pitching staff is solid overall, but with a thin rotation, they will need their ace to come through when it matters most.
Miami Marlins – OF Jazz Chisholm Jr.
There's little doubt that Jazz Chisholm Jr. is already the face of the Marlins. The MLB The Show cover star struggled to stay on the field this year thanks to multiple injuries.
But in typical Chisholm form, he was electric every time he took the field, and this type of energy is going to be crucial for the Marlins in October.
The 2022 All-Star has more swag than anyone in the league, which does not show up on the back of his baseball card, but does a lot to carry the team around him. It says a lot that he was just one home run away from a 20-20 season (he had 22 stolen bases) in just 97 games played.
To date, Chisholm's only postseason experience came in just one game back in the 2020 NLDS against the Braves. He went 1-for-3 with a double and a walk, but this is largely going to be his first consistent exposure to the big stage. There's nobody better than him to inject some life into a Marlins team that hadn't previously made it to the playoffs in a non-COVID year since 2003.
Milwaukee Brewers – RHP Brandon Woodruff
Brandon Woodruff entered the 2023 season with sky-high expectations. After all, he has consistently been one of the game's premier starters and is always a threat to shut down the opposition.
However, he made just two starts before he went on the injured list with a sub-scapular strain in his right shoulder. This sidelined him for the vast majority of the year, as he did not return to the mound until early on in August.
Of course, in standard Woodruff fashion, he was utterly dominant upon his return.
To end his regular season, Woodruff posted a 5-1 record with a 2.28 ERA, 3.60 FIP and 189 ERA+ across 67 innings of work. He also threw the first complete game shutout of his career and seemed to fully return to form once was at full health.
The Brewers' starting rotation (and pitching staff as a whole, really) is packed with talent and some of the top hurlers in the game. Having someone like Woodruff up to speed and at his best health-wise will be a huge help for fellow starters Corbin Burnes and Freddy Peralta.
Not to mention, getting another starter that can go deep into ballgames will help rest a frequently relied upon bullpen.
Helping his case even further here is the fact that Woodruff has quite a bit of playoff experience under his belt. In a total of eight appearances (four starts), he has a 3.18 ERA with 40 strikeouts and just four walks in 28.1 innings of work in his playoff career.
UPDATE: According to MLB.com's Adam McCalvy, Woodruff has a right shoulder injury and is going to miss the entirety of the Wild Card Series. Per McCalvy, Brewers manager Craig Counsell says that Woodruff's availability is "up in the air" as of right now.
This injury news is devastating to a Brewers club that needed someone like Woodruff to help shore up their rotation. In his place, fellow starters Freddy Peralta, Wade Miley and possibly even Adrian Houser will need to step up and fill the shoes. Perhaps this injury opens the door for someone like Colin Rea to make his way onto the postseason roster.
Philadelphia Phillies – OF Kyle Schwarber
With Kyle Schwarber possessing one of the biggest "home run or bust" approaches in the game, it feels rather obvious that he's the club's top X-factor going into the postseason.
Somehow, the sweet-swinging slugger hit a whopping 47 home runs with 104 RBI (both career highs) this year while leading the major leagues in strikeouts and posting a batting average below the dreaded Mendoza Line, meaning he hit under .200.
Regardless, he walked 126 times and had an OPS+ of 122, which puts him 22 percent above league-average at the plate this year. The modern-day Adam Dunn fits the "three true outcomes" profile perfectly in that he really only ever walks, strikes out, or homers in his plate appearances.
While Schwarber, 30, remains a major power threat with a confusing stat line, he has a ton of playoff experience over the course of his career, including a World Series ring with the 2016 Chicago Cubs.
Once the Phillies start their Wild Card Series against the Marlins, it will be the fourth postseason Schwarber has participated in for the club. Last year, he went a combined 1-for-20 at the plate in the Wild Card and Division Series, but really began to pop off in the Championship Series and eventually the World Series.
In the NLDS against the Padres, Schwarber went 6-for-15 with six runs scored, three home runs and a .400 batting average. In a surprising twist of events, he actually drew six walks against just three strikeouts. He followed that up with a 5-for-20 line against Houston in the World Series; this time scoring five runs, hitting three more home runs and walking six more times.
Sure, Schwarber may get lost in the shuffle in a lineup that features the likes of Trea Turner, Bryce Harper and JT Realmuto, but don't count him out in the postseason's biggest moments.