Analysis
Big Decisions Loom For the Miami Marlins Post Lockout
One of MLB's most active teams prior to the lockout, the Marlins are poised to be active in the trade market once baseball operations resume.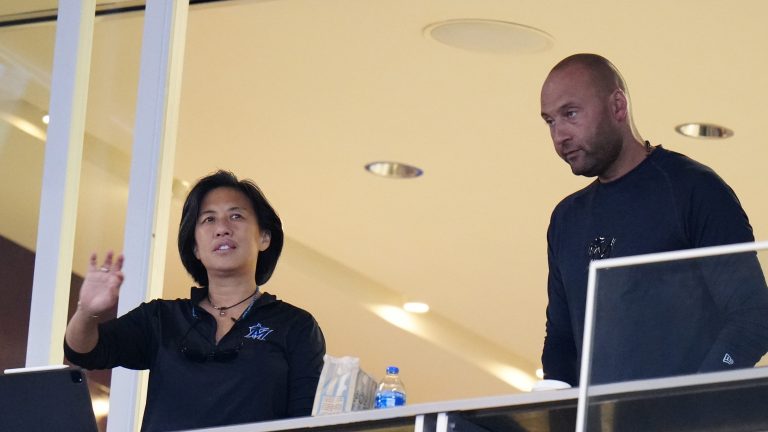 The Miami Marlins were one of baseball's most active teams prior to December 2nd's implementation of the lockout, eagerly trying to build a contender as we enter year five of the Bruce Sherman and Derek Jeter regime.
There may not be another organization in baseball that is so proficient in one area (pitching) while being so deficient in another (offense). The good news for the Marlins is that building pitching depth is generally perceived as more difficult; there is no more valuable asset in baseball than controllable pitching.
Many were anticipating that the Marlins would cash in on their pitching surplus in exchange for offense. While we did not get a blockbuster from the Marlins top level pitching, the team did package pleasant big league surprise Zach Thompson, along with solid pitching prospect Kyle Nicolas, for Pirates catcher Jacob Stallings.
Pre-Lockout Additions
The Stallings move was a no-brainer for the Marlins. The best defensive catcher in baseball, Stallings will work well with a young and extremely talented Marlins staff. Offensively, Stallings is not quite Johnny Bench, but he is a massive upgrade for the Marlins. Miami accrued a negative fWAR from the catching position last season, due to a mixture of offensive and defensive limitations along with producing a paltry 63 wRC+.
Stallings produced a 95 wRC+ last season, which by definition would be 5% below average for the statistic, however MLB catchers as a unit combined for an 89 wRC+ in 2021. Not only is Stallings much better offensively and defensively than Jorge Alfaro and Sandy Leon were for the Marlins, he is above average offensively and the reigning Gold Glove winner.
The Marlins also signed outfielder Avisail Garcia to a four-year, $53 million deal in November which may be a bit steep given the fact that Garcia has never produced back to back seasons with a wRC+ above 100 and has only produced an OPS above .800 twice in his nine year career.
The addition of Garcia without a doubt helps the Marlins offense and any time the Marlins spend money it is a positive, but for a team that has not given out a deal of three years or more since Bruce Sherman purchased the team, the Garcia deal seemed a bit forced.
Conventional thinking would be that Garcia benefitted from the hitter-friendly American Family Field, however the outfielder's home/road splits were even and according to Baseball Savant's expected home runs by park, 26 of Garcia's 29 homers would have left the cavernous loanDepot Park. There's always a chance things clicked for Garcia in his age-30 season, as his average exit velocity was higher than any season of his career, along with his expected batting average. The Marlins will absolutely need Garcia to be something close to what he was last season in order to compete.
The Fish also went out and got infielder Joey Wendle from the Rays in exchange for outfield prospect Kameron Misner. A sub-par second half made it easy to forget that Wendle was an All Star in 2021, providing a ton of contact and phenomenal defense all over the diamond.
It was a bit peculiar to see the Marlins trade an outfield bat in Misner who finished so strong last season at the Double-A level, though it is worth noting that the Rays are very particular in which prospects they target and Misner was likely one of the few prospects outside the Marlins top-five which the Rays were willing to trade Wendle for.
An interesting wrinkle to Wendle's 2021 season is his home/road splits. Several players have complained about hitting at Tropicana Field due to poor visibility in the white roofed and uniquely lit dome. The extreme splits of Willy Adames away from Tampa and especially after his trade to Milwaukee brought the topic of Tropicana visibility back to the forefront again.
Joey Wendle was evidently a victim of Tropicana Field's "elements", seeing a near 300 point OPS difference in his home road splits. The hope for the Marlins would be that they get something closer to the road Wendle or the first half Wendle and there's plenty of reason to believe that they can.
| Joey Wendle at Tropicana Field | Joey Wendle On the Road |
| --- | --- |
| .215/.273/.315, 2 HR, 17 XBH | .311/.361/.519, 9 HR, 29 XBH |
*2021 Season
It is worth questioning what the addition of Wendle means for third baseman Brian Anderson. The 28-year-old was limited to 67 games last season due to a shoulder injury and with the presence of Miguel Rojas and Jazz Chisholm up the middle–the former signing a two-year extension during the offseason and the latter projecting as a long-term piece–Wendle should presumably eat in to Anderson's at-bats.
Since taking over as Marlins General Manager, Kim Ng has been very noncommittal in regards to Brian Anderson's future, something that was not received well by Anderson and his camp last year. I find it a bit difficult to imagine that the Marlins would trade an ascending outfield prospect like Misner for Wendle and not break out their new addition for 400+ plate appearances next season.
All three of Jazz Chisholm, Miguel Rojas and Brian Anderson missed time last season so Wendle could naturally get plenty of run through rest days or stepping in across the infield, but keep an eye on the Marlins third base situation.
Where Do They Go From Here?
As things stand now, the Marlins offense should almost surely be better than it was last year, however that isn't saying much. The Marlins scored the second fewest runs in baseball–only ahead of the Pittsburgh Pirates–and were in the bottom-five in baseball in just about every other offensive category.
All indications point towards the Marlins making another splash once the lockout finally comes to an end, with reports from Craig Mish of the Miami Herald tying the Marlins to conversations with an American League team for an outfielder.
Put simply, the Marlins need an impact bat and bullpen reinforcement. The latter is easier to do given the volatility of the relief position, while the former will require a noteworthy haul of pitching prospects. We have endlessly heard the names of Cedric Mullins, Ketel Marte and Bryan Reynolds circulated, but Mullins and Reynolds will likely command gargantuan price tags while Marte is a sub-par defender in center field, who has struggled to stay healthy when playing out there.
The Marlins have voiced their willingness to roll with Avisail Garcia in center, an ambitious move in any park let alone loanDepot Park, providing the possibility that the Fish may just be so focused on offensive upgrades that the team can palate giving up a bit of defensive prowess in center whether it is Garcia or Marte.
Of the three outfielders listed, Mullins is the only player who is currently with an American League team, so there is a good chance that the Marlins could be targeting someone who hasn't been mentioned much. Now that Byron Buxton is locked up for the Twins, there's only a few other center fielders who could make sense for the Marlins.
Ramon Laureano of the A's could be an excellent fit as one of the game's best defenders along with a track record of above-average offense. Laureano could also be had for a bit of a discount due to a PED suspension that will delay the start of his 2022 season.
The Marlins were actively tied to Angels outfielder Brandon Marsh last season, until talks centered around a Max Meyer for Marsh swap fell through. The team has also reportedly not given up on the idea of adding another impact free agent like Nick Castellanos or Kyle Schwarber if the price is right; another indication that the Marlins are willing to compromise some outfield defense for offensive help.
If the Marlins are willing to target the Castellanos and Schwarber types even after the Garcia signing, maybe trade targets include more corner outfield types. I wouldn't sleep on the idea of the Marlins going after another corner outfielder in the trade market as well.
Wanted: Established Relievers
The Marlins needed to add proven back-end relief help last season and learned the hard way just how much more difficult those final three outs can be to get. The team signed Anthony Bass to step in as their closer last season and the 33-year-old was a disaster.
Dylan Floro was picked up in a deal with the Dodgers and thrived in his set up role before being thrown into save situations due to the struggles of Bass.
The Marlins have shown a willingness to trade for relievers beyond Floro, going out to get John Curtiss from the Rays before flipping him at last year's trade deadline and again trading with the Rays this offseason for Louis Head. The free agent market is incredibly deep and with the Marlins willingness to spend at least a bit more, I would like to see them stray from that approach a bit.
Veteran closer Kenley Jansen has been linked to the Marlins and would be a fantastic fit. Jansen bounced back in a big way last season, seeing his velocity jump across the board by nearly two miles-per-hour while increasing the movement on his offerings as well. At 34 years old, Jansen likely won't command more than a two year deal and if the Marlins go the trade route for their other outfielder, a two-year, $25-30 million deal with some incentives could get things done. Another option in a slightly cheaper price range could be 34-year-old Ryan Tepera or Joe Kelly.
Even with multiple offensive additions, pitching is going to be the strength for the Marlins. Kim Ng had mentioned during last season's struggles that the plan for the Fish was to be "pitching centric" all along. While Ng was right about pitching being a strength for the team overall, the bullpen was not good enough for a team that is leaning on its arms more than most.
If the Marlins don't look to trade Elieser Hernandez once MLB resumes its operations, the right-hander could slide into a bullpen role as the odd man out of the rotation. Hernandez has struggled a bit in relief appearances previously, but has never fully committed to the role. The 26-year-old has battled injuries through his young career and could be an ideal swingman for the Marlins on days where a pitcher may be scratched or if the Marlins want to preserve the health Pablo Lopez or Jesus Luzardo with the occasional skip of their turn in the rotation.
Trade Pieces
As mentioned earlier, the Marlins have a long list of arms they could potentially trade from. Given the Marlins organizational depth, it probably makes more sense to stay away from tapping into the big league rotation unless there is a franchise altering MLB bat to be had.
2020 Draftees Max Meyer and Jake Eder enjoyed spectacular debuts last season though unfortunately Eder will miss next season with Tommy John surgery. Fellow 2020 draft pick Dax Fulton returned from a Tommy John surgery of his own and showed a lot of promise in his first pro season last year as well. The Marlins acquisition of Jesus Luzardo at the trade deadline makes it conceivable that the team could be more willing to part with one of the two southpaw prospects in Fulton or Eder.
The Marlins would likely prefer not to part with Meyer, but it could be difficult to put a package together that does not include one of their premiere arms when the bats are mostly off limits. The Marlins were asked about Peyton Burdick in trade talks quite a bit, but have shown no willingness to dangle the outfielder. JJ Bleday just finished putting on a show in the Arizona Fall League and showed up to Marlins camp bulked up.
The idea of selling low on their former top pick Bleday, who struggled prior to end of the season swing adjustments, is probably difficult to stomach for the Marlins. Especially since he fits the team's timeline as he has a chance to debut at some point next season.
Despite a dominant 2021 season, the industry is rather split on Max Meyer. The right-hander's reliance on his elite slider and struggles to get whiffs with his fastball and find consistent feel for his changeup are the catalysts for the doubters. Several weeks back, I took a look at Meyer's strong finish to the season and came away encouraged by the development of his changeup. If a team out there saw similar stuff from Meyer down the stretch, it may be worth packaging him for the right return.
Eury Perez, 18, looks to be the most exciting prospect the Marlins have all of the sudden and after wowing the entire organization with an incredible professional debut, he is likely all but untouchable.
The one big league arm the Marlins would likely be okay parting with is Elieser Hernandez, who looks to be the odd man out of the rotation next year. The Marlins could try to dangle a package of Hernandez, Dax Fulton/Jake Eder and a tertiary piece, but it likely won't be enough to get the caliber of player the team wants.
Unfortunately for Marlins fans, a deal will likely have to include Max Meyer or Kahlil Watson to get done. I know, I said they won't trade from the bats, however Watson could be a player the Marlins talk themselves into trading.
The Marlins front office has been wildly impressed with Jose Salas and the über-talented Watson comes with some questions that resulted in him falling down draft boards and into the Marlins lap at 16. I'm sure the Marlins were thrilled to get a player of Watson's caliber at 16, however I doubt he was even on their draft board. On a smaller scale, we saw something similar happen with Austin Martin falling to the Blue Jays, who had no plan of selecting him until he was sitting there for them with the fifth selection; Martin is now a Twin.
The 2022 MLB Draft is loaded with high school and college bats and the Marlins own the sixth overall selection. In our most recent Mock Draft, we had the Marlins selecting dynamic prep outfielder Elijah Green, who offers as much upside as any bat in the Marlins origination and has a timeline that would not be all that different from Watson. The Fish could also go with a college bat as well.
At the end of the day, the Marlins need to make some impact moves at the big league level and some times that results in parting with prospects many don't want to part with. Even with a blockbuster deal, the Marlins would still have a solid system led by wunderkind pitching prospect Eury Perez and plenty of depth. The team also would have one of baseball's youngest and most controllable rotations.
I understand Marlins fans being hesitant to part with a big prospect haul, but in year five, the organization has to try to move the needle and cashing in prospects for proven big league talent is swinging the percentages in your favor. Several of the aforementioned prospects could very well end up being MLB studs, however Marlins fans can also remember times where the big time prospects resulted in little to no value (see Yelich and Cabrera trades).
It's time for the Marlins to swing for the fences and bet on their ability to replenish as well as develop their minor league arms. The team's current big league rotation will afford them time to do so with no spots in the rotation opening up any time soon.