Analysis
Baltimore Orioles Trade Deadline Outlook
Sitting at .500 at the break, the Orioles are closer to being a buyer at this year's trade deadline than in years. But will they still sell?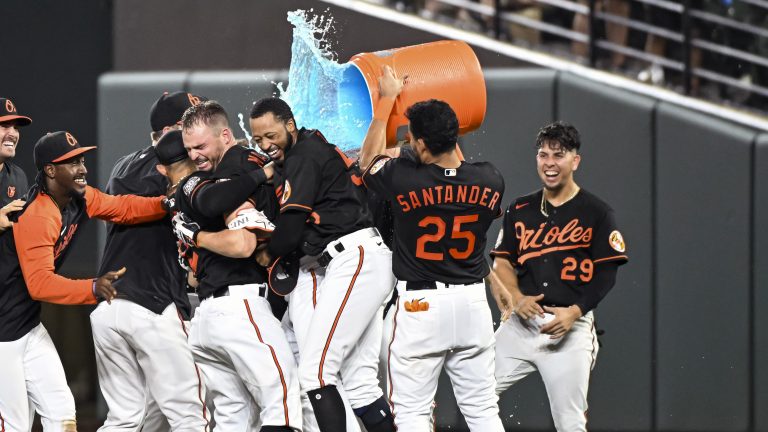 How often do you see this much hype and excitement surrounding a last place team?
The Orioles, 46-46, entered the All-Star break 18 games back in the AL East, but only 3.5 games back in the Wild Card standings. Austin Hays' breakout, the arrival of Adley Rutschman, and stellar performances from relatively unknown pitchers has brought life back to the fan base.
We know the future is bright. The O's have one of the better farm systems in baseball, but has their hot stretch moved the Orioles into buy mode? Will they look to sell one more time? Or will the front office be cautious and acquire assets that might help now but also in the future?
If Baltimore Sells, Who Stays and Who Goes?
I won't lie, this part hurts to write. A fan base so hungry for a taste of success would have their heart's ripped out. Of their potential "sell" candidates, you have to first ask which players would have a role in the future?
Baltimore could look to move on from expiring deals or players who are about to get surpassed by the young emerging talent in the farm system.
Trey Mancini – 1B/DH/OF
2022 Stats: .277/.352/.417, 9 HR, 37 RBI,119 wRC+
Let's get the biggest gut punch out of the way. Mancini has been a fan favorite and one of the most talented players on the Orioles since entering the league in 2016. He's battled back from cancer to give this team and city something to cheer about during the dark days. Trading away a leader in the clubhouse only 3.5 games out of a playoff berth would be difficult.
Mancini is in the final year of his contract with 2023 being a $10 million mutual option year. He's on pace to have arguable his best season outside of the 2019 rabbit ball year. Being able to play first or corner outfield with power and a relatively low strikeout rate will be attractive to many teams. I would imagine at 30 years old Mancini will opt out of his option year and look for a longer term deal to finish out his career.
Of all the possible trade or keep candidates in Baltimore, Mancini is the most difficult decision. The return would be a prospect package, and a good one at that. As long as the Orioles are comfortable extending him, I would lean toward keeping Mancini.
A front loaded deal to help the cash flow once Cedric Mullins, Austin Hays, and others contracts are due for extensions could work well for both sides.
Part of building a winning team is the culture. No one can help establish that more for the next wave of prospects than Mancini.
Anthony Santander – OF
2022 Stats: .239/.328/.420, 15 HR, 46 RBI, 112 wRC+
The 27-year-old switch-hitting outfielder is also having his best season outside of the COVID-shortened 2020 year. He's walking at a career best 9.7% clip and striking out only 18.6% of the time. Several contenders are looking for outfield or DH help and his ability to switch-hit makes him an easy fit for most lineups. Not only does he bring power, Santander brings a contract situation teams could easily fit in, being under team control through 2024.
Santander will not bring value in the field, as he grades out as a poor defender. He ranks in the seventh percentile in outs above average (OAA) and has not posted a positive defensive WAR in a full season. There's concern that what we are seeing this season at the plate is the real Santander.
| | | | | | |
| --- | --- | --- | --- | --- | --- |
| | Plate Appearances | Average | On-Base | Slugging | wRC+ |
| 2019 | 405 | .261 | .297 | .476 | 97 |
| 2020 | 165 | .261 | .315 | .575 | 130 |
| 2021 | 438 | .241 | .286 | .433 | 92 |
| 2022 | 360 | .239 | .328 | .420 | 112 |
2017 & 2018 omitted due to small sample size
In 2023, Santander will be 28 years old and one year closer to free agency. You could say there's still room to improve. Well, the Orioles roster still has room to improve as well. The pitching has Grayson Rodriguez and DL Hall on the way, but the lack of a true ace or high-end starter is apparent. Because of that, I say trade Santander. Here's why.
Trading near or at the top of his value will maximize return. The two additional years of control will help bring significant pieces back
Colton Cowser, Kyle Stowers, and Heston Kjerstad are highly-rated prospects who could take an outfield spot in the near future. Not to mention the options already on the roster (including the unknown of Yusniel Diaz).
At $3.5 million in 2022, Santander's cost will only go up. Contract extensions, others players rising arbitration prices, and need for free agents to fill the roster will become easier without Santander's money on the book.
Jorge Lopez – RP
2022 Stats: 4-5, 1.62 ERA, 17 SV, 44.1 IIP, 51 SO
I doubt anyone saw "Jorge Lopez, 2022 All-Star" coming. Since transitioning to a bullpen role in late August 2021, Lopez has looked like a new pitcher. He's increased his sinker usage by 14% from last season and dropped the fastball from 21.1% in 2021 to 4.4% in 2022 and the results are paying off. Lopez has relied on his breaking ball and off-speed movement to fool hitters.


As you can see in the chart above, all of his pitches have seen increased vertical movement (top chart) and horizontal movement (bottom chart) from last season. While I am usually on board for trading relief pitchers if you are not 100% a contender, Lopez is the exception. The Orioles might have found something here and with two years left of team control and only making $1.5 million this season, I say keep him.
Closers/high leverage pitchers are extremely expensive. Baltimore will need to allocate money in other positions and having a high-leverage option, at 29 years old and relatively cheap, will allow them to spend elsewhere. I believe they are close enough to contention hold onto this asset.
Although if they decide to move him, they could bring back a nice haul.
Jordan Lyles – SP
2022 Stats: 6-8, 4.76 ERA, 1.42 WHIP, 107.2 IP, 91 SO
I honestly do not know what to make of Joran Lyles career. The 12-year veteran has a career 4.69 ERA and 1.43 WHIP and lead the league in earned runs in 2020 and 2021. However, he continues to get opportunities as an innings-eater and could play that role for a contender.
The return for Lyles will be light as he is a secondary option on the trade market without upside on an expiring contract. If the Orioles can move him, they should. Opening a rotation spot for DL Hall would be the cherry on top.
If Baltimore Buys, What Will They Target?
With where they are in the standings and in their team life cycle, the Orioles will not be adding high-level expiring contracts or complementary pieces to help push them over the top. Baltimore will likely look for assets that will help build the roster for the future, while also improving the team in 2022.
A quick look at the possible depth over the next few seasons should help us understand areas of need.
Catcher– Adley Rutschman
Infield – Jorge Mateo / Ramon Urias / Terrin Vavra (AAA) / Ryan Mountcastle / Trey Mancini / Gunnar Henderson (AAA) / Jordan Westburg (AAA) / Coby Mayo (AA) /
Outfield – Austin Hays / Ryan McKenna / Cedric Mullins / Anthony Santander (If not traded) / Colton Cowser (AA) / Kyle Stowers (AAA) / Heston Kjerstad (A+) / Yusniel Diaz (AAA)
Rotation: Dean Kremer / John Means (INJ) / Spenser Watkins / Tyler Wells / Bruce Zimmerman / Grayson Rodriguez (INJ – AAA) / DL Hall (AAA) / Drew Rom (AA)
Bullpen – Plenty of options under team control
Catcher depth will likely be filled with veteran free agents as Rutschman is a franchise cornerstone. Mountcastle/Mancini can fill out DH/first base. The rest of the infield has enough young upside and team controlled options that free agency will likely be the best option to round out the needs. Same situation in the outfield.
That leaves us with starting pitching. Rodriguez and Hall offer the most upside while several other prospects could help fill out the rotation and provide depth. Ideally, Wells becomes your four or five and Means comes back healthy and fits into the middle of the rotation. This assumes health and continued growth from each pitcher.
At the end of the day, Baltimore lacks a player with experience and upside that could slot into the top two of a rotation. Someone who helps Baltimore win until Rodriguez and Hall get to the level or leading a rotation.
These types of arms, who are young enough to help lead the Orioles into and through their contention window, do not come around at the deadline often. They have to be on a seller who would wants prospects, not rentals, in return. That leaves us with one clear target.
Tyler Mahle – SP – Cincinnati Reds
2022 Stats: 3-7, 4.48 ERA, 1.30 WHIP, 92.1 IP, 102 SO
Mahle is a puzzling pitcher. At 27 years old, he's in the prime of his career and could benefit from pitching in a new ballpark. His career home ERA of 5.07 is significantly higher than his road ERA of 3.74. Mahle's 4.48 ERA in 2022 is also higher than his 3.20 xERA and 3.55 FIP.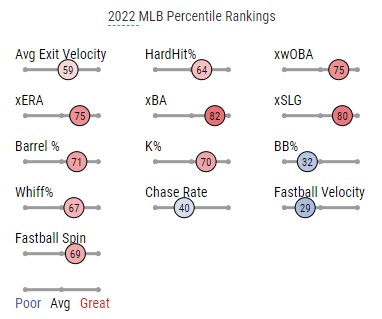 As you can see, Mahle's advanced metrics are better than a pitcher with his numbers. Several of his pitches generate great movement and there could be more to unlock once he gets out of Great American Ballpark.
If you are concerned with his walk rate, and tell me if I sound like a broken record, that should improve once he gets to a different ballpark. In his career, he has less walks on the road (101) than at home (118) while pitching in 35 more innings on the road. Mahle often throws out of the zone at home attempting to limit damage in a ballpark that seems to have a vendetta against him.
If you are asking yourself "why not just get Luis Castillo?" The answer comes down to cost, both prospect and money wise. Castillo is older and will likely have top tier contenders bidding for his services. The return might not be drastically different, but Mahle should come at less of a cost. Both have one more year of team control, and Castillo will likely cost more for an extension.
Mahle will not come cheap. To acquire him will cost a couple prospects fans might not want to see go. That extra year (2023) of team control will drive up the price. It all comes down to if the Orioles would rather trade for Mahle and look to extend him or pay a premium for a free agent of his same caliber.
Overall the Orioles are a team that is a little caught between being a buyer and a seller at this year's deadline. But considering what their last five years have been like, fans have to be thrilled at where this team is at heading into the final stretch of the 2022 season.