Analysis
Atlanta Braves Offseason Outlook
For a team that has locked up most of their young core to long-term deals, Dansby Swanson is set to become a free agent this offseason.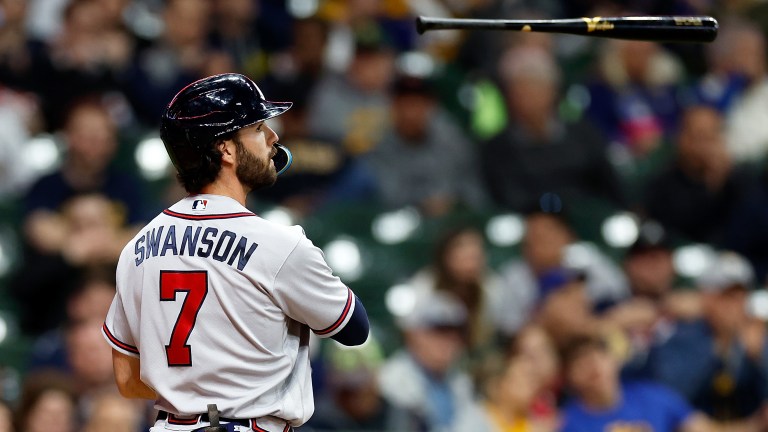 Even with the incredible run they made to overtake the NL East, and get the first-round bye heading into the postseason, the 2021 magic did not seem to carry over into this season for the Atlanta Braves.
Last year we saw them make a ton of moves in-season to try and make up for the loss of Ronald Acuna Jr. All of them played a huge part in hoisting the trophy and making them the early 2022 offseason favorites to take the NL East, and defend their crown.
Unlike the 2021 trade deadline, the 2022 offseason was not as kind. Losing their franchise player Freddie Freeman was not something anyone saw coming, but their creativity to replace him before he signed elsewhere was applauded at the time.
Shortly before the Dodgers plucked Freeman away, the Braves traded for, and immediately gave a huge extension to, Matt Olson to be their next cornerstone first baseman. They also looked to sure up the back-end of their bullpen by signing Kenley Jansen to be their closer for 2022.
Now, Alex Anthopolus faces his next task in figuring out what he needs to do in order to get the Braves back into the World Series in 2023.
Locked-In
The Braves continue to shock everyone with their ability to lock in their young, and extremely talented, roster for the long-term.
Every one of Ronald Acuna, Ozzie Albies, Austin Riley, Michael Harris, and Spencer Strider were all given massive extensions over the past couple of seasons. In other words, the core is intact.
The one hole they will likely have to fill this upcoming offseason is the one that Dansby Swanson will be leaving at shortstop. With the Braves being so quick to hand out extensions to the core pieces of their roster, Swanson was not one of them. It begs the question, do they think they can find similar production elsewhere?
While Swanson's production tailed off a bit towards the end of the season, and into the postseason, he is a big reason why they had so much success this year. Swanson was one of the better-rated defensive shortstops in 2022 and had a career-year offensively.
Even with his departure, they do have a nice insurance plan for another young budding star, Vaughn Grissom. However, many question whether he will be able to remain at the position long-term.
They will likely be out of the big-fish market at shortstop, with their dedication to prioritizing their in-house talent. But if they wanted to provide a one-year stopgap that allows Grissom to develop, someone like Aledmys Diaz could fill the void. A player who is versatile enough to be used anywhere else on the field when he isn't playing shortstop is the perfect solution.
Marcell Ozuna's contract is another issue.
He is owed $16 million in 2023 and 2024 before having a $16 million club option for 2025. Ultimately, I believe they move on. What it does for them is open up another spot in their lineup for the possible addition of an impact bat.
The Braves had Grissom take reps in the outfield throughout the season just to get him more at-bats, but I don't see him filling that spot. A one-year flier for Mitch Haniger could be the perfect veteran addition to this young lineup.
You Can Never Have Too Much Pitching
The Braves have prided themselves in having a multitude of arms for every situation.
Through the development of Max Fried into becoming one of the game's best left-handed aces, to the emergence of Kyle Wright and Spencer Strider, to the veteran Charlie Morton, Atlanta's rotation looks to be in good shape heading into next year.
One thing they are going to be keeping an eye on are the hopeful adjustments that Ian Anderson can make in order to solidify a starting five. If he is unable to make the changes, they still have other young pitchers in Kyle Muller and Bryce Elder who could fill the void. Let's also not forget about the eventual return of Mike Soroka from his injuries.
In regards to their rotation, I believe their 2023 starting five is already in-house.
Now, the bullpen.
If there is one aspect of their pitching that the Braves pride themselves on, it's having the perfect reliever ready to go for any situation. Kenley was brought in on a one-year deal, but they're already positioned to have a strong bullpen in 2023. Their deadline acquisition of Raisel Iglesias solidified that.
The loss of Tyler Matzek will be felt after the performance he gave them in 2021 and 2022. Even without him, they still have a strong set-up man in A.J. Minter ready to go at a moment's notice. Even though he finds himself in a new uniform every season, Jesse Chavez always ends up in a Braves uniform at the end of the year, providing them with meaningful innings when they need it. Jackson Stephens and Dylan Lee also showed strong potential down the stretch.
The Braves do not have a pitching problem, even through many blame it for their demise in 2022.
Offseason Outlook
Alex Anthopoulus is the contract whisperer.
He has positioned this ball club perfect for a sustainable, dynasty-Esque, run for years to come.
The biggest thing to look for is what they decide to do with Dansby Swanson and Marcell Ozuna this offseason. If they do decide that they need to move on, I have no doubt they will be able to have continued success in 2023 and challenge the rest of the league for the World Series championship.