Analysis
Arizona Diamondbacks Trade Deadline Guide
The Diamondbacks have the chance to contend this year, but need a shot in the arm at the trade deadline after coming out of the break slow.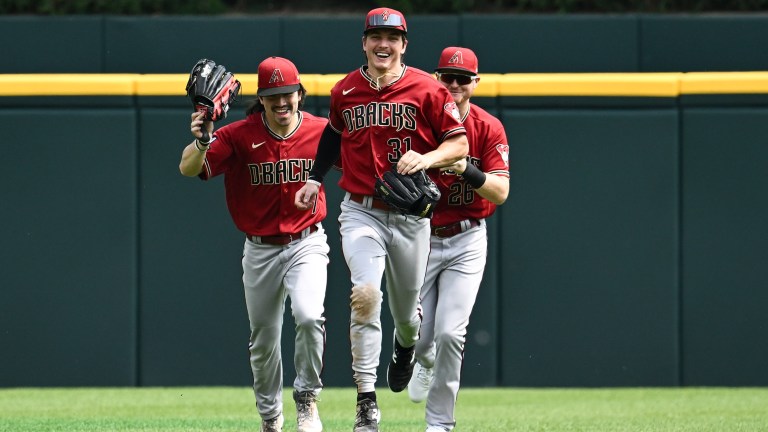 The Arizona Diamondbacks have been one of the best surprises in baseball this season, going from a fourth place finish last year, to contending atop the NL West with the Dodgers and Giants this year. As the August 1 trade deadline approaches, they will be looking to firm up their roster as they try to play postseason baseball for the first time since 2017.
All stats taken prior to play on July 23rd
Will the D-backs be active before the trade deadline?
Yes. General manager Mike Hazen has made clear the team will look to improve.
"We're going to be willing to make trades, to add to this team if it becomes available," Hazen told Arizona Sports' Bickley & Marotta, adding, "There's a difference between being aggressive and being reckless. I don't think it serves the organization short or long-term to be reckless. I do think it serves the organization to be aggressive."
Presumably, however, the D-backs will protect prospects Brandon Pfaadt, Jordan Lawlar, and Druw Jones. They have the third-best farm system in MLB as ranked by MLB Pipeline, so they have players who can be moved in trades.
How's the team overall?
As it stands, the D-backs have been a solid team. They are sixth as ranked by fWAR (15.2). Their 115 home runs make them 12th, while their 100 stolen bases are third-most in baseball. The team's wRC+ of 103 is 10th. So in terms of offense and defense, the D-backs are fine.
Where are the areas of need then?
The pitching — both the starting rotation and the bullpen — could use reinforcements. After Zac Gallen and Merrill Kelly, things get uncertain, and that is where the D-backs will look to improve. The starting rotation is worth 6.6 fWAR, 16th, its ERA is 4.70 (23rd), and its FIP is 4.45 (18th).
Zac Gallen is having a Cy-Young-worthy season, with an fWAR of 3.7, second-best in baseball. Merrill Kelly is 43rd with an fWAR of 1.7. After that, however, things fall off dramatically. (Ryne Nelson is 81st with a 1.0 fWAR.)
Now consider the bullpen. The D-backs' bullpen is ranked 22nd with an fWAR of 1.8, an ERA of 4.38 (23rd), and a FIP of 4.31 (22nd). Their x FIP is 4.17, which suggests a bit of bad luck on the bullpen's part — but not much.
This is not enough for a team hoping to run deep into the postseason, so look for the D-backs to be in the market for pitching, both starting and relief as well as a reliable closer.
Which rental starters are available?
As a side note, this list includes players on teams that are clearly out of contention or have indicated they will be sellers. All pitchers listed here will be free agents at the end of the season, so these would be rentals.
The trade market for starting pitchers is not plentiful; however, there are some promising choices. All data is via FanGraphs.

Now to the specifics.
Jordan Montgomery ($10 million) and Marcus Stroman ($25 million with a 2024 player option) are clearly the best starting pitchers available. Both are having exceptional seasons.
Montgomery struck out five Miami Marlins in his most recent start.
Stroman has been one of the most dependable starters in baseball over the last three seasons and has pitched in big games before across his nine-year career.
Then, the choices drop off a bit.
After a tough start to 2023, Jack Flaherty ($5.4 million) has evened out a bit, though recent injuries and playing inconsistencies might cause some teams to pause. That said, when he's on, he's very good. Flaherty is also unlikely to net the kind of return for the Cardinals that Montgomery will.
Lucas Giolito ($10 million), Michael Lorenzen ($8.5 million), and Rich Hill ($8 million) are very similar in terms of their fWAR. However, Giolito's 9.47 K/9 merits attention. He has clearly put last year's struggles in the rear-view mirror and could add to a contending team like the D-backs in need of some veteran pitching. As for Lorenzen, he's having a career year in terms of strikeouts.
Drew Smyly ($8.5 million in 2024, with opt-out after 2023 and a 2025 mutual option) has been quietly effective, while Lance Lynn ($18.5 million, with a 2024 club option for $18 million) has seen improvement of late.
Before pointing out that Lynn is having a fairly miserable season (which is true), note, as Mike Petriello has, that Lynn remains effective against right-handed hitters and that his strike percentage is up — plus, he's been good across his last five starts. An acquiring team, though, would surely expect the Chicago White Sox to help pay down his salary.
Any of these choices would probably improve a D-backs' starting rotation needing reinforcements.
Which rental relievers are available?
The choices here are not robust. Again, the data is via FanGraphs.

Chris Stratton ($2.8 million) is the best reliever of this set in terms of fWAR, and Jordan Hicks ($1.84 million) should not be overlooked.
Although the Colorado Rockies are having a miserable season, general manager Bill Schmidt signed three relievers during the offseason who have been effective, most notably, Brent Suter ($3 million). He is coming off an oblique injury but was reactivated on Wednesday, and the success of his rehab will be known soon. Brad Hand ($1.5 million with a 2024 team option) brings postseason experience.
Both he and Suter are lefties, which increases their value. Meanwhile, Pierce Johnson ($5 million) struggles with walks (1.63 BB/9) but has the highest K/9 (13.27) of any player on this list. The question is the willingness of the D-backs to send prospects to a division rival.
Carl Edwards Jr. ($2.25 million) has the second-highest GB% of this set of pitchers, while Joe Kelly ($9 million with a 2024 team option) is having a better season than the numbers suggest — his ERA has been affected by a few bad games — and comparing his FIP with his xFIP suggests he may be having some bad luck. Kelly is coming off an elbow injury, but reports suggest it is not serious.
These options may help to strengthen an unsteady D-backs' bullpen.
Let's try something wild. What about Dylan Cease?
Now, that's an interesting possibility.
Currently, Cease is MLB's 17th-best pitcher as ranked by fWAR (2.4). He's down a bit from his last two seasons, but he would be a solid acquisition for any team.
This year, in 113.2 innings, he has an ERA of 4.04 with a FIP of 3.63. Cease was a Cy Young runner-up in 2022, and while he's dropped off a bit, the stuff remains lively.
Here he is against the Twins on Saturday.
He also has two more years of team control and has a salary of $5.7 million. If the D-backs were to trade for Cease, this would be the top of their rotation as shown by FanGraphs:

That'll play and help set the D-backs up for their contention window.
It would not be inexpensive, however.
John Heyman has reported that Cease is one of four Chicago White Sox players the team does not plan to make available. That doesn't mean that the Sox would not be willing to make a trade, but the price would be dear. Then again, given the depth of the D-backs' farm system, they are in a position to make a deal.
Closing thoughts
The Arizona Diamondbacks have been sluggish since the All-Star Break, and they know they need to do something to jumpstart their team and get back on a winning trajectory.
Look for them to use their deep farm system to improve their pitching.