Analysis
Appointment Television in Each MLB Division
Previewing the teams and players from each division that fans should be most looking forward to watch in 2022.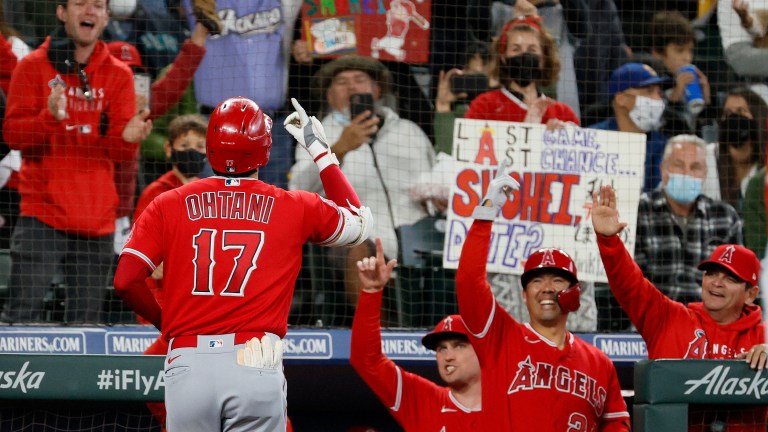 Something about Spring Training is just magical. Maybe it's the first glimmer of sunshine on a television set in what feels like ages, or just the ease of mindlessly watching a baseball game without actually caring about the result.
Really though, what makes this time in the baseball calendar special is the general optimism that exits around the game. Every team starts with the same record and a chance to turn in a summer to remember.
Despite how your team looks going going into a new season, a certain level of excitement always exists. Each season, a couple teams catch the eyes and hearts of all baseball fans as a collective unit.
Last season, the Seattle Mariners surprised the baseball world by winning 90 games and finishing just one game shy of a Wild Card berth, all while having a -51 run differential. Close games and a bullpen of relative castoffs piecing together career years lead to a story that was hard to "believe".
How about the 2020 "Slam" Diego Padres?
Another franchise with a lackluster recent history surged its way to the playoffs, fueled by a young phenom while reigniting the in-state rivalry with the Los Angeles Dodgers.
Let's dive in and see which team and player from each division has the chance to captivate the baseball world this season.
AL West
Angels, Rangers, Athletics, Astros, Mariners
Team: Los Angeles Angels
Seattle look the crown last year, but in 2022 I am siding with the Angels. The array of outcomes for this team, combined with two of the best players in the game, have me locked in.
Noah Syndergaard, Mike Trout, and Anthony Rendon are all set to return from injury. No one knows what to expect, but no one will deny their talent. Young players such as Jo Adell and Brandon Marsh are better players than they have shown early in their career, and a breakout season would not surprise me at all.
Add Reid Detmers and Patrick Sandoval to the list of exciting arms we have not seen enough of. Oh yeah, they also added Michael Lorenzen who can hit and pitch, in case you could not get your fix with Ohtani alone.
Player: Shohei Ohtani
Quite possibly the easiest one to pick. His performance on the mound and in the batter's box in 2021 was truly one of the most impressive displays of talent the game has ever seen. Last season, Ohtani gifted us a 9.0 WAR season with an ERA+ and OPS+ each over 140.
Crazy to think it took a supernatural hybrid freak of a player to convince the east coast baseball crowd to watch Mike Trout play baseball.
AL Central
Twins, Tigers, Indians, Royals, White Sox
Team: Minnesota Twins
Of all the divisions, the AL Central is the easiest case to make for each team being appointment television. The Minnesota Twins entered last season with high hopes, coming off of back-to-back productive seasons. Imagine the worst case scenario for 2021, and that is exactly what they got. Injuries led to trades, which led to a disappointing 73-win team.
Management then decided to move off core pieces, strengthen the farm, and still managed to add Carlos Correa, Sonny Gray, Gio Urshela, and Gary Sanchez after the lockout was lifted.
The Twins will have plenty of storylines this season. Byron Buxton will be back and looking to add onto his MVP caliber start last season before injuries derailed him. The rotation could still use reinforcements, but 6'9" Bailey Ober has a chance to catch some eyes.
Player: Luis Robert
Although Carlos Correa and Javier Baez have since entered the AL Central, I am turning my focus to Luis Robert. The 24-year-old centerfielder has all of the tools to legitimately change the trajectory of any game. Maximum exit velocities over 117 miles-per-hour (99th percentile) combined with speed and plus fielding allows you to dream on a future MVP, while still getting a Gold Glove outfielder in the game today. I am not ready to put any type of ceiling on a talent like Luis Robert.
AL East
Blue Jays, Red Sox, Yankees, Orioles, Rays
Team: Toronto Blue Jays
The "fun factor" of the late-season push and postseason run in Boston last year was top-notch "appointment television". Turn your attention just north of the border and you will find a team with a litany of exciting talent with a high ceiling.
A team with promising young stars such as Bo Bichette, Vlad Guerrero Jr., and Alek Manoah who haven't reached their ceiling has surrounded them with proven veterans. Adding Matt Chapman, Kevin Gausman, and Yusei Kikuchi filled the few holes left, while the Blue Jays bench also improved with Raimel Tapia joining the fold.
Player: Wander Franco
I can recite a bunch of numbers to prove how good the 21-year-old switch-hitting shortstop of the Tampa Bay Rays is, but not everyone will understand what they mean. Let's simplify to a language we all understand. Wander Franco is so good that the TAMPA BAY RAYS, of all teams, rewarded him with an 11-year, $182 million contract. Comprende?
Speed, power, glove, you name it, Franco's got it. He's good enough to potentially bump Tampa's average attendance over the 10,000 person threshold.
NL West
Giants, Rockies, Padres, Dodgers, Diamondbacks
Team: Los Angeles Dodgers
Last season, the Giants surprised everyone in the league by winning 107 games. Platooning and pitcher resurgence was funky and fun. However, I must go chalk here. The Dodgers, after winning 106 games in 2021, went out and added a top-two first baseman in Freddie Freeman.
A.J. Pollock and his 137 wRC+ is the least exciting bat in this lineup by far. This team is deep and scary good on paper. A lineup full of star power and experience, the 2022 Dodgers might be the best performance to come out of Hollywood in years.
Player: Kris Bryant
In perhaps the strangest move of the offseason, the Colorado Rockies went out and added Kris Bryant. A move that (hopefully) closes the door on the Trevor Story/Nolan Arenado-era Rockies, Bryant comes in on a seven-year, $182 million deal.
Although Bryant has only two home runs in 57 at-bats at Coors Field, we all know how the "Coors effect" can lead to players success. The home runs will come, but shooting the gaps and racking up doubles in that spacious Coors outfield will have fans seeing signs of hope, finally. I wouldn't be surprised if Bryant surpasses the 30-home run mark for the third time in his career.
NL Central
Reds, Brewers, Pirates, Cardinals, Cubs
Team: Milwaukee Brewers
The NL Central is not full of sexy teams with World Series rosters, but the team to dial in on is the Brewers. A rotation headlined by Corbin Burns, Brandon Woodruff, and Freddy Peralta gives you three chances a week to see a masterclass in pitching dominance. Adrian Houser, Eric Lauer, and Aaron Ashby have started at times and performed well.
Miss the beginning of the game?
Josh Hader and Devin Williams won't disappoint you coming out of the bullpen.
The Brewers offense is not sexy. Plain and simple. However, Christian Yelich is far too talented to struggle as mightily as he has. A bounce-back year would do wonders for the Brew Crew.
Player: Albert Pujols
Fairytale endings do not always happen in sports. When they do, everyone watches. People connect with the moment in time and remember it forever. After Albert Pujols signed a one-year deal to return to St. Louis, we all knew what was coming.
Thanks to the new CBA immediately instituting the universal designated hitter, Pujols has a chance to hit his 700th home run with the team he started with in 2001. Currently at 679, be prepared for the tweets counting down to 700.
If homeruns aren't your thing, Pujols is likely to add to his all-time record of grounding into double plays (413). Witnessing history in any form.
NL East
Mets, Marlins, Braves, Nationals, Phillies
Team: Philadelphia Phillies
Besides the Nationals, all teams have added in this division. The defending champions in Atlanta added slugger Matt Olson, while the Mets added future Hall of Famer Max Scherzer. But, my focus is on the Phillies.
Philadelphia added sluggers Nick Castellanos and Kyle Schwarber to pair with reigning MVP Bryce Harper, Rhys Hoskins, and J.T. Realmuto. There's no question this team can hit. That alone will draw eyes. The defense, on the other hand, might go down as the worst in baseball. Which, will also draw eyes. If the bullpen is not better, we could see a bunch of high scoring games. Who wouldn't tune in for that?
Player: Jacob deGrom
Achieving a 5.0 WAR season is a feat most baseball players do not reach in their career. Jacob deGrom reached that in 92.0 innings pitched last season. After missing most of the 2021 season due to injury, the two-time Cy Young winner returns to a rotation with newcomers Max Scherzer and Chris Bassitt.
A glance at deGrom's Baseball Savant page shows nothing but red. His ridiculous, albeit short, 2021 season shows just how insane the talent is.
Regardless of which team or division you plan to watch most in 2022, there is plenty of reasons to tune into the upcoming Major League Baseball season. Opening Day can't get here soon enough.