News
Baseball is Returning to the Olympics and A Big Star Wants In
Baseball and softball will make its return to the slate of sports at the Summer Olympics in Los Angeles, in 2028.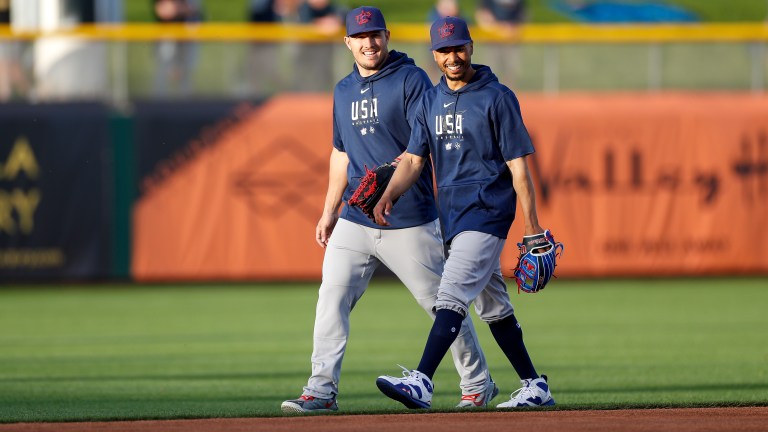 Baseball will be returning to the 2028 Summer Olympic Games in Los Angeles.
And one of MLB's biggest stars is throwing his hat in the ring.
Besides hitting moonshot NLCS home runs— on his 31st birthday no less— Bryce Harper says he would love to represent the United States at the Summer Olympics and hopes Major League Baseball will allow its players to participate in the LA28 games.
"You talk about growing the game, and that's the way you grow it at the highest peak," Harper said. "You let guys that are playing in the league take that break just like in the NHL and see what happens. I think it would be really cool. I think it would be a lot of fun. I don't know if they'll ever go for it, but I would love to put USA on my chest and represent it at the highest level."
Harper, who would be 36 during the 2028 Summer Olympics admitted he would "be old at that point" but says, "it's always a dream. I mean, I think it's everybody's dream to be in the Olympics."
Historically, baseball was labeled an exhibition sport at the 1984 Olympics (the last time Los Angeles hosted the Summer Games) and a demonstration sport at the 1988 Seoul Olympics.
Baseball became an Olympic sport in 1992 through 2008.
Professional players were allowed to compete in 2000 but MLB refused to release its players so Olympic rosters were filled with minor leaguers. The International Olympic Committee (IOC) dropped baseball from the program after 2008 but it returned when Tokyo hosted the 2020 Games (held in 2021).
Cuba has won three gold medals (1992, 1996, 2004) while South Korea (2008), Japan (2020) and USA (2000) have won one gold medal each.
Softball will also make its Olympic return in 2028, along with cricket, flag football, across, and squash.
Harper had hoped to represent Team USA at the 2023 World Baseball Classic during Spring Training but was recovering from offseason elbow surgery. Unlike the Olympics, the WBC is operated by MLB and takes place in the pre-season, meaning players do not need to miss any regular season action to participate.
The Summer Olympic Games in LA will take place from July 14 (2028) to July 30— right in the middle of the Major League Baseball season.
"I don't know if they'll [MLB execs] ever go for it, but I would love to put 'USA' on my chest and represent it at the highest level," Harper says. "I know the WBC, and everyone loves that and it's great for the game, but it's not the Olympics."
Imagine what type of country representation could take place on the global baseball field stage at the 2028 Summer Olympics.
Bryce Harper would be just the start.