Analysis
Anthony Volpe: A Deep Dive on a Struggling Rookie
Expectations could not have been higher for Anthony Volpe when he broke camp with the Yankees, but so far he has struggled to find his footing.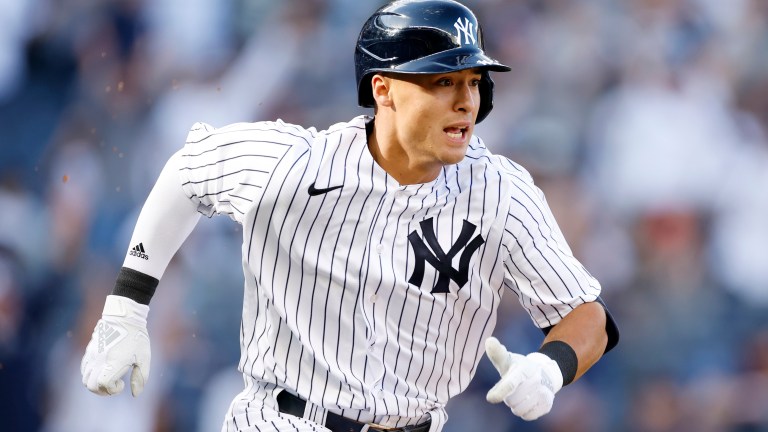 The New York Yankees made the gutsy decision to promote top prospect Anthony Volpe to the Opening Day roster. The 21-year-old Volpe became the youngest Yankee shortstop since Derek Jeter debuted as a 20 year old back in 1995. The comparisons to Jeter were impossible to escape and not the slightest bit fair to Volpe.
The Yankees have been an organization without a premier shortstop since Jeter retired in 2014. They've had four different players man shortstop for more than 100 games since 2015, including their current second basemen, Gleyber Torres, as well as Didi Gregorious, Ronald Torreyes and Isiah Kiner-Falefa. Simply not the greatest bunch to succeed one of the greatest shortstops the game has seen, so the Yankees fanbase was more than ready to latch onto Volpe, who came into the season as Just Baseball's No. 3 overall prospect.
Entering this season, Volpe was a clear star in the making who had not stopped hitting since he made his minor league debut back in 2019. He really burst onto the scene in 2021 and carried over a 1.000 OPS across Low-A and High-A while adding 27 home runs. He then started 2022 in Double-A and continued to mash, hitting 18 home runs in 110 games with an .820 OPS. He finished the year in Triple-A and came into spring training ready to win a job after Isiah Kiner-Falefa failed to produce at a high level in 2022.
He forced the Yankees hand by hitting .309 with three home runs in spring training and made the Opening Day roster. If he hadn't, Yankees fans may have stormed Brian Cashman's office, demanding Volpe make the team as ransom.
Now here we are, two months into Volpe's career, and for the most part he's struggling. His average is below .200, he's striking out too much and his defensive miscues are becoming a norm. For the most part, Yankees fans are not pleased with their rookie, so I wanted to dive into what's going wrong and see where Volpe can go from here to right the ship.
Rookie Growing Pains
It's a story that's all too common: a hyped top prospect makes his debut and is expected to produce immediately for one of the best teams in baseball and more times than not, the expectations outweigh what the rookie actually produces on the field.
For context, there are currently 52 rookies that qualify for the batting title this season. Just 12 of them have a wRC+ of 110 or higher, which means just 23% of rookies are 10% better than a league average hitter so far this year. If you find it better to compare to other top five prospects, well look at Gunnar Henderson, who was ranked as Just Baseball's No. 2 overall prospect entering the season and is hitting .204 with a 101 wRC+ this year. Simply put, even the best prospects don't become elite major leaguers immediately.
In Volpe's case, he was thrown into the fire that is Yankee Stadium and expected to not only hold down shortstop defensively, but also man the leadoff spot in front of Aaron Judge in his first month as a pro. That's a tall ask for any hitter, nonetheless a 21-year-old rookie.
All things considered, Volpe handled the pressure well through the first month of the season, holding a 94 wRC+ with eight stolen bases. Not generational numbers by any means, but enough to continue to hold down the leadoff spot into May, which is where things started to head south for Volpe.
What Has Gone Wrong at the Plate?
Throughout April, Volpe kept himself afloat by getting on base via the walk. His 14.8% walk rate was the 17th-highest in all of baseball in April and allowed him to steal bases despite a lackluster .217 average. In May, that patient approach disappeared and was replaced by a swing happy Volpe.
From May 1st on, Volpe has carried a walk rate of 4.6%, which is 17th-lowest in all of baseball. It's a complete 180 and partially explains his 57 wRC+ since May 1st, the eighth-lowest wRC+ in baseball over that span. It's been ugly and the lack of walks just scratch the surface of the problems plaguing Volpe right now.
The biggest problem for Volpe is his inability to hit when behind in the count. When he gets down 0-1, 0-2 or 1-2, he has a .142 average and a 42.8% strikeout rate. Now it's expected that all players hit worse when behind in the count, but his 26 wRC+ when behind in the count ranks 222nd out of 254 players.
Pitchers aren't scared of Volpe and are peppering him with first pitch strikes as they know he's an easy target when behind in the count. With Volpe's pull happy approach, pitchers are attacking him outside and he's consistently chasing at pitches out of the zone once he gets to two strikes, which has made him easy to game plan for.
Looking at the charts below, you'll see that more than half of the pitches Volpe has seen this season have been out of the zone. Now this would not be a problem if he had the ability to lay off these pitches, but he's swinging at more than 30% of pitches outside the zone and not making contact on nearly 50% of them. Pitchers are keying in on his weakness and bullying him with it.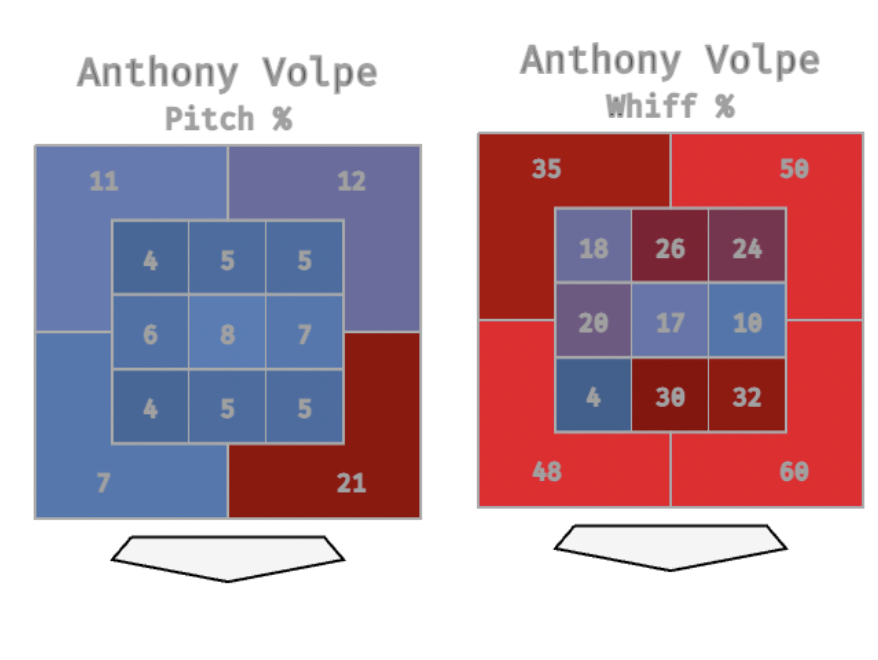 That's led to a lot of swings that look like this against sliders way out of the zone. Volpe is hitting .149 with a 30% whiff rate against sliders and has been unable to recognize sliders that finish well out of the zone.
The other pitch that's been eating Volpe alive are fastballs up and in. Overall, he's mashing against four-seam fastballs, but with his steep, upper cut bat path, he's unable to get his bat up in the zone and is susceptible to swinging through pitches like the one below from George Kirby. As Aram Leighton put it via text to me, "Don't let him lift. Two ways you can do that: Tie him up or roll him over."
Now I've talked about Volpe's lack of walks and is trouble with pitches out of the zone, but I've yet to cover what is happening when Volpe does make contact. Considering Volpe is making contact in around 60% of his plate appearances, what happens when the ball leaves his bat is pretty important. For how negative this article has been, this part shines a positive light on Volpe.
Volpe has been as advertised when making contact. He hits the ball in the air with regularity due to his upper cut swing and has a knack for barreling the ball. His 44.4% hard hit rate is above average as is his 10.6% barrel rate.
His expected wOBA on contact ranks in the 72nd percentile and is similar to players such as Kyle Tucker, Lars Nootbaar, Corbin Carroll and teammate Anthony Rizzo. Simply put, he's doing damage when putting balls in play, but the problem is that he's not putting enough balls in play.
Although his numbers in April were better than in May and the beginning of June, he only hit two home runs in April versus seven home runs in May and June. The power has really started to shine through. Just last week, Volpe hit his first home run against a slider all season.
It's a really impressive swing against a well located Logan Gilbert slider, which grades out as a plus pitch. More of this please!
The changes Volpe needs to make in order to reach his high ceiling as a hitter are no different than most struggling rookies. If he can raise his walk rate and limit strikeouts by chasing at less pitches out of the zone while maintaining this uptick in power, would likely become an above average hitter based on his ability to barrel balls that he does make contact with.
The challenge is that the jump in slug has come with a more aggressive approach, something Volpe has not needed to be able to produce throughout the minors. It's a good sign that he can get into his impressive game power at the highest level, but it's also important that he does not get away from who he is as a hitter: a guy who was never afraid to go deep into counts and take his free passes. A tough line to toe for many young bats.
I can't say for sure if that will happen this season, but he has all of the tools to make it happen and I imagine the Yankees are working with him to limit his swings out of the zone. Volpe righting the ship in the second half of 2023 would not surprise me at all. You have to give rookies a minute to adjust and get used to the quality of pitches they are seeing.
Defense Defense Defense
Volpe was originally regarded as a defensive-first prospect and has received rave reviews from evaluators for his defensive excellence. As Aram Leighton put it, "Volpe's instincts help him maximize his tools defensively. His arm is average and the range is slightly above average, but he makes every routine play and seems to always be in the right spot. He is extremely accurate with his throws as well."
The problem though, is that Volpe has not been consistently making the routine plays this season. He leads the league in fielding errors with seven and let's just say that the scorekeepers have been on Volpe's side as I found three additional fielding errors that were ruled base hits such as the one below. It's assumed this type of stuff happens for everyone, but still, Volpe should have 10 fielding errors on the season.
What you see above has been the problem for Volpe all season. A player who is lauded for his soft hands has consistently had balls clank off his glove or run up his forearm. The positive though, is that these are the types of plays Volpe has made in the past and should continue to make at the major league level. The only thing I can attribute to these mistakes is that Volpe is putting too much pressure on his glove since he's not hitting well at the moment.
The advanced defensive metrics are a bit split on how they view Volpe. Defensive Runs Saved (DRS) views him as one of the better shortstops in the game. He's compiled 4 DRS, which ties him with Francisco Lindor, Jeremy Pena and Zack Neto for fourth among shortstops. On the other hand, Outs Above Average (OAA) views him as one of the worst defensive shortstops in the game. He has compiled -4 OAA, which ranks him 18th out of 21 qualified shortstops.
It's always hard to draw conclusions when the data is this skewed and I tend to average the two stats out, but I believe the reason Outs Above Average doesn't love Volpe is that he fails to make spectacular plays, like the one shown below, as well as the routine plays this year and that's hurting his grade.
My overall judgement of Volpe's fielding is that he's an above average, but not spectacular fielder that will make the routine play, but not the ones that make you go "oh wow how did he do that" due to a lack of elite range. As Aram mentioned, his throws are not the hardest, but they're almost always on target and he has just one throwing error this season, which should not go overlooked.
Overall Assessment of Volpe Through Two Months
Volpe came into the season with a ton of pressure to perform for a Yankees team that has World Series hopes and although he's struggled to begin his career, it's evident that he has the tools to not only provide value to the Yankees this season, but become a future star in this league.
It's important to remember that young players take time to adjust to the major leagues. The issues that have plagued Volpe such as the walk and strikeout issues will likely dissipate as he gets more MLB plate appearances under his belt. Yankees fans need not worry, Volpe is their shortstop of the future and the present. Let the kid play.