Analysis
Alexis Diaz Has Entered the "Elite" Discussion
Building off a strong rookie campaign last year, Alexis Diaz is becoming one of the best young closers in all of baseball.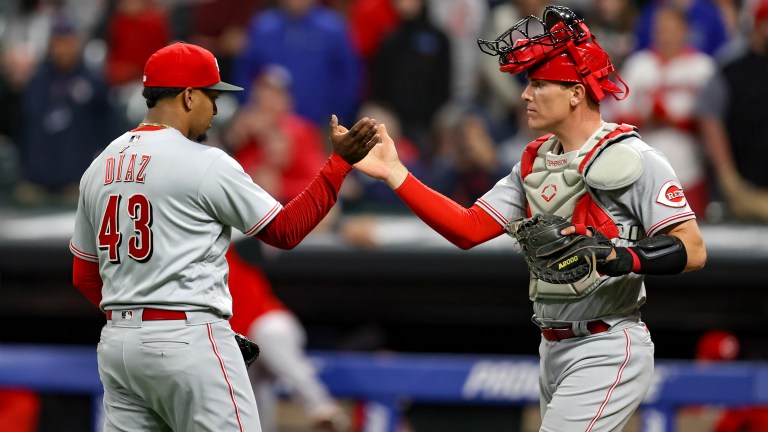 Entering 2022 as an unknown to the casual baseball fan, Alexis Diaz quickly made a name for himself. A simple combination of fastball and slider fooled batters all year and propelled his name into the offseason rumor mill. Cincinnati held, and now has a closer who's entered the elite category.
In his rookie season Diaz was used in high-leverage situations, but was not given the outright "closer" role. An ability to strike anyone out was present, but inexperience and trouble finding the zone caused hesitation from manager David Bell at times.
Coming into the 2023 season, it was clear the 26-year-old righty was ready to be given the keys to a more traditional closer role. So far, he's excelled.
Through 17 games, Diaz has a 2.25 ERA, 1.05 FIP, and a 1.62 xERA. His 10 saves already matches his total from last season. Relief pitchers fWAR is a bit clunky, but his 1.0 also matches his total from 2022, for what it's worth.
Diaz's success can be attributed to his elite slider. Batters are hitting .067 off the pitch with a xWOBA of .102 and a 50% whiff rate. It's been one of the best pitches in baseball, and Diaz has leaned into it even more this season.
After throwing the slider 35% of the time last year, he's increased the usage to 47% this season. A fastball that sits 95 mph with a slider coming in at 87 mph has been difficult for hitters to differentiate between the two pitches.
Coming out of his hand, these two pitches look very similar until it's too late to adjust, usually resulting in a swing-and-miss or weak contact. Squaring up either pitch has been difficult as Diaz has only allowed one barrel and one extra base hit (a double) all season.
While the sample size (16 innings) is still small, Diaz has shown improvement in the largest area of concern from last season – walks. After posting a 4.66 BB/9 in 2022, he currently sits at 3.94. Still higher than you would like, but trending in the right direction. I think walks will always be high with Diaz, but he has the stuff to be successful even if he walks some batters here and there.
Not only are the walks down, but the strikeouts are up. Diaz is striking out a ridiculous 49% of batters (16.88 K/9). Sure, that number is likely to come down, but I would not be shocked if he sits around 12-13 K/9, he's that special of a pitcher.
Stuff+, Location+, and Pitching+ are new metrics that try to display just how great a certain pitchers pitches are. A full explanation can be found here.
Diaz's most recent outing, in Colorado nonetheless, shows just how useful he can be. The new model has some adjustments needed, as mentioned by the creator Eno Saris, which explains his slider not quit registering correctly. But I think we all know the greatness of the pitch.
Long Term Outlook
With Diaz establishing himself as a top tier closer, the question that keeps circulating is "should the Reds trade him?" I typically subscribe to the idea of moving bullpen pieces from rebuild teams, but Diaz fits into the exception. I understand relief pitchers have up and down years and the temptation to capitalize on his success is there. But at 26 years old and under team control until 2028, I think Diaz is here to stay.
As the Reds enter a new era with top prospects coming into the fold, they need to construct a core for their competitive window, and Diaz is part of it. He'll be relatively inexpensive, especially when compared to other relief pitchers of his caliber. Finding arms to fill the sixth and seventh inning is much easier than finding bone a fide high leverage arms.
Yes, the return for Diaz would be significant. So is the value he can bring to this Reds team with a chance to be in a playoff mix. You can find successful relief options every year, but you can't often find an Alexis Diaz.