Analysis
ALCS Playoff Preview: Texas Rangers vs. Houston Astros
Two heated AL West division rivals square off for a chance to advance to the World Series. Who will win, the Texas Rangers or Houston Astros?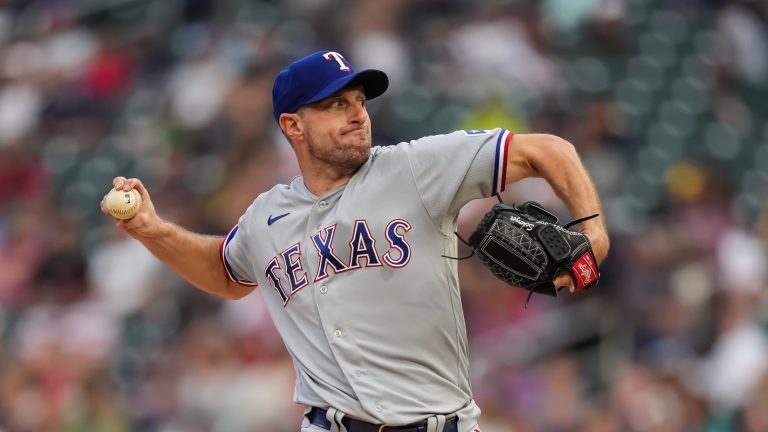 After the Rangers led the way in the AL West for the majority of the season, the Astros stormed back to steal the division on the last day of the year. And now we get the Battle of Texas with the AL Pennant on the way.
This feels like one of the best matchups we've seen in recent ALCS memory as these two teams finished with identical records and are just a mere four-hour drive away from one another.
The storylines are vast starting with the in-division rivalry from the star-studded rosters to the fact that Max Scherez and Justin Verlander were dealt to these teams at the same time this year. This series is bound to bring loads of excitement between two teams with different paths but incredible talent across the board.
Both offenses were among the five best in baseball, despite dealing with injuries to key pieces and the pitching staffs have continued to improve as the season moved along. The crowds are going to be crazy with the title of the best team in the state on the line after a season that saw these organizations go toe-to-toe all year.
We're either going to witness continued league domination from the decade's best team or a changing of the guard in Texas with the Rangers cementing themselves as the team to beat. Regardless, this ALCS is one that you may tune in for just about every inning.
The Season Series: 9-4 Astros
The Astros only won the division due to the tiebreaker they earned by dominating their in-state foe throughout the season. They did everything they needed to take care of the Rangers with ease after dropping the first match of the year at home.
Over the years of their run atop the league, Houston has easily controlled this matchup as they have been the leader of the division and state. With that said, Texas is playing even better right now than they were in April when they beat the Astros. The Rangers are far from the team that has consistently been handled by the Astros though.
In terms of direct play against each other, Jose Altuve and Kyle Tucker destroyed the Rangers' pitching all season with respective OPS' of 1.228 and 1.221, which could help them heat up after uncharacteristically poor performances in the ALDS.
On the other side, Marcus Semien and Corey Seager were terrific in such matchups too by registering OPS' of 1.214 and 1.033 in the season series.
Key role players from each side Mitch Garver and Chas McCormick played big roles for their respective teams as well. They will both be names to monitor as each team will need its lineup depth to shine in support of the stars.
April 14-16 in Houston (Rangers won 2-1)
April 14th: TEX 6, HOU 2
April 15th: HOU 8, TEX 2
April 16th: TEX 9, HOU 1
June 30th-July 3rd in Texas (Astros won 3-1)
June 30th: HOU 5, TEX 3
July 1st: TEX 5, HOU 2
July 2nd: HOU 5, TEX 3
July 24th-July 26th in Houston (Astros won 2-1)
July 24th: HOU 10, TEX 9
July 25th: HOUR 4, TEX 3
July 26th: TEX 13, HOU 5
September 4th-September 6th in Texas (Astros won 3-0)
September 4th: HOU 13, TEX 6
September 5th: HOU 14, HOU 1
September 6th: HOU 12, TEX 3
Many of these matchups came when the current rosters did not look all that similar with even the September matchup not featuring Josh Jung or Evan Carter, who have been pivotal to the Rangers postseason success.
Houston's dominant sweep by a combined score of 39-10 in September spells worry for the Rangers but shouldn't as much as many may believe. In that series, the Rangers started Andrew Heaney, Nathan Eovaldi, and Max Scherzer while the Astros sent out J.P. France, Framber Valdez, and Justin Verlander.
With that in consideration, Andrew Heaney feels unlikely to start and would be on a very short leash if he did. Eovaldi was clearly not physically right at that point in the season but has looked like the best version of himself in the playoffs.
Meanwhile, Scherzer went on the IL just one more start after that series and will only pitch if he's fully recovered. Additionally, Jordan Montgomery hasn't faced Houston as a member of the Rangers but was excellent against them earlier in the season with the Cardinals.
Verlander is a tough task no matter for the Rangers, but they have shown the ability to get to Valdez as evident from the six runs they put upon him in July en route to a massive win. The Rangers also clobbered Cristian Javier for eight runs the one time they faced him this season.
Both teams have the ability to hit the other team and the pitching for Texas should be more formidable than it was earlier in the year. The Astros have the upper hand in their season performance by a wide margin though.
Projected Pitching Matchups
Very minimal has been officially announced aside from Verlander starting game one, but this is what seems most likely based on what we have seen recently from both rotations. These could all change based on the results of games, but this feels like what both teams will be running out there.
The Rangers' options are unclear to us right now with both Max Scherzer and Jon Gray trying to make their way back from injury but neither confirmed to be ready. That changes the possible outlook for later games but it feels like the first two games will remain constant with how each team has set things up so far in October.
ALCS Game One: Jordan Montgomery vs. Justin Verlander
Sunday, October 15th, 8:15 P.M. ET
The legend that is Justin Verlander will have another chance to grow, as the future first-ballot Hall of Famer continues to pad his resume. Meanwhile, Jordan Montgomery keeps earning himself a larger contract this winter with every start he makes in October.
Both pitchers have been impressive so far and were just that against the other team this season. Montgomery will be put to the test with an experienced lineup featuring a number of superstar right-handed hitters in addition to possibly the best left-on-left hitter in baseball, Yordan Alvarez.
The key pieces for the Rangers against Verlander will need to improve in contrast to their performances in the past. Corey Seager has just a .533 OPS against Verlander and Adolis Garcia hasn't been much better at .550 for his career.
This series is going to be nothing but exciting from the start with each team sending a trusted veteran to get things started the right way.
ALCS Game Two: Nathan Eovaldi vs. Framber Valdez
Monday, October 16th, 4:37 P.M. ET
The Astros will turn to their number two and the Rangers' "co-ace" in the playoffs will take the mound for Texas most likely.
Valdez is coming off a rough loss at home to Minnesota but he has handled the Rangers fairly well in the past. However, Marcus Semien has consistently had success against him and Jonah Heim, Mitch Garver, and Nathaniel Lowe have all gotten multiple hits off him this season. The Rangers lineup is left-handed heavy, which plays in Valdez's favor but he hasn't been the best version of himself lately.
Eovaldi has been possibly the best pitcher in the playoffs in his first two starts but the Astros have had his number at times. Jose Altuve went yard against him twice this year and almost the entire core of Houston's lineup has done very well against him in the past. Altuve, Alvarez, Tucker, Bregman, and Peña all have an OPS over 1.000 all-time against Eovaldi.
The matchup may favor Valdez, but Eovaldi has been the much better pitcher recently so the momentum is on his side.
ALCS Game Three: Cristian Javier vs. Max Scherzer or Andrew Heaney
Wednesday, October 18th, 8:03 P.M. ET
After a fantastic start in game three against Minnesota, Cristian Javier will take the ball for Houston again in the third game of the series. Texas dominated him this year, but Javier has tapped into the best form of his slider which has made him a postseason superstar over the past few years.
Texas is in a complicated situation after the first two starts of the series and this should become a lot more clear in the coming days when rosters are formally announced.
Max Scherzer is aiming to return this series but there has been no indication that he's going to do so at this point. To make the matter more complex, Jon Gray who is likely the ideal next choice after Scherzer is also trying to return from injury.
If Scherzer is ready to go, this game will be his to start. He has been roughed around his entire career by Michael Brantley which is an interesting facet to look at but he is also one of the few Rangers pitchers that has shut down Jose Altuve and Kyle Tucker historically.
In the scenario where Scherzer is not ready to go, this could become Jon Gray's start but we'll touch on him next because he'd ideally start the fourth game. Andrew Heaney would be the other option and he did a more than adequate job against the Twins last round. The majority of the Astros lineup has done well against him in the past, especially lefty masher Jose Abreu who is coming off a huge series.
ALCS Game Four: Jose Urquidy vs. Jon Gray or Dane Dunning
Thursday, October 19th, 8:03 P.M. ET
The Astros rotation should remain the same from the last series with Jose Uquidy getting this start before turning it back to the top of the rotation. Semien and Seager (Notice a trend? These two are really good!) have mashed against him in the past with nobody else having all that much of a sample to go off.
Jon Gray is the fourth starter for the Rangers in an ideal world but it depends on health as I've mentioned prior. He has been hit around previously by Altuve, Alvarez, and McCormick but has done a great job in the past against Bregman and Tucker.
This game will feature heavy bullpen usage for both teams and could change certainly depending on the first few games.
ALCS Game Five (If necessary): Justin Verlander vs. Jordan Montgomery
Friday, October 20th, 5:07 P.M. ET
The always-key game five is likely to be a rematch of the first game. So many things could be in play at this point in the series based on how these arms do in the first game and more.
Predicting the fifth game of a series this competitive is just guessing honestly but the Astros will likely be the favorite in any game that features Justin Verlander.
ALCS Game Six (If necessary): Nathan Eovaldi vs. Framber Valdez
Sunday, October 22nd, 8:03 P.M. ET
This series feels like one that will reach six games with ease and this pitching matchup would be even better a second time around. At this point in the series, I can envision a scenario where both offenses just erupt regardless of how good these pitchers can be at their best.
ALCS Game Seven (If necessary): TBD vs. TBD
Monday, October 23rd, 8:03 P.M. ET
Game seven: The best game in sports. If this inner-state battle goes the distance, it will be all hands on deck for both teams with every arm, aside from the game six starters, ready to go if called upon. This would be incredible.
Lineup Comparison
The offensive explosion that could occur in this series would be incredible but as detailed above the pitching is strong on both sides.
The Rangers had the best offensive season of any team in the American League led by an unreal first half, but the Astros aren't far behind and have done it year in and year out in October. The Rangers are more dependent on their lineup depth especially their young stars while Houston has the same veteran core that has carried the load for years in place.
| | | | | | | | | |
| --- | --- | --- | --- | --- | --- | --- | --- | --- |
| TEAM | AVG | OBP | SLG | OPS | wRC+ | HR | BB | SB |
| Astros | .259 | .331 | .437 | .768 | 112 | 222 | 550 | 107 |
| Rangers | .263 | .337 | .452 | .789 | 114 | 233 | 599 | 79 |
Via FanGraphs
In the postseason, the Astros offense has been carried by the mashing of Yordan Alvarez and Jose Abreu so far. The two of them combined for seven home runs and 14 RBI in just four games against Minnesota.
While Alvarez will continue to be unbelievable, the Astros will need more from Jose Altuve, Kyle Tucker, and Alex Bregman who all had four hits or less across the first round. Those three are key to the success of this team and it feels like only a matter of time until they heat up in the playoffs.
The Rangers' offense has mashed all of October despite almost no production from Marcus Semien, Nathaniel Lowe, or Jonah Heim.
Corey Seager and Evan Carter have been absolutely special as they have both been on base more than 60% of the time in the playoffs. Mitch Garver and Josh Jung have also been terrific with both hitting .400 in the playoffs. Adolis Garcia has provided power like he did all season with two home runs.
Both teams could have even more offense to display if the struggling stars mentioned experience a positive regress to the mean and produce like we expect them to moving forward.
Texas has the more complete lineup from top-to-bottom but they also haven't been challenged at the level they will be by Houston. If the Astros offense can keep up, this series will swing their direction ultimately.
Bullpen Comparison
The biggest concern for the Rangers coming into the postseason was their lack of bullpen consistency while Houston has the same core of relievers that they trusted down the stretch last season. The bullpen for both teams has gotten the job done so far but in different ways with varying outlooks moving forward.
Astros Bullpen
| | | | | | | |
| --- | --- | --- | --- | --- | --- | --- |
| PITCHER | IP | K/9 | BB/9 | ERA | FIP | XFIP |
| Ryan Pressly | 65.1 | 12.50 | 2.20 | 3.58 | 3.36 | 3.14 |
| Hector Neris | 68.1 | 10.14 | 4.08 | 1.71 | 3.83 | 4.45 |
| Bryan Abreu | 72.0 | 12.50 | 3.88 | 1.75 | 2.98 | 3.30 |
| Kendall Graveman | 22.1 | 9.67 | 6.45 | 2.42 | 5.00 | 4.74 |
| Phil Maton | 66.0 | 10.09 | 3.41 | 3.00 | 3.74 | 4.24 |
| Rafael Montero | 67.1 | 10.56 | 3.88 | 5.08 | 4.46 | 4.10 |
Via FanGraphs
Rangers Bullpen
| | | | | | | |
| --- | --- | --- | --- | --- | --- | --- |
| PITCHER | IP | K/9 | BB/9 | ERA | FIP | XFIP |
| Aroldis Chapman | 58.1 | 15.89 | 5.55 | 3.09 | 2.52 | 2.59 |
| Will Smith | 57.1 | 8.63 | 2.67 | 4.40 | 3.36 | 4.30 |
| José Leclerc | 57.0 | 10.58 | 4.42 | 2.68 | 3.63 | 4.72 |
| Josh Sborz | 52.1 | 11.35 | 2.92 | 5.50 | 3.75 | 3.19 |
| Chris Stratton | 82.2 | 8.82 | 2.72 | 3.92 | 3.54 | 4.36 |
| Brock Burke | 59.2 | 7.84 | 1.36 | 4.37 | 4.90 | 4.12 |
Via FanGraphs
Bryan Abreu and Ryan Pressly form one of the best duos left in the playoffs and have been excellent at closing down games for Houston so far in October. Meanwhile, Rafael Montero has put his early season struggles behind him and Phil Maton was great in his two appearances.
Those four form the core of a very strong bullpen with support from Ryan Stanek and Hector Neris. Kendall Graveman would be another consistent veteran option if he's able to return from injury for this series.
Texas has yet to really need to dive deep into their bullpen due to the excellence of their starters. Jose Leclerc has become their clear bullpen ace as he pitched in all five of their games so far with excellent results. Aroldis Chapman has yet to allow a run but has run into some command issues that cause a little concern.
Josh Sborz and Cody Bradford turned in quality performances in a limited sample, but the Rangers will need more help from Will Smith, Brock Burke, and whichever natural starters end up pitching out of the bullpen.
The Astros have a clear bullpen advantage but that was the case for the Rays and Orioles as well. The Rangers will rely heavily on their starters again but will need more from non-Leclerc relievers in a longer series to be able to compete with Houston.
Series Prediction
I predicted the Rangers in each of their previous series despite them being the lower seed in both matchups. They ended up sweeping both the Rays and the Orioles behind their co-aces and terrific offensive performance.
Meanwhile, Houston was a common pick to get upset by the Twins but the defending champions did everything they always do to advance to their seventh-straight ALCS.
The Astros are an experienced team and they could easily return to the World Series once again but there is an energy with this Rangers team that needs to be seen on the biggest stage. If the Rangers get some more pitching support back in this series and their offensive superstars continue imposing their will, this team can keep up with anyone including the defending champions.
I can't stop predicting the Rangers now even if I have every reason to take the trusted option. The duo of Corey Seager and Evan Carter will continue to dominate and Max Scherzer will turn in a legacy start if he's able to return to the rotation this series.
Rangers in six.