Analysis
Texas Rangers vs. Houston Astros, Game 6 ALCS Best Bets, Odds, Predictions for October 22, 2023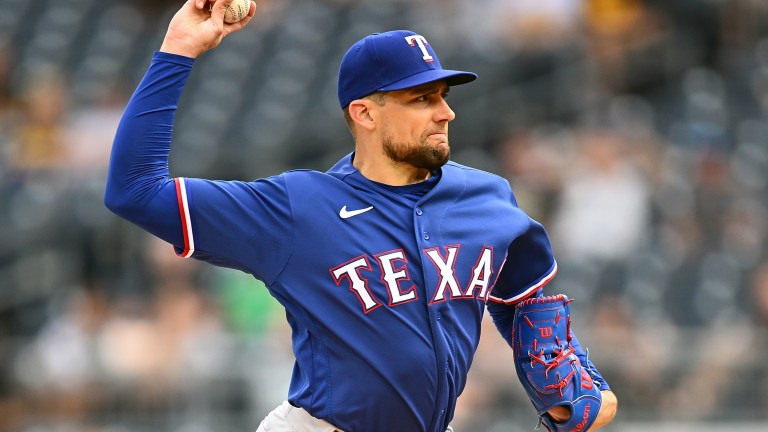 Another winner! That's now a winning day in five of the last six days.
Gallen struggled in the first inning, which we discussed yesterday. It's a consistent theme with him that the first inning is always rough, but then he settles in. It was funny to see this go over in the top of the sixth; we exited right in time. We took the alternate under 3.5 for the first five, and Wheeler did his thing. He is amazing.
We move to Game 6, where I have another plus-money play for you.
2023 MLB Regular Season: 154-165 (-11.66 U)
2023 MLB Playoffs: 13-13 (+3.12 U)
Texas Rangers vs. Houston Astros @ 8:03 PM EST
Pitching Matchup:
Nathan Eovaldi: 3.63 ERA, 4.01 xERA, 3.88 FIP, 3.96 xFIP, 4.18 SIERA
Framber Valdez: 3.45 ERA, 4.33 xERA, 3.50 FIP, 3.39 xFIP, 3.70 SIERA
The road team has won every game of this series. That is very unusual in a Championship series, but it's not as crazy when you look at how these teams have performed at certain ballparks. The Astros were 39-42 this season at home but were one of the best road teams in baseball who played their best ball at Globe Life Field. The Rangers were also a prolific road team, so as the series shifts back to Houston, they have more of a shot than they did at home, as strange as that sounds.
They also have a superior pitcher. I'm still waiting on the Framber masterclass that he always seems to have in October, and maybe it's today, but I'll have to see it to believe it. He ended the season on a sour note, allowing 10 ER in his last 9.1 IP against the Mariners and Royals. He got crushed for five earned runs in four innings against the Twins; then it happened again against the Rangers in 2.2 IP.
The only reason to back him is that he's "due." I have a ton of respect for Framber but against a Rangers lineup with their backs against the wall? I don't see it coming today, especially when the Rangers have had one clear weakness this series, and Framber can't exploit it.
That weakness is high-velocity four-seamers from right-handed pitchers. They struggled against Javier, Verlander, and Hunter Brown, who all upped the usage against Texas and put away their breaking balls. They still went to the breakers, but the usage rate went down in this series. Framber has his sinker, which has been getting crushed, and he throws from the left side, putting the Rangers in their better split.
Nathan Eovaldi lines up on the other side. If I were to select my three favorite pitchers in the postseason, the list would read Zack Wheeler, Cristian Javier, and then Nathan Eovaldi. Backs against the wall, a veteran like Eovaldi is exactly the pitcher Texas needs in this spot. He's thrown 19.2 IP in these playoffs, pitching to a 2.29 ERA/2.29 FIP/2.06 xFIP with a 30.3 K-BB%. That is phenomenal, and it backs up the narrative that he's one of the best we have in this spot.
His playoff resume is superb. He's rocking an ERA under three in 62.2 career playoff innings, and his K-BB% is 10% higher in the playoffs than in the regular season. If Texas loses this game, they must sit there knowing they gave it their best shot.
Eovaldi faced the Astros in game two, throwing six innings of three-run ball. Two of those runs came on solo home runs from Alex Bregman and Yordan Alvarez. If he can replicate that performance, we are in a great spot.
That best shot is plus money. We all know by now that dealing with the bullpen is a complete crap shoot. If the Rangers get the lead, I think they will win this game, but by no means is it worth it to go full game when a tie through five innings is a push, especially when the Rangers bullpen is the weak spot on this team.
There is one team in baseball that I feel the most confident in going into Minute Maid: the Texas Rangers. More than the Phillies, more than anyone.
We could be dealing with a case of momentum. That Altuve HR was certainly a dagger, but I'm not giving up on these Rangers. They have the better pitcher with a history of winning in Houston. I would take the first five ML down to +100.
The Pick: Texas Rangers First 5 ML (+110) Risk 1 U