Feature
A Look Back at Félix Hernández's Perfect Game
On this day 10 years ago, Félix Hernández was perfect for the Seattle Mariners.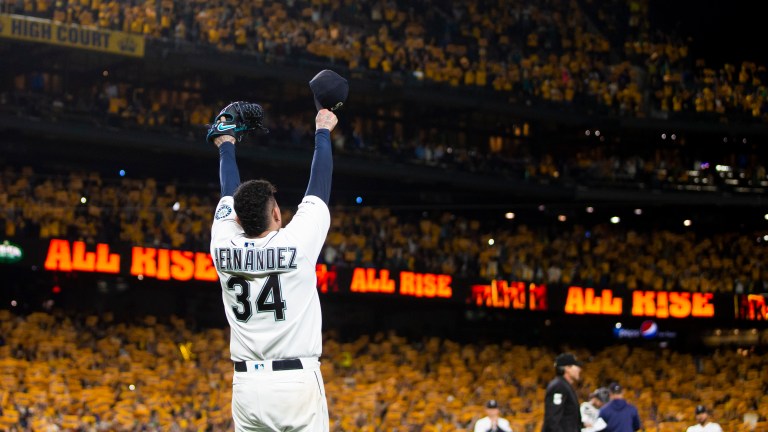 King Félix reigns as the most recent perfect game in major league history. Drew Rasmussen nearly achieved pitching's greatest feat Sunday, but it's still been a decade since Félix Hernández became the 23rd to do it on a Wednesday afternoon at Safeco Field.
Perfect games aren't as varied as no-hitters, but do differ in terms of degree of difficulty. And the gem from Hernández rates high.
While the Rays were among the worst in baseball in batting average and a middle-of-the-road club in terms of on-base percentage, the M's could only muster up a single run. That left their pitcher with little margin for error to preserve the lead, much less a perfecto. He did so by striking out 12, among the most of the 22 pitchers who preceded him into history. He also induced the Rays into a career-high 26 swinging-strikes.
The biggest threats made by Tampa bats came on Sam Fuld's fourth-inning drive to the warning track in right-center field and a seventh-inning grounder from speedy B.J. Upton which M's shortstop Brendan Ryan fielded and threw over to first just in time.
Hernández reached a three-ball count on only three hitters—Ben Zobrist in the second, Fuld in the fourth, and Matt Joyce in the seventh. Hernández fanned eight of the last 12 he faced. His final pitch, the 113th on the day, was a 2-2 changeup at the knees of Sean Rodriguez, taken for a called strike.
The perfect game is among the rarest sights in baseball. But it was pretty commonplace in 2012. Prior to Hernández, the most recent perfecto was a mere two months and two days before: Matt Cain in San Francisco. Before that was on April 21…in Seattle. That was done by the White Sox's Phillip Humber. It was the first time that a team was on the losing and winning end of a perfect game in the same season.
And if the Mariners were used to being part of a perfect game, the Rays were becoming naturals. August 15, 2012 at Safeco marked the third time the Tampa Bay's offense was on the receiving end in four years: victims to Dallas Braden in 2010 and Mark Buehrle in 2009.
While the Rays made dubious history, it added to legacy of Hernández, the AL Cy Young and ERA title winner in 2010. He would go on to play each of his 15 big-league seasons with Seattle, earning his second ERA title in 2014, as well as earning six All-Star appearances.
The perfect game in front his home fans remains a signature moment by one of the franchise's greatest pitchers. Now 10 years and counting.