Analysis
A Perfect Game Now Is More Impressive Than Ever
In an age when complete games are becoming a thing of the past, throwing a perfect game has become an even more impressive accomplishment.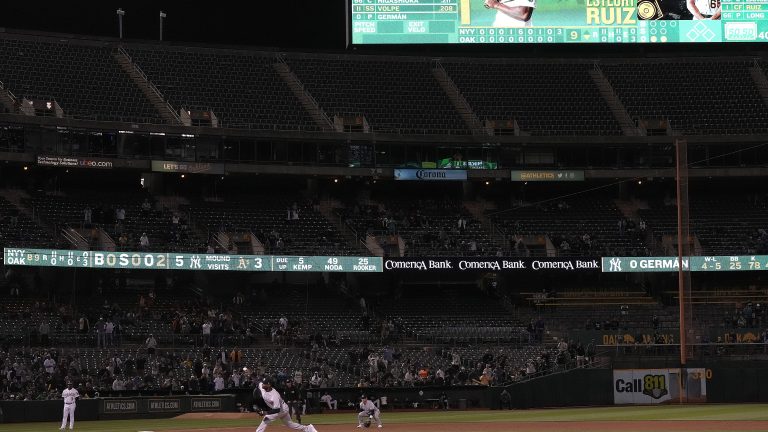 I honestly was not sure we would ever see one again. It had been 11 years since Felix Hernández set down 27 Rays in a row on a magical sunny day in Seattle. That year we saw three perfect games, and people began to ask if the achievement was becoming devalued. If it was happening too often. If we were heading for a dark time where pitching would rule the day and offenses would go dormant.
That is why when Domingo Germán sat down his 27th consecutive Athletic to cap off a magical night, I couldn't help but think about how quickly the game has changed. I had chills running down my spine, because I saw one of the last things in baseball that is truly unbelievable. With the evolution of the game and the athletes that play it, few things leave you truly shocked anymore.
Guys like Elly De La Cruz make things that we used to marvel at look commonplace. Camilo Doval is one of two bullpen arms you will find throwing cutters at 100+ mph. Jhoan Duran is launching splitters out of a cannon at hitters. Shohei Ohtani hit two home runs on the same night he struck out 10 in 6.1 one-run innings. These things may shock us initially, but we become accustomed to them the more they happen.
That is what makes the perfect game special. It is the last thing baseball has that is truly rare. That no matter who does it, no matter who it is against, and no matter what time it happens, everybody takes a second to stop and marvel at what has been accomplished.
At no time in Major League Baseball history has it ever been more special, either. In a day when guys are rarely going seven or more innings, any old complete game at this point is something to recognize.
Sandy Alcantara led the majors with six complete games last season. That was the highest total since Chris Sale had six in 2016. Since 2018, no other pitcher has had more than three.
To watch a starter stand out on that hill and shake his catcher's hand when the game wraps up in victory is such a wonderful sight. To see him mobbed by his team because he sat down 27 in a row is even better.
Domingo Germán has a checkered past. A suspension for domestic violence in 2020 overshadows everything he does on a pitcher's mound. It is a badge he wears everywhere he goes. He is not an easy person to root for, and in fact, he is an easy person to root against.
Regardless of character, what he accomplished against Oakland Wednesday night is an achievement that has only happened 24 times in America's most storied game. It was only the ninth time it has happened in my lifetime. I think it is okay to take a second and recognize the magic of the achievement, before coming to terms with the idea that the person who achieved it is a highly-flawed individual.
It also does not excuse or erase what Germán has done in the past. The badge he wears is something he earned. It will always be something that he rightfully carries around, and that will be a stain on his career.
A perfect game is something to take a second to marvel at no matter who does it, and it is more impressive now than it has ever been. Hitters are better than ever before. We avoided that dark era of pitching dominance in 2012 and have entered an age where guys are hitting the ball further and further than ever before.
The pitch clock has presented new challenges to pitchers this season that we have never seen before. We have seen some of the best in the game struggle with it. Germán used it to his advantage Wednesday night, keeping a pace and flow to his game that was dominant and impossible to stop.
He battled back from down 3-1 with two outs in the eighth with ease, firing in a gorgeous pitch to work it back to 3-2 before getting a groundout to send it to the ninth. He did everything with such ease. Yes, the A's stink, but to be that dominant against any MLB lineup in today's game is magical.
It got to a point where it became clear nothing was going to stop Germán. Watching that last inning, it never felt in doubt. He finished it off with a grounder, a lazy fly and another ground ball. It was art, it was poetry, it was sheer domination. I mean, he threw a frickin' Maddux. He did all of that and stayed under 100 pitches, at a perfect 99.
The most impressive part? He did it with a heavy heart. In a beautiful moment after the game, Germán mentioned that he lost his uncle just two days before his start. He said he had been crying a lot since his passing, then dedicated the game to him.
He has also struggled mightily this year, and Ryan Rucco said on the broadcast he might have been pitching for a spot in the rotation. To go out there with that kind of emotion weighing on you, and that kind of pressure as well, and throw a perfect game is the type of resolve anybody can admire.
27 up, 27 down. I truly was not sure I would ever see it again. Will it break the ice on another run? From 2010-2012, more than 5% of all the perfect games in history took place. Are we heading for another run like that? No chance!
The perfect game is likely to only become more and more rare as the game continues to evolve. Hitters are getting better, and so is the nasty stuff pitchers bring to the mound every night. With that nasty stuff, they're becoming wilder, too. Pitching any game without issuing a walk is something to applaud in today's age.
There is also the fact that guys are getting fewer and fewer chances to even pitch in the ninth inning. I miss the complete game. I miss giving a guy a chance to finish what he started. Openers are a travesty. Bullpen games are a painful watch. Call me a boomer, but it is just the truth.
I want to see a guy go out there, give his team seven masterful innings, then hand it off to two fireballers to shut things down. More than that, it always brings me great joy to see a starter get that handshake at the end of a dominant performance.
The lasting image of this night will be Germán surrounded by his teammates, pointing to the sky, almost certainly at his uncle. Will we ever see it again? Who knows. That is why we should all take a second to marvel at what we witnessed. That for one moment, and for the first time in 11 years, a Major League Baseball pitcher was perfect. Considering the circumstances, it has never been more impressive.