Rankings
2022 MLB Power Rankings: Monday, April 18
Just Baseball's updated power rankings after the first week of MLB action.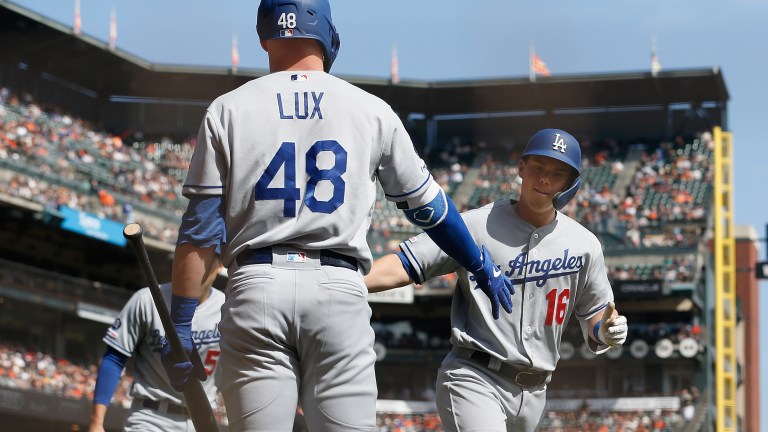 The first week and a half of the 2022 Major League Baseball season has come and gone.
While some of our initially-forecasted top performers held serve through their first nine-to-ten games, others faded, while early surprises rose to the top.
Here is Just Baseball's first in-season power rankings of 2022.
1. Los Angeles Dodgers (Preseason: 1)
The Dodgers seem to be Dodger-ing through their first nine games, going 7-2. While many of the steady contributors have continued to perform, two individuals have surpassed early expectations. Gavin Lux is the only Dodger with an OPS over 1.000 that's played more than three games, while Clayton Kershaw turned in seven perfect innings with 13 strikeouts in Minnesota last week.
2. Toronto Blue Jays (Preseason: 3)
If it's possible, we may have underestimated the firepower this offense can bring. Led by the revelation of a catching tandem in Zack Collins and Danny Jansen (and that Vladdy fella), The Jays have hit more home runs than any team but the Los Angeles Angels. For as poor as Hyun-Jin Ryu and Jose Berríos have looked, Alek Manoah and a lights-out bullpen have kept the staff thriving.
3. San Francisco Giants (Preseason: 8)
Our fault again for underestimating the San Francisco Giants. The trio of Logan Webb, Carlos Rodon, and Alex Wood have been as strong as any in Major League baseball, and they're spreading the wealth offensively; through their first nine games, four players have hit multiple homers.
4. New York Mets (Preseason: 7)
All of the hype in the preseason surrounded the tandem of Jacob deGrom and Max Scherzer. Flip the script to open the year; Tylor Megill and Carlos Carrasco have been exceptional. The offense has equaled the pitching, with Francisco Lindor's return to form and Pete Alonso's massive production leading the way.
5. Atlanta Braves (Preseason: 2)
The offense has been truly special to start the season. Through 11 games, Ozzie Albies and Marcell Ozuna have combined for eight home runs. Matt Olson is quickly becoming one of the more feared bats in all of baseball, slashing .421/.551/.684 through his first 11 games, with 11 walks drawn and just eight strikeouts. Kyle Wright has looked incredible, but the rest of the rotation has been disappointing the first two times through.
6. Chicago White Sox (Preseason: 4)
The offense has been as-advertised in series wins against Detroit, Seattle, and Tampa; Tim Anderson and Andrew Vaughn are currently sporting OPS's over 1.000, while Luis Robert has provided ample excitement. Dylan Cease looks like a Cy Young candidate, but injuries to the pitching staff have every White Sox fan tensing their shoulders and grinding their teeth until Giolito and Lynn return.
7. Houston Astros (Preseason: 6)
Carlos Correa moving on to snowier pastures opened up an opportunity for rookie shortstop Jeremy Peña, who's swinging the best bat in the Astros' lineup at the moment (.996 OPS) while also providing top-flight defense. On the hill, Houston owns the fourth best staff ERA in the American League, spearheaded by Justin Verlander and Framber Valdez combining for 22 2/3 innings, 24 strikeouts, and just two earned runs.
8. Tampa Bay Rays (Preseason: 5)
Shane McClanahan has missed every bat imaginable to open his 2022 campaign, while Corey Kluber, as everyone in the baseball world predicted, looks rejuvenated. The offense, however, is struggling to get into a rhythm. Wander Franco and Ji-Man Choi have had fiery starts to the year, but Mike Zunino and the outfielders, with the exception of Manuel Margot, have been early disappointments at the plate.
9. Los Angeles Angels (Preseason: 16)
Not often is a team able to intentionally walk a run in to expand a deficit in the fourth inning and climb in Power Rankings in the same week. But, congratulations to the Angels for doing so. While Shohei Ohtani has gotten off to a slow start at the plate, Mike Trout has dazzled, while Matt Duffy and Tyler Wade have been surprisingly productive. On the hill, the new additions of Ryan Tepera and Aaron Loup in the bullpen and Noah Syndergaard and Michael Lorenzen in the rotation have all clicked.
10. St. Louis Cardinals (Preseason: 12)
Nolan Arenado is the hottest hitter on Planet Earth right now. Through his first eight games, Arenado's hitting .433 with four home runs, 12 RBI's, and a 1.514 OPS. The starting rotation has started fires, but the lights-out Cardinals bullpen has been as good of firefighters as any in the league.
11. New York Yankees (Preseason: 10)
The New York Yankees are not scoring runs. Their 30 runs through their first 10 games is only higher than the Tigers, Royals, Diamondbacks, and Orioles, all of whom have played eight or nine games. Luckily, the pitching has been phenomenal, boasting the best staff ERA in the American League. While Gerrit Cole is off to a slow start, Nestor Cortes and Luis Severino have answered the call and look fantastic.
12. Boston Red Sox (Preseason: 11)
Aside from the trio of Rafael Devers, Xander Bogaerts, and Alex Verdugo, this offense has been utterly disappointing. New acquisition Trevor Story is slugging .292 through his first six games, while Christian Vasquez is 3-for-22 to start his season. Chris Sale's injury woes should be sounding the alarm for a team that has as thin a rotation as any legitimate playoff contender in baseball.
13. San Diego Padres (Preseason: 14)
While Blake Snell's scratched start could raise a Padres fan's heart rate, seeing MacKenzie Gore succeed in his first Major League start should immediately lower it. Pitching depth has been the name of the game for A.J. Preller and the Friar front office, and they're utilizing it while the Tatis-less offense tries to get acclimated to this new season.
14. Seattle Mariners (Preseason: 17)
This offense sputtering to start the season (bottom-half of the league in nearly every offensive category) feels like the odds-on favorite in the Kentucky Derby being slow out of the gate; you know it has the pace to catch up to the pack and finish near the top, but it catches you by surprise. Thankfully, a strong start from Logan Gilbert, Matt Brash bursting onto the scene, and a top-five bullpen ERA in Major League Baseball have kept them on course.
15. Milwaukee Brewers (Preseason: 9)
Through 10 starts, Brewers starting pitchers have logged a combined 4.96 ERA. Corbin Burnes and Adrian Houser had bounce-back starts in their second go-around, but Brandon Woodruff and Freddy Peralta look downright bad, and their offense hasn't gotten any better.
16. Philadelphia Phillies (Preseason: 15)
The offense has yet to fire on all cylinders, but that's what we get for trying to power rank teams 10 games into the season. They'll be fine in June. Pitching, however, can start to be a concern. Zack Wheeler has not looked like the Cy Young-caliber arm we saw last year.
17. Miami Marlins (Preseason: 22)
One of the early risers in our first in-season rankings, Miami has enjoyed a tremendous start on the hill. Sandy Alcantara has looked close to what we know him to be, but Pablo Lopez and Jesús Luzardo look borderline unhittable. At the plate, Jesús Sánchez and Jazz Chisolm are the guiding lights.
18. Cleveland Guardians (Preseason: 18)
The other-worldly starts to the year from Steven Kwan and Owen Miller are starting to flame out, but they were lovely complementary pieces to José Ramirez to open the year. Ramirez is obliterating opposing pitching, hitting .457 with three home runs, 15 runs driven in, a 1.386 OPS, just two strikeouts in 40 plate appearances. Pitching has of course been a strength, but Zach Plesac leading the way with two earned runs against him in 11 innings (both coming on solo home runs) feels unsustainable.
19. Colorado Rockies (Preseason: 26)
This team may legitimately not be a bottom-dweller. Connor Joe's 1.132 OPS through his first nine games is the table-setter for C.J. Cron's five homers and Kris Bryant and Ryan McMahon's strong starts. The offense is genuinely enjoyable to watch.
Will the pitching pull their weight? Absolutely not. But we'll enjoy this while we can.
20. Chicago Cubs (Preseason: 24)
Seiya Suzuki, through his first nine Major League games, is hitting .400 with four home runs, 11 RBI's, and nine walks, all resulting in a .543 on-base percentage and a .960 slugging. The pitching staff has drastically outperformed their early expectations, and there may be trace validity to Justin Steele's 1.93 ERA through his first two starts, but the staff success won't stick around.
21. Minnesota Twins (Preseason: 13)
A first week free-fall isn't shocking from a 30,000 foot view. Byron Buxton had yet another injury scare at Fenway late last week after sliding into second base. Sonny Gray is now on the 10-Day IL. Carlos Correa is struggling mightily out of the gate. Miguel Sanó cannot find open grass to hit baseballs at. Here's to hoping this past week was just a minor blip on the radar.
22. Detroit Tigers (Preseason: 23)
Eduardo Rodríguez is the poster-boy of the starting rotation's early-season struggles. His pitches seem to lack life, and his 10 runs allowed (granted, only five were earned) in 7 2/3 innings through two starts is indicative of that. Casey Mize wasn't getting any swings-and-misses, and he's now on the 10-Day IL.
At the plate, Austin Meadows has been a wonderful addition, and Spencer Torkelson is quickly developing into an immediate big-time power threat. But, the Tigers will only be as successful as their pitching allows them to be, which at the moment doesn't seem to translate to too much success.
23. Washington Nationals (Preseason: 25)
Through 11 games, Juan Soto has a .460 on-base percentage, with 12 walks drawn and just seven strikeouts. That OBP may stay put for quite a bit. Washington's pitching seems to be some of the worst in baseball, with Sean Doolittle's 4 2/3 scoreless innings being the lone bright spot.
24. Pittsburgh Pirates (Preseason: 28)
There is some legitimate talent on this roster. Bryan Reynolds and Ke'Bryan Hayes, both recently signed to extensions of varying lengths, are showcasing their talent. In the bullpen, David Bednar and Will Crowe are proving to be exciting big league relievers. However, Mitch Keller and J.T. Brubaker have combined to allow 16 earned runs in 15 innings.
25. Oakland Athletics (Preseason: 27)
All hail the top scoring offense in baseball! That won't last long. Sean Murphy looks great; maybe that means he's upping his trade value!
26. Kansas City Royals (Preseason: 19)
Salvador Perez, Bobby Witt Jr., Whit Merrifield, Adalberto Mondesi, and Carlos Santana are all hitting below .200 to open the season. Andrew Benintendi is off to a hot start, but 'Benny Baseball' can't carry a currently-anemic offense and one of the worst pitching staffs in all of baseball to more than a 3-5 record that they currently boast.
27. Texas Rangers (Preseason: 20)
The offense is as exciting as they come; despite Marcus Semien getting off to a 5-for-39 start, the complementary pieces have aided. Corey Seager is the new coming of Barry Bonds, according to Joe Maddon. All this being said, they have the worst staff ERA in all of baseball, and they'll stay there.
28. Baltimore Orioles (Preseason: 29)
Cedric Mullins has belted two early homers, but his 14 strikeouts also lead the team. Baltimore and San Diego are the only two teams in Major League Baseball with 100 or more team strikeouts, and the Padres have played two more games than the Orioles. John Means being placed on the 60-Day IL was the nail in the coffin for this pitching staff, which was already on life support before Opening Day.
29. Arizona Diamondbacks (Preseason: 30)
Seth Beer boasts an OPS over 1.000 through his first eight games of the year, but no one else is sporting an OPS over .704. Zac Gallen looked solid in Queens this past weekend, but this is one of the least talented rosters in the game.
30. Cincinnati Reds (Preseason: 21)
A 2-8 start, good for the worst record in baseball, is indicative of their dual-threat struggles. Entering play on Monday, the Reds had the worst team OPS in Major League Baseball (.539), and the second-worst staff ERA in Major League Baseball (5.57). Here's to watching Hunter Greene and Nick Lodolo starts.