Analysis
Where Do the Cubs Go After Holding at Trade Deadline?
Surprisingly the Cubs kept Ian Happ and Willson Contreras at the 2022 deadline. What does that mean for a team that is in the midst of a rebuild?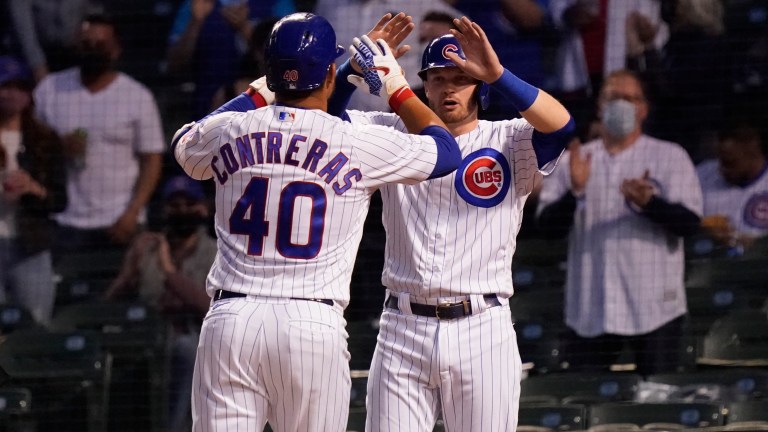 The Chicago Cubs came into this year's trade deadline as obvious sellers. But after 6:00 p.m. ET on Tuesday, their two biggest pieces, Willson Contreras and Ian Happ, remained on the team.
Even after the standing ovation at Wrigley and the emotional dugout hug, the Cubs decided to hold onto two of their most valuable trade chips.
Sure, the Cubs moved four members of their bullpen in separate moves. Trading Scott Effross to the Yankees, Mychal Givens to the Mets, Chris Martin to the Dodgers and David Robertson to the Phillies, but that just makes it even more confusing as to why Happ and Contreras weren't moved.
Once the deadline had passed, Cubs President Jed Hoyer said in his media availability, "I think we were willing to listen if someone gave us a piece that could really help our future… We never crossed that threshold."
If the Cubs are unable to re-sign Contreras, they should at least receive a compensatory draft pick after they inevitably qualify their veteran catcher this offseason.
But with Contreras playing at an All-Star level in 2022 and with reported interest from teams like the Rays and the Mets, it's hard to believe that there wasn't something out there that has more value than a potential compensatory pick.
As for Happ, he is under team control through the end of 2023, meaning the Cubs have another year and offseason to work through potential trade scenarios or a contract extension — should they wish to go down that path. But that also means that his value was probably at its highest this deadline, so anything they might get in a trade either this winter or next summer will be less valuable than the offers they received before Tuesday.
After committing to a rebuild last season by dealing Javier Baez, Anthony Rizzo and Kris Bryant, the Cubs seem to have missed an opportunity to build on that season by holding onto Happ and Contreras.
So the question now for the north siders is where do they go for here? Let's take a look at some of the potential options.
Double down on in-house talent
After selling off its championship core at last year's deadline, Chicago turned around and tried to add to some players who broke out in the second half.
The Cubs signed marquee free agents Marcus Stroman and Seiya Suzuki while signing 10 other players that looked like they would open the season with the Major League club.
By adding Stroman, Suzuki and a handful of veterans, the Cubs seemed committed to trying to balance remaining a competitive team, while constructing the core of the next championship team in Wrigleyville.
Suppose they want to stay aggressive in free agency and fast-track their rebuild. In that case, they can always extend Contreras this winter and pursue some of the top potential arms on the open market to shore up a pitching staff that has the seventh-highest ERA in all of baseball.
While most of the Cubs top prospects are a year or more away from breaking in with the big club, adding some veteran free agents to smooth that transition over the next couple of years could be the way Chicago opts to go.
Maybe they're not bringing in some of the elite pending free agents like Jacob deGrom, Trea Turner or Aaron Judge, but they can continue to play in the range they did last offseason.
There should be a long list of veteran starters available this winter. Carlos Rodon, Justin Verlander and Charlie Morton are all names that a team might be able to pick up on short-term deals based on their age and injury history.
But if Chicago wants to go after some younger pitchers that can be there for multiple years — much like Stroman will be — there aren't many options to take that route.
It seems like betting on free agent adds to try and thread the needle on being competitive while they wait for some of their top prospects is a losing battle for the Cubs.
And even if they make some splashy acquisitions, is the current core good enough to make a postseason push?
Outside of Suzuki and Stroman, who on the current Cubs roster is likely to contribute to winning for the next two to three years? Nico Hoerner and Christopher Morel are having solid seasons and are both under 26. Justin Steele and Keegan Thompson both seem to have emerged as capable mid-rotation arms at 27.
Outside of those four, Contreras, Happ, Stroman and Patrick Wisdom, no other current Cubs has an fWAR above 1.0.
So while betting on the group you have remains an option, it should probably be plan B or C.
Admit you made some mistakes and start over
No front office will ever admit to any mistakes, but they can always work to correct them.
Chicago can certainly make the moves to set a clear direction for the franchise this offseason. That probably means letting Contreras walk and collecting a comp pick, trading Happ for the best package they can get and committing to some of the young guys in the organization.
It hurts to lose Contreras for nothing and to get what would likely be a worse package than you could have acquired for Happ at the deadline, but it's too late to do more than that now, should the Cubs choose to tear it down.
Their farm system has greatly improved with the moves they made at last year's deadline and the three pitchers they added this year. But the overall system is lacking — especially with Brennan Davis' struggles in 2022 — top tier prospects to place their hopes on.
They might not have the trade assets to go out and get any of these prospects (anymore), but they can move on from some of their aging players to try and hit on some future value.
This would also give the Cubs the chance to take a closer look at some of their current top prospects at the Major League level.
We've seen the learning curve be as steep as it ever has been for some generational-type prospects this season, so it might be better for Chicago to start giving those opportunities to players that can factor into its future.
All stats courtesy FanGraphs and from before play on August 6th.