Analysis
Week 19 Fantasy Baseball Waiver Wire Pickups
Everyone who is too focused on the trade deadline right now is missing an opportunity to get ahead of your fantasy league on the waiver wire.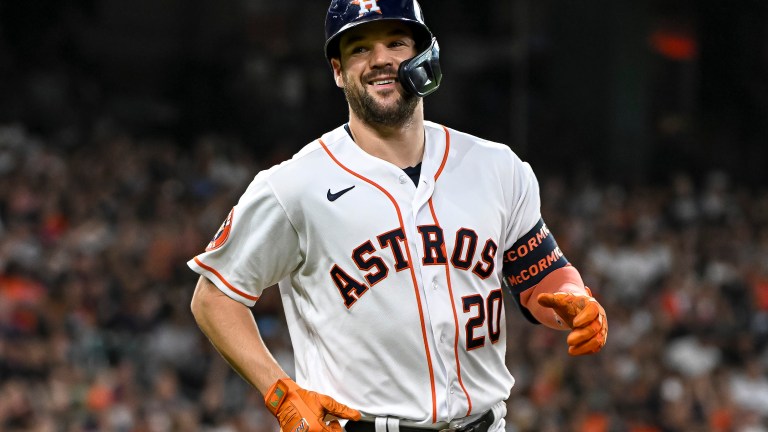 We all have our focus on the trade deadline, but don't neglect your fantasy teams. It's easy to tune out from the waiver wire this late in the season, but trades and teams being eliminated will lead to new opportunities for players and you don't want to miss out.
As always, check out the Just Fantasy Baseball Podcast on YouTube or your favorite podcast platform.
Chas McCormick – OF – Houston Astros (30%)
2023 Stats: .286/.374/.531, 13 HR, 44 RBI, 11 SB, 150 wRC+
McCormick has been one of the most underrated players in the game. The glove-first center fielder has mostly been around a 110 wRC+ player but has taken his offense to a new level this season. A blend of power and speed in a lineup that will keep improving. Outfield is pretty thin on the wire, so scoop up McCormick before others take notice.
Kenta Maeda – SP – Minnesota Twins (28%)
2023 Stats: 2-5, 4.62 ERA, 3.37 FIP, 48.2 IP, 58 K
The ERA is bloated due to a 10-run outing near the beginning of the season. Since that start, Maeda has not allowed more than three runs in a single outing. His 10.7 K/9 will give you strikeout upside and the Twins are winning enough to help you out in the win column. An easy pick up.
Justin Lawrence – RP – Colorado Rockies (3%)
2023 Stats: 7 SV, 2.94 ERA, 3.19 FIP, 52 IP, 53 K
Pierce Johnson was moved to Atlanta, leaving the closer door open for Justin Lawrence. Lawrence has been magnificent this season and should be able to handle the role well. His sidearm slot slinging sinkers and sweepers will be a different animal than other arms opponents see out of this Colorado bullpen. Of course, there's always he chance he might be moved by the deadline as well.
Brandon Lowe – 2B – Tampa Bay Rays – (50%)
2023 Stats: .218/.316/.423, 12 HR, 37 RBI, 5 SB, 110 wRC+
Is it time to buy back in? After a terrible start to the season, Lowe has slashed .259/.358/.500 with three home runs and eight RBI in July. Lowe has bounced around the batting order, even recently finding himself in the three hole. You know the talent and power is there, make sure you do not miss out on his bounce back.
Gregory Santos – RP – Chicago White Sox (1%)
2023 Stats: 2 SV, 2.63 ERA, 2.43 FIP, 51.1 IP, 51 K
Finding saves this time of year usually requires you to act quickly after a trade or injury. The White Sox have traded away their best high leverage options, and Gregory Santos is looking like the closer by default. Chicago might not get too many save opportunities, but I have a feeling Santos will do just fine when he gets the chance.