Analysis
Week 17 Fantasy Baseball Waiver Wire: Carpenter, Durran, and a Top Prospect
The Cincinnati Reds are finally promoting top prospect Christian Encarnacion-Strand, who is a must-add in all fantasy baseball leagues.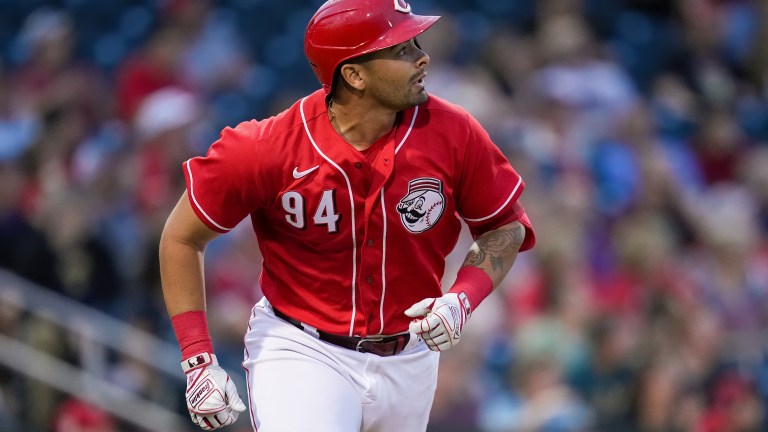 Post All-Star break means it's time for a playoff push. Each move becomes more important and the waiver wire becomes thinner and thinner. Because of this, it is important to act quickly, and dive deep. Today we have three batters and two pitchers who can help get your team to the finish line.
For more fantasy discussion, check out the Just Fantasy Baseball show on your favorite podcast platform or YouTube.
Christian Encarnacion-Strand – 1B- Cincinnati Reds (4.6%)
2023 (AAA) Stats: .331/.405/.637, 20 HR, 62 RBI, 2 SB, 153 wRC+
The wait is over, Cincinnati is calling up their next top 100 prospect in first baseman Christian Encarnacion-Strand. "CES" has a unique profile as someone who swings at plenty of pitches out of the zone but still produces positive results. He's been walking more lately, but you are picking him up for his power.
He should offer home run upside especially in Great American Ballpark. I would imagine he will get time at first and DH, but he's also played third in the minors. How they fit him in the lineup will be a challenge, but you won't find many players this late in the season with his upside on the wire.
Kerry Carpenter – OF – Detroit Tigers (1.2%)
2023 Stats: .269/.322/.538, 11 HR, 27 RBI, 0 SB, 135 wRC+
Carpenter has 17 home runs through his first 80 games and an impressive 21.5% HR/FB rate. The former 19th-round pick has upped his average, cut down on strikeouts, upped his hard hit rate and barrel rate from his brief stint last season.
There's no doubt Carpenter offers power without sinking your average, and the only thing holding him back is playing time. He's sitting most nights against lefties, but I think that could change. He's batting in the middle of the lineup and it is only a matter of time before his percent owned jumps.
Jarren Duran – OF – Boston Red Sox (24.5%)
2023 Stats: .319/.369/.517, 5 HR, 33 RBI, 17 SB, 138 wRC+
After a slow start to his career, Duran finally is breaking out this season. His speed made him a rosterable option in several leagues, and his bat is starting to catch up. He's hitting the ball to all fields and I think he could even start to tap into a little more power.
The Red Sox lineup can put up some runs helping him in runs scored and RBI. Duran has been the leadoff option against righties, but sits often against lefties. I still see him as an add as he simply offers too much to let someone else get him.
Kyle Bradish – SP – Baltimore Orioles (29.9%)
2023 Stats: 5-4, 3.32 ERA, 3.60 FIP, 84 IP, 79 K
Bradish has been a terrific streaming option all season, and its time to make him a mainstay on your roster. He has two starts allowing four or more runs, and eight quality starts. While the underlying metrics don't stand out, Bradish has continued to be effective.
I would still monitor the matchups (like skipping him this week vs. Tampa Bay), but rostering him would allow you to have to make less tough streamer decisions. Ride the wave and see if he can take you through the end of the season.
Adbert Alzolay – RP – Chicago Cubs (6.4%)
2023 Stats: 7 SV, 2.29 ERA, 2.37 FIP, 39.1 IP, 43 K
The Cubs did not really have a defined closer entering the season. Alzolay has managed to rack up seven saves and I'd imagine they give him the role in the second half. The Cubs are not really in a position to compete, and finding out if he can be the option next season is more important.
He's pitching better than he ever has, while figuring out how to limit home runs. No, the Cubs probably won't have a ton of save opportunities, but finding saves in July is nearly impossible.