Rankings
Fantasy Baseball Rankings: Top 10 Third Basemen For 2023
When you are drafting players at the hot corner for your fantasy team this year, here are some of the team names to target.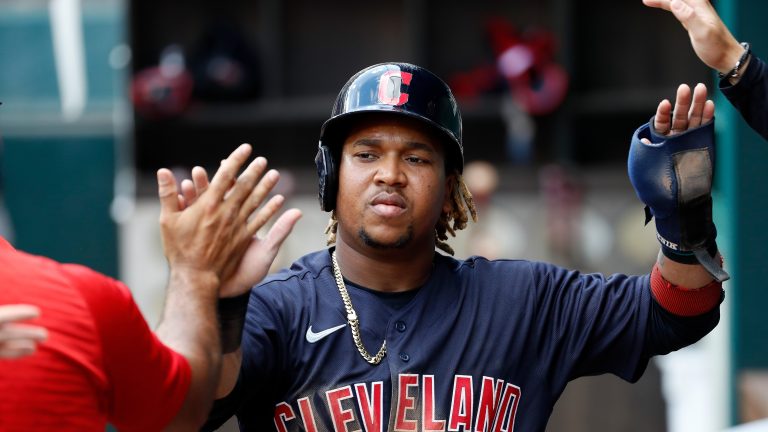 The hot corner is a difficult position for fantasy owners. Do you use a top 30ish pick on one of the five elite options, or do you play the waiting game. The drop off comes quickly, leaving you with rookies, veterans, and limited players quickly.
In my opinion, third base is a position I am targeting very early. I'll plan on drafting someone on the top six of this list, and play the value game elsewhere. That's not to say there is not value to be had, but the safe route is preferred for me.
Don't forget you can listen to Colby Olson and myself breakdown the top 10, and also the sleepers, over on the Just Fantasy Baseball podcast.
1. Jose Ramirez – Cleveland Guardians
2022 Stats: .280/.355/.514 , 29 HR, 90 R, 126 RBI, 20 SB
ADP: 3
The switch-hitting third baseman is once again at the top of the rankings. A second straight 20/20 season with at least 100 RBI, Ramirez has proved this is his standard. The power and speed combined with his ability to draw walks while avoiding strikeouts makes him a top five pick.
An underrated part of Ramirez's game has been his ability to stay healthy. Since 2016 he has appeared in 150 or more games all but once, excluding the Covid season. At 29 years old, there should be plenty left in the tank.
2. Manny Machado – San Diego Padres
2022 Stats: .298/.366/.531, 32 HR, 100 R, 102 RBI, 9 SB
ADP: 13
The six-time All-Star had arguably his best season in 2022, finishing second in MVP voting. Machado eclipsed the 30 home run mark for the sixth time while posting his first 100 R/100 RBI season. Although some advanced metrics will show he was a bit lucky in 2022, there's no doubt Machado is worthy of a top 15 pick.
Like Ramirez, Macho has played 150 or more games each of the last three full seasons. We know how deadly the Padres lineup is and there's no doubt run production will not be a problem. Another plug and play guy you should not have to worry about.
3. Rafael Devers – Boston Red Sox
2022 Stats: .295/.358/.521, 27 HR, 84 R, 88 RBI, 3 R
ADP: 20
After posting 38 home runs, 101 runs, and 113 RBI in 2021, Devers shot up draft boards, and rightfully so. In 2022 he was not able to match those numbers, but still had enough production for a top 25 pick. The 26-year-old crushes baseballs raking in the 92nd percentile or better in average exit velocity, hard hit percentage, and expected slugging.
The average and power numbers should be just fine. I expect the run production to also return closer to 100 R/100 RBI, as he only played in 141 games last season.
4. Austin Riley – Atlanta Braves
2022 Stats: .273/.349/.528, 38 HR, 90 R, 93 RBI, 2 SB
ADP: 20
Austin Riley and Rafael Devers have similar profiles and are being drafted around the same time. You cannot go wrong picking either, and it might drive you crazy trying to decide which you like move. Both 26 years old with good eyes and game-changing power.
Riley has improved his barrel percentage and hard hit percentage each season. A 15.7% barrel rate and 50.8% hard hit rate, while still lifting the ball, shows the power is no fluke. Atlanta's lineup is also Championship caliber, so now worries on the run production opportunities.
5. Nolan Arenado – St. Louis Cardinals
2022 Stats: .293/.358/.533, 30 HR, 73 R, 103 RBI, 5 SB
ADP: 33
Arenado has consistently been one of the best third baseman for almost a decade. Last season was the seventh time he hit 30 or more home runs, although, you know, Coors Field. Arenado won the Silver Slugger and Gold Glove all while finishing third in MVP voting.
Can he repeat 2022? After disappointing 2020 and 2021 seasons? This is the question you must ask yourself. I still like the player, but would rather target the players listed above to avoid having to make the Arenado decision.
6. Alex Bregman – Houston Astros
2022 Stats: .259/.366/.454, 23 HR, 93 R, 93 RBI, 1 SB
ADP: 73
If you sat back waiting to draft a third basemen, Bregman is your last proven, top 100 option. The power and run production from 2018 and 2019 didn't return in 2022. I am somewhat concerned about his power ceiling, but he's a safer option than what's left.
A player who walks more than he strikes out on a World Series roster should have no problems being your fantasy option at third. Again, he might be the last "sure thing" option before you start rolling the dice.
7. Gunnar Henderson – Baltimore Orioles
2022 Stats: .259/.348/.440, 4 HR, 12 R, 18 RBI, 1 SB (34 Games)
ADP: 89
The hot name in fantasy, and why not? The 21-year-old top prospect posted a .259/.348/.440 slash in his first 34 games as a rookie. He'll get the opportunity to play everyday in Baltimore and should produce just like he did through the minors. Right?
MAYBE. Henderson is oozing with talent, but spending a top 90 pick on a rookie can be risky. Don't get me wrong, I think he will be a good player in 2022. Top 100 fantasy player is just harder to buy into.
8. Jose Miranda – Minnesota Twins
2022 Stats: .268/.325/.426, 15 HR, 45 R, 66 RBI, 1 SB
ADP: 153
Our first big drop in ADP, Miranda might be the value I will be targeting. After a slow start and inconsistent playing time, Miranda slashed .280/.347/.413 in the second half of 2022. After a massive 2021 minor league season the expectations have been set high.
Questions about the power output are completely fair. Year two might still see some growing pains. I think drafting Miranda is more about upside than the final two names on this list, both around the same ADP.
9. Eugenio Suarez – Seattle Mariners
2022 Stats: .236/.332/.459, 31 HR, 76 R, 87 RBI, 0 SB
ADP: 153
Sometimes a fresh start is all you need. Moving from Cincinnati to Seattle might have helped refresh Suarez, but I don't think much changed from his profile. Power with a lot of swing and miss did not change. The batted ball data did not change much either, nor did the run production.
What did change was his BABIP which jumped from under .225 the pervious two seasons to .302 in 2022. Suarez is what he is, the question becomes how lucky will he get?
10. Matt Chapman – Toronto Blue Jays
2022 Stats: .229/.324/.433, 27 HR, 83 R, 76 RBI, 2 SB
ADP: 155
A very similar batter to Suarez, Chapman brings power and strikeouts. The average will not help your team either. Drafting either one of these players can be a roll of the dice but can still help your team. If you drafted other players with better average projections, maybe you need some pop past pick 150. At least you are getting everyday at-bats with these two.