Analysis
Fantasy Baseball: Streaming Into the Weekend (July 24-25)
These fantasy streamer arms can help get your fantasy team through the weekend.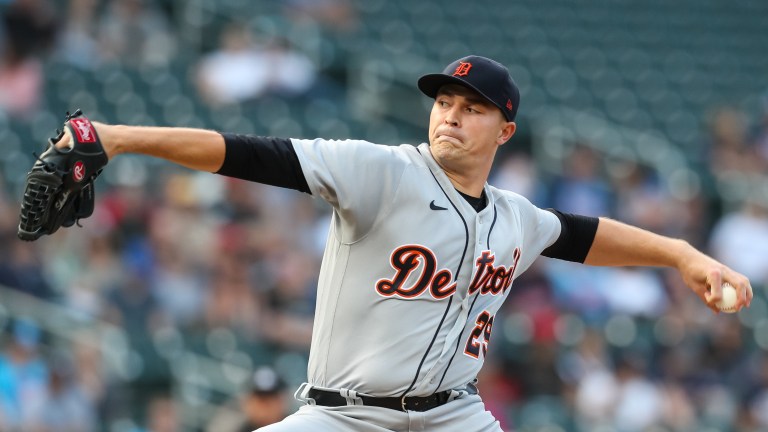 As the weekend approaches, you may find yourself needing to stream a start or two to win your matchup. Whether you need extra strikeouts, a chance at a win, or to better that ERA in a roto or H2H league, here are some good options for the weekend. Obviously, depending on the depth of your league, a few of these players might already be owned, but all players listed are rostered in less than 50% of leagues, so there's a decent chance they are available.

Saturday, July 24
1. Casey Mize – 7/24 @ Kansas City: This one checks a lot of boxes: Mize has some good skills (3.44 ERA, 1.11 WHIP), is pitching well (2.65 ERA last 28 days), and owns good success this year at Kauffman Stadium (1-0, 2.77 ERA, 0.92 WHIP, 9 K: 2 BB in two starts).
From a Royals perspective, they rank 26th in MLB in wRC+ against righties. Kansas City has also gone 12-29 since the beginning of June, giving Mize a good chance at a win for a suddenly surging Detroit team (winners of seven straight).
2. Steven Matz – 7/24 @ New York Mets: A little revenge game for Matz against a team who ranks 19th in wRC+ against LHP. He's also 6-2 with a 3.70 ERA on the road this season.
His xERA (3.91) and FIP (3.99) are expecting a solid second half for Matz too, who started off the post-All Star Break with a win in five shutout innings.
3. Merrill Kelly – 7/24 @ Chicago Cubs: A 3.89 FIP compared to his mid-fours ERA shows some improvement could come for Kelly. That correction might already be underway with a 3-0 record and 2.84 ERA over the past 28 days.
He's been worse on the road, but the Cubs are 24th in MLB in wRC+ against righties, so let it fly with Kelly this weekend.
4. Jameson Taillon – 7/24 @ Boston: The Red Sox aren't a fun lineup to face and Taillon hasn't had the greatest season. He is pitching better of late though, owning a 4-0 mark, 2.70 ERA, and a 1.10 WHIP in 30 innings over the last four weeks. He's also got a 2.53 ERA against Boston in 10.2 IP this year.
Still, his 7.20 road ERA combined with Boston's tough lineup makes this a bit less of a solid play, though still viable.
5. Alec Mills – 7/24 vs. Arizona: This isn't a sexy play with Mills, but he's pitched fine enough lately with a 3.72 ERA in his last four starts. His last start didn't go ultra-well, but of the five runs allowed, just one was earned.
What's going most for Mills here is his home resume – 4-0 with a 2.86 ERA – and facing an Arizona squad that's 28th in wRC+ against RHP. Don't expect much help with strikeouts, but a solid ERA and chance at a win are attainable.

Sunday, July 25
1. Tarik Skubal – 7/25 @ Kansas City: Along with Mize, we're seeing some growth for Skubal on the Tigers staff. He had a 3.33 ERA in May, a 3.14 ERA in June and has a 3.75 ERA in his last four starts.
For his career against Kansas City, Skubal owns a 4.12 ERA, 0.97 WHIP and 11 K/9 in 19.2 IP. The Royals are just 23rd in the MLB in wRC+ against LHP too. Skubal should give you good strikeout numbers, an ERA that shouldn't blow up, and a chance at a win.
2. Ryan Yarbrough – 7/25 @ Cleveland: Yarbrough's first start back from the break didn't go so well, but now he gets a softer landing spot with Cleveland (28th in wRC+ against LHP) than Baltimore was (11th in wRC+ against LHP).
For whatever reason, he's struggled more at home in what's typically a pitcher-friendly park. A 4-1 record and 3.81 ERA on the road, combined with Cleveland's struggles against lefties, and a solid chance at a win with the Rays, should give you hope in this streaming matchup.
3. Cole Irvin – 7/25 @ Seattle: It's been a breakthrough season for Irvin with his 3.42 ERA and 1.18 WHIP – thanks to his 96th percentile walk rate. He's been even better in his past four starts too, with a 1.67 ERA and 0.85 WHIP in 27 innings of work.
Seattle ranks just 27th in the MLB in wRC+ against LHP and pitching for the A's gives Irvin a strong shot at a win on the road (where he's 4-3 with a 2.85 ERA), though he did struggle last time he met the Mariners.
If you're really desperate on Sunday (mainly for totals):
Domingo German – 7/25 @ Boston: Starting a pitcher with a 4.71 ERA against Boston doesn't sound like a wonderful idea. However, German does have a 3.38 ERA in three prior appearances against the Red Sox.