Analysis
Fantasy Baseball Buy Low Trade Targets
These guys can give your fantasy team a mid-season boost.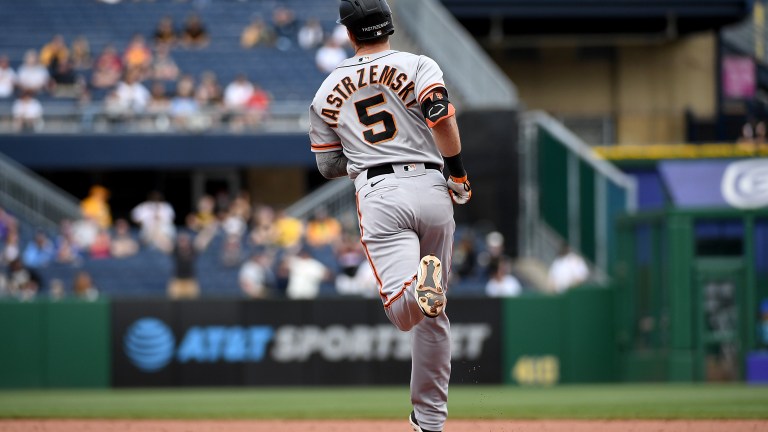 Eduardo Escobar – INF – Diamondbacks
If there was any doubt as to whether the Arizona Diamondbacks would be sellers at the MLB Trade Deadline, their month of June has all but squashed those reservations. The Dbacks have lost 17 straight games, yes SEVENTEEN as well as 23 straight road losses in what has been a disaster season for a roster that is frankly better than it has been performing.
I know, we're talking about trades for your fantasy team, not the real teams, but a change of scenery may be exactly what the power hitting utility-infielder needs to fully recapture his 2019 form. Escobar has still been the most productive player on his team not named Ketel Marte. While only slashing .240/.288/.455, Escobar has mashed a team-leading 15 home runs and ranks 6th in the NL with 45 RBI.
The 32 year-old Escobar is a free agent at the end of this season, and a switch hitter with his defensive versatility will no doubt be coveted on the open market. Escobar has far and away been the biggest power threat on his last place team, and a trade to a contender could rejuvenate the veteran a bit as well as allow him to see more pitches to hit in a stronger lineup.
Rhys Hoskins – 1B – Phillies
It has a been a bit of a roller coaster of a season for Rhys Hoskins, but when you zoom out he has still been quite productive for the Phillies. After recently shaking an 0-33 stretch, Hoskins still checks in with a 112 wRC+, which is above average, but down from last season's 140 mark and his career average.
Hoskins has turned in nearly identical seasons each year since debuting in 2017, which is usually a .230-.250 batting average, an outrageously high walk rate and a lot of power. The power has been on display for Hoskins, who has hit 15 homers and has already homered three times in his last four games after breaking out of his slump.
One small concern around Hoskins is that he is walking significantly less than he normally has. Normally hovering around a 15% walk rate, Hoskins is now sitting at 9%, which is still above league average. Walks have been one of the biggest guarantees with Hoskins through the first 400 games of his career and I'm not expecting that to all of the sudden change for the 28 year-old. If I'm in need of a first baseman, Hoskins may be the first place I look. There's a chance his current fantasy owner is undervaluing him due to the slump that dipped his OBP to a career low. Take advantage of that.
Mike Yastrzemski – Outfielder – Giants
Final boarding call for the Yaz train! It may even be too late to scoop up the red-hot Giants outfielder, who after a rocky and injury marred start to the season, has really put it together. After hitting just .217 with 15 RBI through his first 44 games, Yastrzemski has been a machine since returning from injury on June 12th, slashing .306/.390/.667 over his last 10 games with 3 homers and 11 RBI.
Finishing 8th in NL MVP voting last year with 19% of the vote share, the late-blooming Yastrzemski has solidified himself as a valuable middle of the order bat in any lineup at 30 years-old. With his impressive 10 game stretch, Yaz has already bumped his OPS to a more than respectable .837 clip, just 41 points off from his career number. It may not be too late to grab the Giants outfielder, but you better hurry up because Yaz isn't slowing down any time soon.
Ty France – 2B – Mariners
If there's one thing I am known for amongst the Just Baseball staff, it's the excitement I generate for players that some people may not get so excited about. Jared Walsh was one of those guys for me as a prospect and I will shamelessly pat myself on the back for that one. Not far behind on the "Aram, you are hyping this guy up way too much" list is Ty France.
Let me be clear, I don't think Ty France will ever match the production of Jared Walsh, but we're talking about guys who never sniffed top 100 prospect lists and guys who hardly cracked their team's top 30 lists. Anyways, Ty France has already shown that he can swing it at the Big League level, but he is also one of those players who many wait to come back down to earth because he doesn't really have a single tool that wows you and lacks the prospect pedigree. I'm here to let you know that those people will be waiting for quite some time.
France was raking for the Padres in 2020 before being packaged as part of a deal for then Mariners catcher Austin Nola. France picked up right where he left off slashing .305/.368/.468 in 43 games between the two teams.
After another hot start to 2021, France hit a bit of a wall as pitchers started to attack his weaknesses and also partly due to some wrist issues (which is threatening to send France back to the IL). France made the adjustments he needed to make at the plate and got healthy, aiding him to a blistering stretch, hitting .478/.536/.1.043 with 3 HR and 7 RBI over his last seven games. Even scaled out to his last 30 ball games, France is slashing .308/.390/.477 while striking out less than 15% of the time.
The wrist injury resurfacing for France is not the best of news, but if you are sitting on an open IL spot, now could be the time to pounce on France. The 26 year-old is scheduled for an MRI as this is being written. If all comes back relatively clear, France is an elite bench option, and when he's hot, can provide as many fantasy points as any second baseman around.