Rankings
2022 Fantasy Baseball Second Base Rankings
Just Baseball's rankings of the top fantasy baseball second basemen for the 2022 season.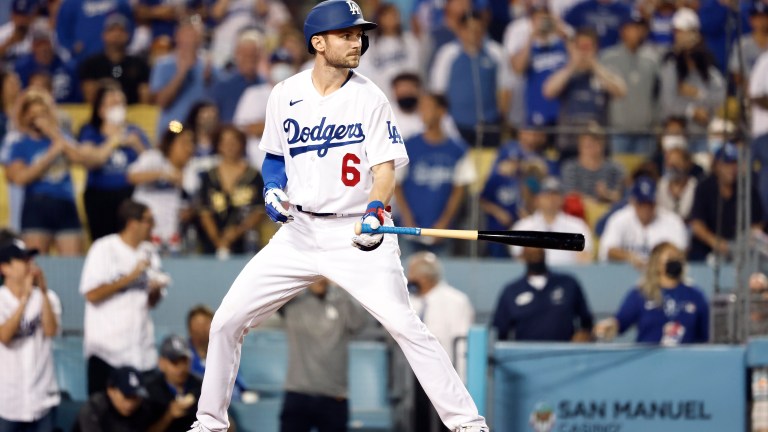 Last week, we continued our fantasy baseball positional rankings with first basemen, giving you insight into a collection of some of the most premier offensive talents in fantasy baseball. This week we will move next door to discuss the top second basemen available for your fantasy drafts this season.
Below you'll find Just Baseball's second base rankings for fantasy baseball. Rankings are done in accordance with 5×5 scoring, meaning batting average, home runs, runs, runs batted in and stolen bases are the only stats taken into account for scoring.
| | | |
| --- | --- | --- |
| Rank | Player | ADP |
| 1 | Trea Turner | 2 |
| 2 | Ozzie Albies | 19 |
| 3 | Marcus Semien | 32 |
| 4 | Whit Merrifield | 36 |
| 5 | Jose Altuve | 62 |
| 6 | Jorge Polanco | 73 |
| 7 | Javier Baez | 77 |
| 8 | Ketel Marte | 78 |
| 9 | Brandon Lowe | 80 |
| 10 | Jonathan India | 81 |
| 11 | Jazz Chisholm | 85 |
| 12 | Tommy Edman | 91 |
| 13 | Max Muncy | 112 |
| 14 | Jake Cronenworth | 120 |
| 15 | Ty France | 138 |
| 16 | DJ Lemahieu | 141 |
| 17 | Chris Taylor | 149 |
| 18 | Ryan McMahon | 156 |
| 19 | Brendan Rodgers | 162 |
| 20 | Luis Urias | 163 |
| 21 | Jean Segura | 199 |
| 22 | Jeff McNeil | 318 |
| 23 | Eduardo Escobar | 191 |
| 24 | Garrett Hampson | 273 |
| 25 | Kolten Wong | 191 |
| 26 | Gavin Lux | 228 |
| 27 | Nick Solak | 405 |
| 28 | Jose Miranda | 433 |
| 29 | Cesar Hernandez | 366 |
| 30 | Luis Arraez | 303 |
1. Trea Turner – Los Angeles Dodgers – ADP: 2
2021 Fantasy Slashline: .328 / 28 HR / 107 R / 77 RBI / 32 SB / 646 PA
The number one ranked fantasy player needs no introduction. Trea Turner is the definition of a complete ballplayer, making him one of the few five category destroyers out there. He's stolen more than 32 bases in five-straight full seasons and has hit .304 over that span.
Prior to last season, Turner had not crossed the 20 home run threshold, but that all changed in 2021 as he hit 28 home runs behind a career-high hard hit rate. The power is real, especially on the back of a 2020 season where he was on a 32 home run pace if it were over a full season.
He moved around the Dodgers lineup hitting leadoff and then second and third at the end of the season. If he continues to hit in the two or three hole, a jump in RBI production can be expected, so don't view his 77 RBI from last year as a sign of things to come.
2. Ozzie Albies – Atlanta Braves – ADP: 19
2021 Fantasy Slashline: .259 / 30 HR / 103 R / 106 RBI / 20 SB / 686 PA
Ozzie Albies is a four-category monster impacting the game in every aspect except batting average, but with the potential to do more in that department. He hit .295 in 2019, but a drastic increase in fly ball rate makes a return near .300 unlikely.
Regardless of his average, Albies is one of the most durable players in the game, averaging 158 games per year since 2018, and has shown to be a top producer in four categories. He's worthy of his second round price tag.
3. Marcus Semien – Texas Rangers – ADP: 32
2021 Fantasy Slashline: .265 / 45 HR / 115 R / 102 RBI / 15 SB / 724 PA
Marcus Semien was nothing short of disappointing in 2020, but bet on himself by signing a one-year deal with the Blue Jays for 2021. That may go down as the best decision of Semien's life. The Blue Jays second baseman showed that his 33 home runs in 2019 was not a fluke by hitting 45 home runs last year. He capitalized on a third place MVP finish and signed a seven-year, $175 million contract with the Rangers.
Do we think Semien can repeat this season?
Probably not, but it doesn't mean he can't be a valuable fantasy contributor nonetheless. His expected slugging percentage, which is calculated using batted ball data, shows an almost 100 point discrepancy between his actual slugging percentage of .538 last season.
With that said, 45 home runs is very much out of the picture, but expect 30 home runs with RBI and run upside hitting next to Corey Seager. He's also stolen more than 10 bases in six-straight seasons making him a contributor across the board.
4. Whit Merrifield – Kansas City Royals – ADP: 36
2021 Fantasy Slashline: .277 / 10 HR / 97 R / 74 RBI / 40 SB / 720 PA
It's simple, Whit Merrifield will lock down steals production in one pick. He finished 2021 with 40 stolen bases, which was second in baseball behind Starling Marte. Now with baseball set to make the bases bigger, Merrifield could be out to set a career-high pace in bags.
He hit .277 last season, but is a career .291 hitter and should be able to reach 100 runs for the second time in his career with the addition of Bobby Witt Jr. in the Royals lineup. He's one of the most durable players in the game, missing just two games since 2018 and consistently finishes in the top five in plate appearances. Draft Merrifield for the steals and fill your team with power later.
5. Jose Altuve – Houston Astros – ADP: 73
It pays to hit in front of the likes of Yordan Alvarez, Kyle Tucker, Michael Brantley and Alex Bregman and even with an expected departure of Carlos Correa, Altuve should be able to approach his career high of 117 runs once again.
The days of Altuve swiping 30+ bags are behind us, but he's developed his game into a power-focused approach, reaching 31 home runs in 2019 and 2021. Entering his age-32 season, this is often when questions of decline start to take shape, but Altuve has never played less than 124 games and has no significant injury risk.
The peripheral data is a bit concerning though. His expected batting average and slugging percentage were well below his actual numbers. On top of that, 18% of his fly balls were designated as infield fly balls, which was the sixth-highest rate in all of baseball. Regardless, Altuve is one of the smartest hitters in the game and will always have average and power upside.
6. Jorge Polanco – Minnesota Twins – ADP: 79
Jorge Polanco is currently being drafted as the ninth-best second baseman, and we feel that's too low. The Twins switch-hitting slugger hit .269 with 33 home runs, 11 stolen bases, and nearly 100 RBI and runs, providing well-rounded value.
The knock on him is that doesn't hit the ball all that hard, finishing with a below-average hard hit rate, but he keeps the ball in the air, allowing for plenty of home run upside. Hitting in the top-three of the Twins' lineup, Polanco will have every opportunity to approach 700 plate appearances. While we don't believe he will be able to replicate 33 home runs again, he'll add a boost in every category on your team.
7. Javier Baez – Detroit Tigers – ADP: 62
It was a tale of two seasons for Baez in 2021, who hit .250 with a 36% K rate with the Cubs, but upon his trade to the Mets at the deadline, altered his approach and hit .295 with a 28% K rate down the stretch. It's fair to wonder if that shift in approach is sustainable or real considering pitchers stopped throwing pitches close to the zone altogether, but it's clear that Baez will fill the stat sheet offensively.
Over the last three full seasons, Baez has averaged 31 home runs, 90 runs, 94 RBI and 17 stolen bases. Because of this, few players possess the upside that Baez does. His max exit velocity ranks in the top-two percent of the entire league. We could be looking back in September wondering why we let Baez slip so far.
8. Ketel Marte – Arizona Diamondbacks – ADP: 78
Ketel Marte has freakish abilities that only players like Byron Buxton possess. He has size, strength, speed, positional versatility, and if he can stay healthy for a full season, the sky is the limit. The question is, can he stay healthy enough to provide value like he did in 2019 when he hit .330 with 32 home runs and 10 stolen bases.
He missed 72 games last season, plagued by nagging hamstring issues, which is concerning for a player that puts his body on the line making crazy defensive plays. He's played more than 120 games just twice in the last six seasons, but when on the field he delivers value above where he's being drafted. Proceed with caution and know the boom-or-bust potential with Marte and his injury history.
9. Brandon Lowe – Tampa Bay Rays – ADP: 77
Shockingly, 2021 was Lowe's fourth season in the bigs, but just his first season with more than 330 plate appearances. After an eighth-place AL MVP finish in 2020, Lowe showed the power was very much real, hitting 39 home runs, 99 RBI and 97 runs, finishing 10th in AL MVP voting.
He sprinkled in seven stolen bases and his .250 average looks more like a floor than a ceiling, as he hit .270 across 2019 and 2020. He's an everyday player that hit leadoff in a third of the games in a potent Rays lineup, which gives him 100 run and RBI upside. Expect Lowe to approach 40 home runs yet again and deliver on his current price in the sixth and seventh rounds.
10. Jonathan India – Cincinnati Reds – ADP: 90
The National League Rookie of the Year finished as a top-10 second baseman in fantasy in 2021 and we don't see any reason to think he can't do it again. He checks off all five categories, but there is a lack of upside from the performance he had last season.
A sophomore slump is common as pitchers have an offseason to game plan ways to get second year players out. India neither hits the ball hard nor in the air, which is a combination that doesn't signal stardom. Regardless, India will be hitting leadoff in the Reds lineup and will fill each category reasonably well.