Analysis
Brett Baty Should Be on the New York Mets Right Now
The New York Mets are wasting time not promoting top prospect Brett Baty, who looks to be their best option to start at third base right now.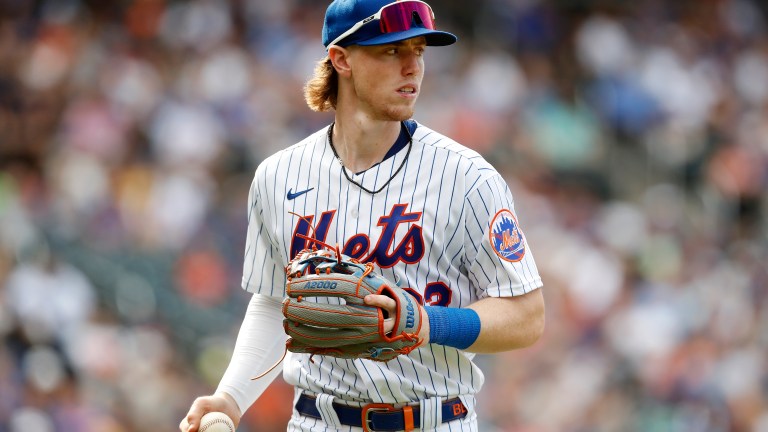 The title of today's article is about as clear-cut as it gets for reason. Because the New York Mets decision on top prospect Brett Baty should be undeniable based on a quintessential concept:
The best player should be afforded the opportunity to play the game.
Baty is the best third baseman on the Mets 40-man roster. There isn't a doubt in my mind about that fact. In our new top 100 list, you will find Baty ranked as the No. 8 prospect in all of baseball.
Eduardo Escobar is a fine player, but at 34 years old, he can't hold a candle to the 23-year-old Baty. Both offensively and defensively. Yet, Baty remains in Triple-A, where he has opened the season hitting .387/.486/.839, with four home runs.
Meanwhile at the big league level, Escobar has started the season hitting .103/.143/.205, striking out 11 times in 39 at-bats while mustering just four hits.
What is holding the Mets back from promoting their top prospect and when will they come to their senses? As a frustrated Mets fan, I will diatribe about it all now.
Brett Baty's Case For Promotion
If there is one thing that teams want out of their top prospects it's to show the ability to improve year-over-year. That is exactly what we have seen from Brett Baty over the last couple of seasons, as he has consistently taken his weaknesses and turned them into strengths.
The Mets first round pick back in 2019, Baty did not play his first full professional season until 2021, thanks to the cancellation of the 2020 season due to COVID. Baty opened up his first full campaign in High-A Brooklyn, where he would eventually hit his way up to Double-A.
Splitting the season between the two stops, Baty hit .292/.382/.473, with 12 home runs and 22 doubles. He showcased great exit velocities, but there was still a glaring issue. Baty was pounding the ball into the ground.
Across 176 plate appearances in Double-A in 2021, Baty had a groundball rate of 61.2%. An inconsistent load transfer would often lead to a lot of moving parts to his swing, where his upper and lower body weren't always in sync.
Fast-forward a year and Baty was by far the best hitter in that same Double-A Eastern League. He worked hard in the offseason to make his swing more fluid and put focus on lifting the ball more. Already featuring an advanced approach at the plate, Baty was able to take the swing adjustments and turn them into incredible results.
Across 89 games and nearly 400 plate appearances in Double-A, Baty hit .312/.406/.544, with 19 home runs, 22 doubles and a 160 wRC+. He slashed his groundball rate from that 61.2% in Double-A in 2021, all the way down to 42.6% in 2022.
Baty lead the Eastern League in average by 30 points and had a wRC+ 31 points higher than the second-best hitter. He earned a promotion to Triple-A and then up to the big leagues after an injury to Luis Guilorme. In his first big league at-bat, Baty homered.
Unfortunately a thumb injury would cut Baty's 2022 campaign short after just 11 games played at the big league level. Baty did not find much success past the initial home run, hitting .184/.244/.342 across a small sample size of 42 plate appearances.
While the counting numbers weren't there, Baty did show promise, as indicated by a HardHit% of 36.7% and an expected batting average (.287) and expected slugging percentage (.414) that were both far higher than the actual numbers he put up.
Entering this year, the biggest concern with Baty was whether he was ready to play third base everyday in the majors. With defense being the main thing that could hold him back, Baty worked hard this offseason to improve and showed up to camp looking great at the position.
Finally looking like someone who could man the hot corner at the highest level, there really shouldn't be anything holding Baty back. Particularly when he continues to swing such a hot bat. Across 40 at-bats in the Grapefruit League, Baty hit .325/.460/.425.
As previously mentioned, he has only continued that to start the season in Triple-A, where he currently has a 1.325 OPS. Mets GM Billy Eppler was in Syracuse on Thursday night to watch Baty, among other prospects, and the young slugger went 3-for-4 with a home run.
Low Bar to Climb at the MLB Level
Now here is where this gets really frustrating for Mets fans. Brett Baty is an uber-talented player, who is by far the best prospect the Mets have had at third base since David Wright. He has proven to be ready for big league action, yet no promotion has come.
In instances like this, you would assume the reason to hold off on promoting the kid is because the incumbent veteran player is too good to move off the position. That's not the case though with Eduardo Escobar currently starting at third base.
Escobar's start this season could be the case of a player looking over his shoulder knowing a top prospect is coming, but even if we zoom out a bit, his first season in a Mets uniform was hardly elite production from the third base position.
We'll start with the glove, which is the area where the Mets would like you to believe that Escobar has an edge over Baty. Last season, Escobar was worth -11 DRS at third base. His -6 OAA ranked him in the bottom-eight percent of fielders in all of baseball. Not exactly the highest bar to climb for Baty. Now we move to the bat.
To Escobar's credit, he played about to his career average last season, posting 106 wRC+ with 20 home runs. This was however buoyed greatly by a fantastic September, where Escobar hit .321/.385/.596, with eight home runs and a 176 wRC+.
If you remove his numbers from September, Escobar hit .218/.269/.383, with a 86 wRC+ across the first five months of the season. The Mets can't afford to wait until September for Escobar to get hot this year, especially with a player as good as Baty waiting in the wings.
Mets Roster Crunch Keeping Baty Down
When the Mets entered spring training this year, there was really only one spot up for grabs on the Opening Day roster. With a bench that was set to include Tommy Pham as the fourth outfielder and Luis Guillorme as the backup utility infielder, the Mets could really only carry one more player.
Competing for the spot was veteran Darin Ruf, who was ultimately DFA'd, top prospects Baty and Mark Vientos and a slew of minor league signings. Ultimately the Mets opted to include Tim Locastro on the roster, optioning Baty and Vientos.
The idea to add Locastro was based on multiple factors, including the fact that he had a great spring. Futhermore, with Daniel Vogelbach set to take a majority of the at-bats on the strong side of a DH platoon, the Mets opted for some speed on their bench who could swipe a bag late in games.
After going 6-for-6 on stolen base attempts this spring, Locastro has made it safely on each of his two attempts so far this season. Still, an ancillary player who is just tasked with pinch running and the occasional start in the outfield doesn't offer anywhere near the value that Baty would as the everyday third baseman.
Ultimately, the Mets bench is ill-fitting but that is based on their own decision-making over the past year. A player of Locastro's skill-set would be welcome, giving them speed and defense from the fourth outfielder spot. The issue there is that they signed Pham this offseason.
On a bench, Escobar and Pham would have similar functions, in that both could be viable right-handed options to platoon with Vogelbach at DH, who can best help the team by hitting home runs. Carrying both isn't the best use of roster spots, yet neither is bad enough to outright DFA.
Then we get to Vogelbach.
What he does well is very valuable to the Mets, and that is getting on base. Since coming over at the deadline last year, Vogelbach has gotten on at a near .400 clip (.397). Still, he is clogs up this roster significantly, as a guy who can't hit left-handed pitching or play a position in the field. Vogelbach's presence makes it more important to have a righty compliment at DH, as well as having a pinch runner. In turn, one all-around player could serve the functions of three players on the Mets roster.
The easiest decision for the Mets right now would be to designate Locastro and promote Baty. Escobar could platoon with him at third base and become another utility infielder, while Pham could assume the late pinch running duties left from Locastro, albeit without the same threat of stolen bases.
Regardless of the other decisions that have to be made, Brett Baty is the best option for the Mets to start at third base right now. If the Mets chose to keep him in Triple-A until June 3rd, it will mean they were looking to get that extra of control and were blatantly manipulating his service time.
Only time well tell what has been behind the Mets decision-making, but if they really want to win now, Baty should be up sooner rather than later.