Analysis
Evaluating Big-Name Injured Starting Pitchers
This season has seen plenty of injuries to important starting pitchers, but how do you value them going forward?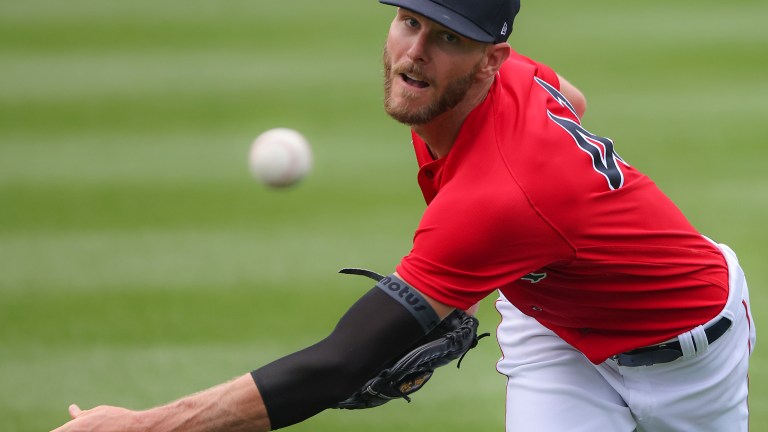 Sometimes, with fantasy sports, we often seem to forget just how arbitrary the whole thing can be. Sure, you could draft the fantasy equivalent of the damn Justice League, but the sports gods will still — in their ever-growing lust to make you hate yourself and satisfy their own perverse sense of humor — find ways to make you lose. One of these ways is through the "I" word, a word that sends chills down even the most seasoned, toughest, and cynical of sports fans: injured. Holy guacamole, injuries are the absolute worst.
This MLB season has felt like an especially tumultuous one in this department. While it's important to be careful not to dehumanize these players by solely focusing on their value to us as we attempt to manage our make-believe baseball teams, there's some fallout worth discussing when it comes to how they should be valued in fantasy baseball going forward. In this particular instance, we're taking a look at four of the big-name pitchers expected to come off the IL within the next month or so and how to approach them. Let's roll out!
Chris Sale – Boston Red Sox
Remember what I said about the sports gods being a cruel bunch? Add Chris Sale to the list of examples. I've lately succumb to the fact that the sports gods will forever ignore our pleas for equality and continue to grant Boston teams unlimited power. So, for Mr. Sale here, I recommend adding him to your roster right now if he's available, because he's going to be a top-20 starter once he returns. Sorry baseball fans, but the Red Sox are just not allowed to be down for long.
But, in all seriousness, and aside from my doom-and-gloom view of Boston sports returning to power, there's actually plenty of actual reasons to be high on Sale's prospects as a fantasy starter for the second half of the season. I know he struggled somewhat, by his past performance standards, the last time he pitched. His saw a decrease in velocity on his four-seam fastball and was generally inconsistent — much like the entire Red Sox team during that stretch. However, Sale is apparently looking as sharp as ever and will likely continue to exhibit incredible command of his pitches, which will make up for any potential drop-off in velocity. Furthermore, he will get plenty of wins because of the Red Sox contending status. This isn't Corey Kluber; Sale isn't as far removed from elite status as you may think
Carlos Carrasco – New York Mets
Given my personal affinity for this New York Mets team, my cynicism regarding Carrasco's value pains me. Part of me is suspicious that the Indians adding Carrasco on top of the Lindor trade was a little too good to be true. Plus, the Mets claim Carrasco hasn't suffered any setbacks with his injury but, for some reason — possibly having to do with the litany of organizational drama the Mets have been a part of the last several months — I'm not overly inclined to believe them, or feel optimistic about it.
Granted, Carrasco is an excellent pitcher when he's healthy. He's had a K/9 over 10 in five of his last six seasons to go along with the 13th lowest FIP and 8th-best K-BB% (22.8%) among qualified starters since 2017, and being part of this Mets squad shouldn't hamper his value in the slightest. He's worth an add in leagues for sure, but don't be afraid to seek out potential trade interest if you're not in the mood to deal with his injury risk.
Luis Severino – New York Yankees
In my fantasy experience, Yankees players can often be a bit overvalued. It's often tempting for their fanbase to want to hang on to players with potential because it allows them to feel connected to the hype their marketing machine will generate. This, in turn, results in lopsided trade demands that need to be immediatley rejected. Now, on the flip side, you can take advantage of their overvaluation; that's where Luis Severino comes in.
The hype machine for Luis Severino will likely be exacerbated even further given that, if you haven't heard, things aren't going too well in the Bronx right now. In fairness, in the last two seasons he was fully healthy, 2017 and 2018, Severino finished top-10 in Cy Young voting. He, unlike other players the Yankees fans claim to have value, has plenty of potential to be a contributor for the team. That being said, I'd much rather try to take advantage of the desperate Yankees fan in your league — like our co-founder Peter Appel, who is becoming a sad boy — especially if you already have a decent amount of pitching depth. Don't rush to sell him, just be cautious in expecting him to be impactful immediately upon return from injury, I see the Yankees being especially careful.
Stephen Strasburg – Washington Nationals
Sell! Sell! Sell! I genuinely believe Stephen Strasburg has one of the bigger albatross contracts in the league (seven-years, $245 million). Yes, he was instrumental in their World Series run and has been electric when healthy, but that's the thing – he's never healthy! Plus, in the few starts he made before landing on the IL this season, there was even a dip in velocity. If I'm a Strasburg owner, I'm trading him for any top-30 starter I can get, potentially capitalizing on the name value present here. Kenta Maeda? Yes! Blake Snell? Probably, because I expect him to be better than the 5.29 ERA on this season (plus, his extremely odd home/road splits have to mean…something?). Alek Manoah? Sure thing!
The stress you'll procure by relying on Strasburg to aid your team, and not getting injured while doing so, is equivalent to that of Uncut Gems. Folks, just don't go through it, unless for some sick twisted reason you enjoy that kind of experience, then more power to you.