Sponsored
PrizePicks is Changing the Way We Play Daily Fantasy Baseball
Use the promo code "JustBaseball" for a deposit match!
The popularity of player props has swept across the betting world, increasing the potential betting options for each game exponentially. While betting on moneylines, spreads, overs and unders remains most popular, people have gravitated towards betting on individual player props, such as strikeouts, total bases, home runs and many more.
PrizePicks, which is a daily fantasy sports app, takes all of the components of player props and merges it with daily fantasy sports. They have taken player props to a whole new level by allowing people to build entries with multiple player props, similar to a parlay. There is not a sports book out there that allows people to parlay player props from different games, but with PrizePicks, that's all possible.
How Does PrizePicks Work?
To get started on PrizePicks, you need to download the app, and lucky for you, Just Baseball has you covered with a 100% deposit match up to $100 when you use the link above or our promo code "JustBaseball". It's risk-free way to get started on PrizePicks.
Once you've downloaded the app, you can start to build your entry for the day. Within the MLB section, you'll see different categories that you can bet on including strikeouts, 1st innings runs allowed, pitcher fantasy score, pitches thrown, hitter fantasy score, total bases, hit + walks, runs + RBI and more.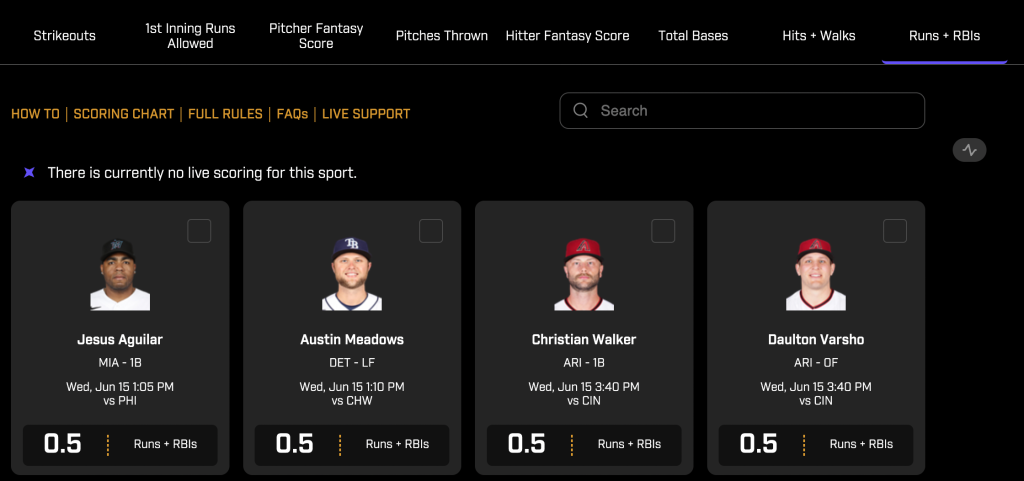 Above, the runs + RBI board is displayed with player options provided. For example, say I want to add Christian Walker over 0.5 runs and RBI to my entry: I would click on the box in the upper right corner above Walker's head. This will then add Walker to my entry, where I can then select over or under. before I do that though, I need to add a second pick to my entry.
I click on "Strikeouts" and am presented with the strikeout lines for each starter in today's games. Luis Castillo has gone over 5.5 strikeouts in three of his last four starts and the Diamondbacks have the fourth highest strikeout rate in baseball, so I am going to pick "Luis Castillo over 5.5 K's". Below is what the PrizePicks entry will look like. By clicking on "over" next to each player's name, you've locked in that you're on the over for both of those picks finally, by clicking "place entry", you've locked in your PrizePicks entry!
The beauty of PrizePicks is that every line on their app is even odds, so even if a strikeout prop line on a sports book is -130, PrizePicks will have that line at even odds. It's why PrizePicks is the go-to app for player props.
If you'd like to learn more about PrizePicks, make sure to follow our very own gambling expert, Peter Appel, on Twitter. He hosts a Twitter space every single day at 2:00 p.m. EST where he makes the daily PrizePicks entry and asks the public to chime in and give their best plays. Just Baseball is making PrizePicks a community and we'd love for you to join in with us. Below is our most recent winner!
If you haven't downloaded PrizePicks, use promo code "JustBaseball" or use our link to get a 100% deposit match up to $100.