Analysis
Dynasty Mailbag: Projecting the Dodgers' 2025 Rotation
The Dynasty Mailbag is back to answer your questions about the Southern League baseballs, the future of the Dodgers' rotation, and much more.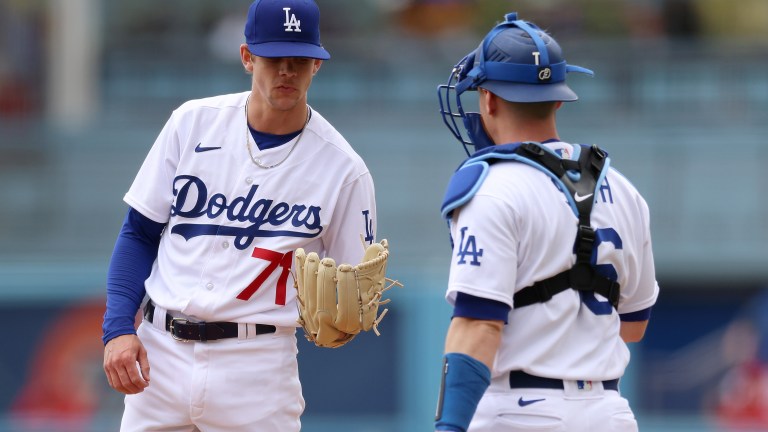 Hello and welcome back everyone, I missed you all. Unfortunately, I left my laptop at home as I went to watch my brother's college play in their D2 regional, so I pushed things into this week. I am not perfect after all. But we are back baby, with a bigger version of the Dynasty Mailbag!! Remember to get your questions to me on Twitter if you want them to appear in the next iteration of the best dynasty mailbag there is. Without further ado, let's get after it.
This year, Major League Baseball, in all of its infinite wisdom, decided to introduce a tacked ball into the Southern League (Double-A). The idea behind this tacked ball is to provide pitchers with a better grip and address the problem of using illegal sticky substances. The uniform ball design allows pitchers to achieve the desired grip without resorting to illegal means.
In theory, this is a great idea. But as you may know, Major League Baseball has a track record of few successful endeavors. Except for the pitch clock, this is the greatest innovation in the history of the sport. The result of this experiment shows that walks and hit-by-pitches have increased in the Southern League. Strikeouts and home runs have both increased, resulting in a real grab bag of data points. The problem is that some of these pitchers are important prospects, and they are being promoted to higher levels too quickly. Below are three notable prospects, who could potentially be among the top 100, and it is worth noting how little they have pitched in the Southern League before being promoted:
Andrew Abbot, LHP Cincinnati Reds (15.2 innings)
Ben Brown, RHP Chicago Cubs (20 innings)
AJ Smith-Shawver, RHP Atlanta Braves (7 innings)
These three teams, each with varying degrees of front office aptitude, have all come to the realization that pitching in this league is not worth the data points. There is a massive problem. Fortunately, this experiment is coming to an end, so we can pretend it never happened. I hope my past relationships didn't happen the way they did.
Hey, I know this guy. This is a rather easy ranking for me. It would go as follows:
Woo has the combination of the highest upside along with the highest certainty that he will remain a starter. He has been fantastic this season, striking out 34.6% of the batters he has faced up to this point. He is also limiting home runs, having given up only two in 39 innings of work. He has an exceptional fastball that is devastating batters. He mixes a slider and a solid changeup. He has 80 swings-and-misses this season, and the majority of them seem to be a result of his fastball, which is difficult for batters to hit squarely. Another scouting discovery by the Mariners. Is he the next Bryce Miller? Well, I hope so because I have him on my roster in a few spots. His potential is that of a reliable SP3 in fantasy baseball who can strike out more than a batter per inning and avoids giving up home runs. He's easily a top-50 prospect in the fantasy game. (Rankings may be coming soon; who knows?)
I am relatively sure that Sheehan remains a starter, and I will discuss him further in a later question (foreshadowing much?). The way he has pitched this season has been phenomenal. He is punching out at 46% of batters he has faced; he has one of the best fastball-changeup combinations in all of the minors.
Ben Brown is a phenomenal prospect in his own right and an easy top-100 fantasy prospect because of his ability to strike out batters. Since last season, Brown has never had a strikeout rate below 30%. The problem is that his command still needs improvement. There is some risk with him as a reliever, which slightly limits his fantasy upside. In all but two of his games this season, he has recorded double-digit swings-and-misses.
This is quite a challenging question, especially for the man who was ridiculed for expressing his admiration for James Outman on a podcast. Projecting future rotations is something I wouldn't wish on anyone, not even my worst enemy. ESPECIALLY for a team like the Dodgers, though it would be hard to find a more challenging team than the Rays. Based on the prospects mentioned above, let's assume that there are three available rotation spots. And then let's mention some of the players who have the potential to become high-leverage relievers. Let's also include spot starters who can also relieve, commonly known as swingmen.
Starters: Bobby Miller, Gavin Stone, Emmet Sheehan
High-leverage relievers: Ronan Kopp, Nick Frasso
Swingmen: Landon Knack, Ryan Pepiot, Nick Nastrini
Bobby Miller recently made his debut and appears to be getting some playing time with the major league team for at least one more start in the rotation. Stone is the best pitching prospect they have, and he should remain a starter. I am a massive fan of his. The upside here is an SP2. Sheehan has a killer changeup and can use it in combination with his fastball to get through a lineup twice.
Kopp and Frasso have some serious stuff. I have questions about Kopp and how his pitching command looks, given he is a massive pitcher, but the stuff is absolutely bonkers. As much as I like Knack, Pepiot, and Nastrini, I find it strange that I wouldn't want them to be limited to one inning only. However, when it comes to the Dodgers, I have doubts about their ability to secure spots in the starting rotation. They could become highly valuable trade assets or versatile relievers capable of providing depth and pitching multiple innings, allowing their team to mix and match their usage.
I'm going to be honest with you, I stressed over this question more than any other. If you could teleport me to the year 2025, I hope I won't be as lonely. Feel free to mix up these names in any way you want, and I won't object. It's more of a vibe thing with the Dodgers.
I have lumped in Clay's first question with Cristian's question. I have selected a few potential options that I prefer and believe are not receiving sufficient attention due to various factors. I have decided to split them into two categories of players: lower minors (Single-A and High-A) and upper minors players (Double-A and Triple-A). We have not yet had any complex league players, but I can revisit this topic later to include those players. Complex players offer the lottery tickets that we are all chasing, and they satisfy the prospect itch that many of us who participate in dynasty leagues experience. I mean, look at the players who got stars like Vlad Jr., Juan Soto, and Ronald Acuña when they were playing in complex ball. I envy those people.
Low Minors: Adael Amador, Yeison Morrobel, Druw Jones
High Minors: Heston Kjerstad, Luis Matos
These low-minors prospects are interesting, or at least I think so. I am the conductor of the Yeison Morrobel hype train. He has shown impressive hitting skills and even displays flashes of power. You won't have to pay a premium for his services. Adael Amador is next in line for the Rockies. He possesses great speed and is skilled at making contact with the ball.
Druw Jones may seem like a long shot, but I genuinely believe there is a great buy-low opportunity here. He can't be this bad, can he? His swing is truly terrible; it resembles a wet fart of coordination between his upper and lower body. BUT, and hear (or read me out), this is the lowest his stock has ever been. If the D-backs can fix his swing – and they will do everything in their power to do so, given their investment in him – then you could acquire a top-25 prospect for next to nothing.
Let's now turn our attention to high-minors prospects. Luis Matos is officially back, everyone. He had a rough 2022, posting a 74 wRC+ in High-A. However, he has bounced back this year and is performing well, putting him on the verge of making it to the majors. He reduced his strikeout rate to 9% in Double-A and is demonstrating the moderate power and speed that endeared him to us all. He is back.
Speaking of being back, Kjerstad. Kjerstad is quietly having a fantastic season. At the moment of writing this, he has hit 10 home runs and is hitting .324/.400/.634! Kjerstad is someone I would want on my roster. He was always a fantastic player, but his injury and time away from the game really hurt his prospect stock. In dynasty leagues, if you are not the shiny new thing, you might as well not exist.
Clay is getting greedy with two questions on one tweet. I'll allow it.
So, I scoured the interwebs to find players who are rostered in a high percentage of leagues but can be dropped. Let's start with the one that everyone knows: José Abreu. "You can take the player out of the White Sox, but you can't take the White Sox out of the player," I always say. Abreu has been absolutely cheeks since joining the Astros. He has hit .222/.280/.259 with no home runs. You should consider ending your relationship with him, he's actively hurting you.
The next player I think you should launch into the sun is Lance Lynn. Last year, Lynn was solid, but it seems that Father Time has caught up with the 36-year-old. He is striking out a fair share of hitters, with 67 strikeouts in 57 innings, but the issue for Lynn is the number of home runs he's giving up. Lynn is giving up 1.88 home runs per nine innings, which is alarming,  especially for someone who relies heavily on fastballs and lacks strong secondary offerings. It is always unfortunate, but maybe this is the time to let Lynn go. Maybe just drop all White Sox players; whew, it's been gross in Chicago, except for Jake Burger.
Here's a punchy shout, and only for redraft leagues: Carlos Correa. Man, this guy was not performing well when he did play, and now he is injured again. It is rather unfortunate, but maybe two teams were correct this offseason. When he has been healthy in the past, he has been fantastic. The only thing is, you don't necessarily become healthier as you age. In redraft leagues, I think it might be time to consider dropping Correa from your team.
I think you have done rather well for your first dynasty league. I like to think of prospects in layers and waves, and I like what you have done. This first wave of prospects you have could really shore up some of your major league roster issues. Elly De La Cruz has all the tools to be a formidable force. If you were to ask me which prospect in the minors could potentially have a 30-homer/30-stolen-base season, my answer would be him. The tools are amazing. You also have Mead and Manzardo, who could become valuable contributors to a strong team. I am concerned about the quality of pitching, and relying heavily on young prospect arms is risky. But I think you have a really strong roster with a lot of potential.
And that is another edition of the Dynasty Mailbag! Don't forget to celebrate the good weather this holiday weekend. Eat a hot dog, open up a cold one, and make sure your dynasty roster is the best it can be!