Analysis
2022 Fantasy Player Profile: Vladimir Guerrero Jr.
There's no doubting Vladimir Guerrero Jr.'s elite status, but could he potentially be the top overall pick in next year's fantasy drafts?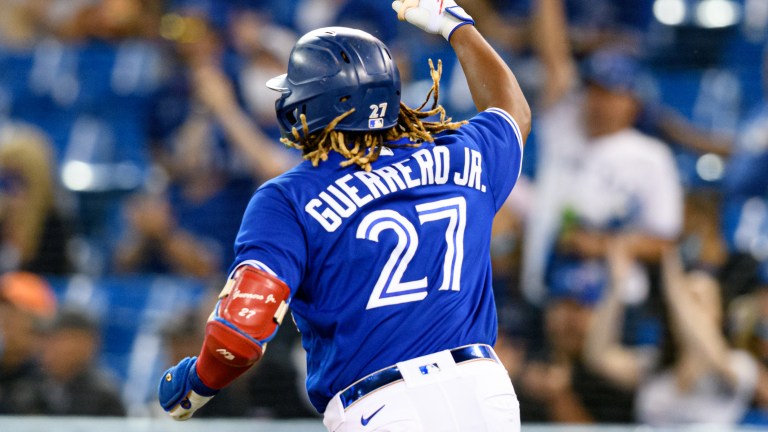 The Toronto Blue Jays have themselves a perennial All-Star and MVP candidate in Vladimir Guerrero Jr. For fantasy owners, they have potential 50 homer talent that can also hit for average and drive in runs year-in, year-out.
For fantasy owners, this is yet another potential first overall pick regardless of whether it is a one-year or keeper league. When it comes to Guerrero, the primary things that standout include his age and supporting lineup. Marcus Semien is on the way out to Texas. However, Guerrero Jr. certainly benefits from the core around him of Bo Bichette, George Springer, and Teoscar Hernandez.
Those three names will certainly help Guerrero Jr. continue to see hittable pitches for the foreseeable future. Guerrero Jr. is coming off an insane 2021 season in which he posted a .311/.401/.601 slash line to go with 48 homers and 111 RBI's. His season offensively was good for an insane 1.002 OPS in the league.

One knock against Vladimir Guerrero Jr. for fantasy purposes is that he will no longer have dual eligibility at 1st base and 3rd base. Out of the 161 games Guerrero Jr. played in, 133 were at 1st base and 28 were as the designated hitter. He made one appearance all year long at third base in a defensive switch. I apologize for the bad news if you don't have a backup option at third base in keeper leagues.

While Guerrero Jr. may no longer have dual eligibility, he certainly will provide a consistent offensive outburst year-in, year-out in keeper and regular one-year leagues. Guerrero Jr. is heading into his age-23 season (his birthday is March 16th) and hasn't even entered the prime of his career. Expect young Vlad to be a perennial All-Star and mainstay at the top of fantasy lists at 1st base.
From an analytics side of things, it's pretty easy to expect Guerrero Jr. to continue to put up massive numbers during his 2022 campaign. In 2021, Guerrero Jr. finished in the 99th percentile for average exit velocity and max exit velocity. He finished in the 98th percentile in hard hit rate, expected batting average, expected weighted on-base average. His exit slugging percentage is in the 97th percentile. He's in the 90th percentile in barrel rate and his walk rate is still in the upper echelon of talent at the 87th percentile.
The only knock against Guerrero Jr. from a fantasy perspective is his sprint speed, which is below average. We already know he isn't stealing bases for us to win us the title if we're picking him so does that sprint speed really matter when we know a lot of the balls he will hit are leaving the yard? I'll take that trade-off any day.

In terms of where to select Vlad, it is fair to say he should not slip past the sixth pick in standard or keeper drafts. Tatis Jr. and Soto have a fair argument for being ahead of Vlad, however, he could be a top pick if you're looking to build your team around homers. In standard snake drafts, Vlad is the perfect player to swoop with the third or fourth pick, depending on how you want to build your team. While the speed may not necessarily be there for the young stud, he offers every other crucial counting stat necessary to put your team over the top.