Analysis
Injuries Have Already Hit the 2022 Fantasy Baseball Draft Boards
The injury bug bit everyone in 2021. How does that impact how you approach your fantasy baseball draft for 2022?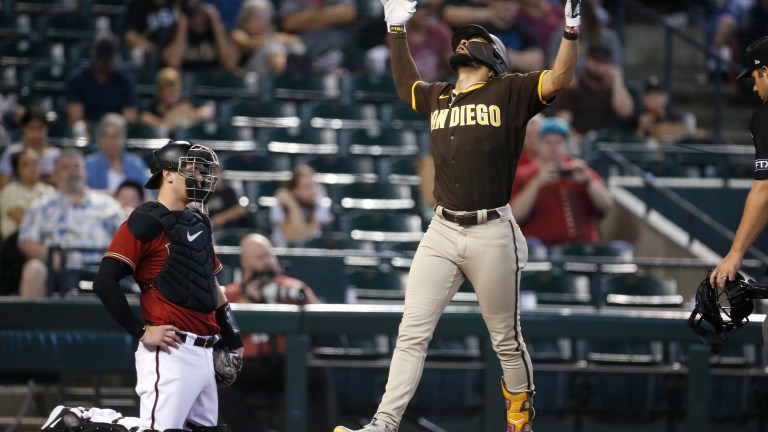 Looking ahead at rankings for the 2022 Fantasy Baseball season, you'll notice a common trend in trying to decipher who you'd take with your high to middle first round pick: there's a lot of players with injury issues either in their recent history. The uptick in injuries this year could make 2022 fantasy drafts a game of complete random chance at the top of boards.
The hitters you most often hear in this high to mid-first round discussion are Fernando Tatis Jr., Juan Soto, Vladimir Guerrero Jr., Trea Turner, Ronald Acuna Jr., Mike Trout and Shohei Ohtani (if he's one player in your league). Jacob DeGrom is so good as a pitcher that he's been floated around in that spot (at least prior to the latest update on his current injury).
Even if you go a bit further down the board you see names like Mookie Betts, Shane Bieber, Christian Yelich and Eloy Jimenez who have missed chunks of the year due to injury.
Recently, Yahoo Sports released their top 300 overall for 2022. Here's a quick injury breakdown on the top 10:
Fernando Tatis Jr. – Three IL stints this season with his shoulder the most troublesome. Cody Bellinger had shoulder surgery this past offseason and hasn't had a great year, so if Tatis Jr. gets surgery in the winter could that hurt his production?
Jacob DeGrom – Currently unlikely to return this season due to an elbow injury. He will also turn 34 next season, meaning returning from injury becomes more difficult.
Juan Soto – His injury history isn't as bad as others. He did miss over 20% of the 2020 season and he also had injury hiccups this year with a shoulder strain (that led to a 10-day IL stint) and a banged up knee.
Vladimir Guerrero Jr. – He missed some time in 2019 due to injury, but played in all 60 games in 2020 and has appeared in 121 of 122 games in 2021. He's the beacon of healthy hope here. *Knocks on wood*
Ronald Acuna Jr. – Tore his ACL in July, so who knows when he will be back next year and if we continue to see him steal bases at a high rate. He also missed games in 2018 and 2020.
Shohei Ohtani – He had the forearm strain that shut him down pitching wise in 2020. He had to undergo knee surgery in 2019. He had a UCL sprain prior to that. This year has been a revelation, but until this year he had never surpassed 120 games in a season.
Trea Turner – He's been mostly healthy this season and last (recently had a trip to the IL due to COVID), but he's had his fair share of injury history missing 40 games in 2019 and 64 games in 2017. His injuries (broken finger and wrist off of a hit-by-pitch) do you give you hope he can stay healthier.
Bo Bichette – He's been healthy this year outside of when he fouled balls off his shins and was day-to-day. However, 2020 saw him miss more than half the team's games as he dealt with a knee sprain. He missed time in 2019 with a concussion.
Kyle Tucker – He's missed some time due to COVID and wasn't a mainstay in 2018 or 2019 but overall has remained pretty healthy.
Mike Trout – It seems like we've been kept in the dark for awhile about Trout and this nagging calf injury. Since 2017, he's appeared in 477 of a possible 672 games (and counting), which equates to playing in about 115 games in a season.
There should be two things that jump off the page there; one, if you name your kid after yourself there's a good chance he's a fantasy baseball star. Second of all, that's a lot of injury history really outside of Vladimir Guerrero Jr., Kyle Tucker, and to a lesser extent Soto and Turner.
Does this mean you should go further down the board for less risk like Tucker over Acuna? How far do you even have to go down the list before you find that player who hasn't had injuries of late (Betts, Bellinger, Bieber, Robert, Jose Ramirez, etc. have all had injury woes recently)? Or just in general do you nab someone who's health you trust more over the higher potential of skills like Turner over Tatis Jr.?
The cop-out answer is that you should do what you feel comfortable with as far as a draft strategy goes. Personally, I would definitely value that into my decision. There's only so much you can predict injury wise, but getting someone you know will provide value in the first round gives you some more leeway for messing up through other rounds of the draft. If you want to take the risk though, then be prepared to take a 'safer' pick in the subsequent rounds.
For that reason though to me, Vladimir Guerrero Jr. seems to be the safest pick at #1. Maybe the lack of steals gives a healthy Tatis Jr. or Acuna Jr. the edge. If not him, it's probably Soto for me, who hasn't been as solid this year as Guerrero Jr. but still is an elite hitter and doesn't have as bad of an injury past as others. That's what makes this draft crazy – you're almost picking based on who's medical ledger is more manageable as opposed to what skills matter.
Outside of those top two picks with the injuries coming more into play, you can make your own path. Do you go for the high ceiling if you're in the top five since everyone has similar risks? Or do you reach on a healthier player like Trea Turner as high as third, especially with questions to top-tier hitters who can also get steals? Should Kyle Tucker be a top-five pick for that reason? How does a possible NL DH impact things for players like Tatis Jr. and Acuna Jr.?
All these questions are ones you have to answer at the top of your draft, which is exactly why the 2022 fantasy baseball first round is essentially going to be Russian roulette with who gets the healthy star. Being that a majority of the top comes with lots of injury baggage, maybe the best hope is to get a late first next year instead of picking at the top.