Rankings
Top 10 Catchers in College Baseball
This year's class of catchers is light on top prospects, but there are plenty of backstops who could have monster seasons for their respective teams.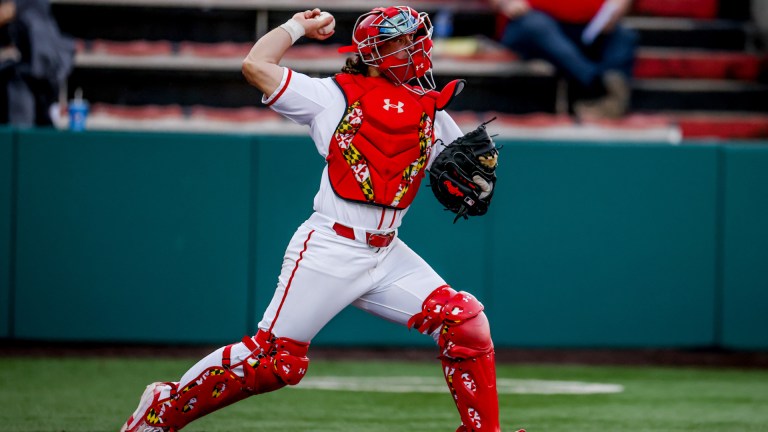 In past years, this position group has produced first-overall picks, All-Americans, and top prospects. Despite this year's catching class being a little lighter in terms of prospects, this group has a chance to put up big seasons for their respective clubs. These backstops come from all over: SEC schools, power five programs, and small mid-majors. Let's check out the list:
Honorable Mentions
Matthew Ellis – Indiana: Ellis has bounced around college baseball, starting at Tennessee before transferring to Walters State CC. After a big junior season at Indiana, posting a .963 OPS with 18 homers, Ellis looks to be an anchor in a struggling Indiana lineup.
Anthony Tulimero – Houston: Tulimero will return to Houston after spending his first two seasons at Kansas, where he put up sub-par offensive numbers. That simply wasn't the case in 2022, as Tulimero slashed .326/.396/.455 along with 15 doubles.
Bennett Lee – Wake Forest: Lee had a monster freshman year, slashing .440/.527/.600 in 34 games for the Tulane Green Wave. Last spring, Lee's numbers dropped a bit, but he still managed to get on base at a .366 clip. Now on a talented Wake Forest team, watch for Lee to return to his first-year form.
10. Jorge Corona – Louisiana Tech
Ht: 6-2 | Wt: 210 lbs. | B/T: R/R | Class: Senior | Draft Yr: 2023
Corona has big power, mashing 16 home runs and slugging .536 last spring. A well-regarded prospect coming out of high school, Corona was drafted but decided to head to campus, where he continues to put up a productive college career. Now back for his senior season, the Florida native will look to lead an exciting lineup and handle an experienced Bulldogs' pitching staff.
9. Caleb Lomavita – California
Ht: 5-11 | Wt: 200 lbs. | B/T: R/R | Class: Sophomore | Draft Yr: 2024
Lomavita put up a productive freshman campaign at Cal in 2022 and followed that up with a great summer in the Cape Cod League. In 55 games for the Bears, Lomavita slugged seven homers, ten doubles, and put up an on-base percentage of .345. On the Cape, the Hawaiian backstop slashed .316/.354/.421 as Cotuit's primary catcher. Looked at as a project on defense, Lomavita's bat is the calling card and should carry him throughout his collegiate career.
8. Ryan Campos – Arizona State
Ht: 5-9 | Wt: 170 lbs. | B/T: L/R | Class: Sophomore | Draft Yr: 2024
Campos figures to be a very important part of a Sun Devils team that reinvented itself through the transfer portal this winter. The 5-foot-9 backstop put up insane numbers as a freshman, owning a .357/.430/.439 slash with a pair of homers and a low strikeout total. The Mesa product followed his productive spring with a solid summer on the Cape, with a .336 OBP. Despite splitting time behind the plate and in the outfield last year, Campos will be Arizona State's primary catcher in 2023.
7. B.T. Riopelle – Florida
Ht: 6-0 | Wt: 205 lbs. | B/T: L/R | Class: Senior | Draft Yr: 2023
Despite putting up big offensive numbers in 2022, Riopelle often gets overlooked due to the insane roster that the Florida Gators have put together. After spending his first two collegiate seasons at Coastal Carolina, Riopelle hit 15 bombs as a junior, while also getting on base at a .371 clip. The biggest question mark in his offensive game is the strikeouts, as he was punched out 78 times in 227 at-bats. The Georgia native played some first base last season, but will presumably be the Gators' primary catcher this spring.
6. Calvin Harris – Ole Miss
Ht: 6-0 | Wt: 205 lbs. | B/T: L/R | Class: Junior | Draft Yr: 2023
Harris is finally getting a chance to catch every day in 2023, playing some corner outfield due to second-rounder Hayden Dunhurst taking most of the snaps behind the plate in 2022. The Iowa native put up great numbers last spring, producing a .336/.417/.500 line in 110 at-bats. In a light college catching class, Harris could turn into a top-2-round pick this July, if productive. He also doesn't wear batting gloves.
5. Cooper Ingle – Clemson
Ht: 5-10 | Wt: 193 lbs. | B/T: L/R | Class: Junior | Draft Yr: 2023
Ingle put up video game numbers last spring, slashing .351/.449/.526 with eight homers and 13 doubles in 211 at-bats for the Tigers. He also had more walks than strikeouts. Ingle is an athletic backstop who has split time behind the plate and in the outfield. Despite jumping around the field in 2022, he will primarily catch this spring, with the ability to become one of the best in the country. Clemson will look to get back on track after disappointing ACC play last year, and Ingle will be a big part of that.
4. Jack Payton – Louisville
Ht: 5-11 | Wt: 190 lbs. | B/T: R/R | Class: Junior | Draft Yr: 2023
Louisville has a terrific track record of producing catchers, with the last two being Henry Davis and Dalton Rushing. Payton is next up, with many raving over his contact ability and polish as a hitter. In his sophomore campaign, Payton produced a .933 OPS with 23 doubles and four homers. This monster season earned him a spot on Team USA's roster last summer.
3. Michael Carico – Davidson
Ht: 6-1 | Wt: 195 lbs. | B/T: L/R | Class: Junior | Draft Yr: 2023
In 2022, Carico led all Division I hitters in on-base percentage with a staggering .559 clip. Despite playing at mid-major Davidson, Carico has quite the combination of accolades. Not only did he win his conference's player of the year, but Carico was also a finalist for the prestigious Buster Posey Catcher Award and won the Rawlings Gold Glove. This is well deserved, as the North Carolina native was near unstoppable last spring, slashing .406/.559/.843 with 21 homers and 21 doubles. The only real knock on Carico is his level of competition faced, but after a great summer in the Northwoods League, many are realizing that his talents are legit.
2. Kyle Teel – Virginia
Ht: 6-1 | Wt: 190 lbs. | B/T: L/R | Class: Junior | Draft Yr: 2023
Teel's numbers took a bit of a hit last season from where he was at as a freshman, putting up a .841 OPS despite a .942 mark in his first season. Many still believe in the hit tool, however, earning him first-round praise for the upcoming MLB draft. Teel's defensive profile is a split camp, with some evaluators believing that he can stick behind the plate due to his athleticism and developing arm strength. With a smooth left-handed stroke and raw power, watch for Teel to break out in a big way this spring.
1. Luke Shliger – Maryland
Ht: 5-9 | Wt: 180 lbs. | B/T: L/R | Class: Junior | Draft Yr: 2023
Shliger's calling card is his power, which he put on display last year for the Terps, slugging 12 homers and 22 doubles. The 5-foot-9 backstop also stole 14 bags and walked more than he struck out. It is safe to say that Shliger is electric on both sides of the ball, showcasing a power/speed combo that is hard to come by. Maryland is poised to have a big spring, so watch for Shliger to have a big up arrow on draft boards this summer.