List
Players To Watch in the College World Series
There is no shortage of talent in this year's College World Series.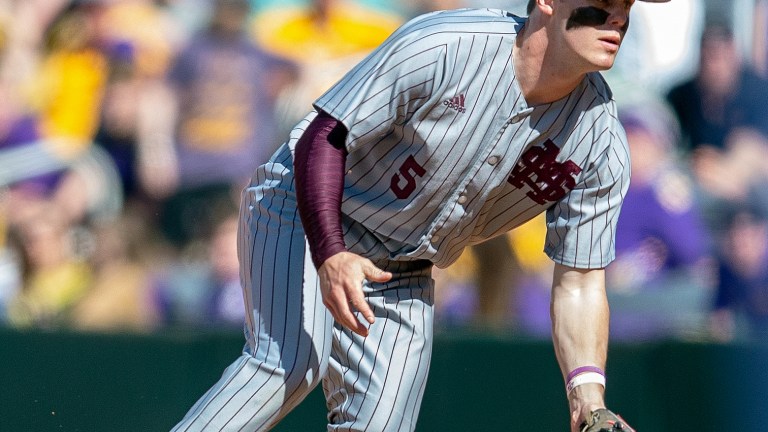 This week's College World Series will feature three of the likely top 10 selections in the 2021 MLB Draft; Vanderbilt's Jack Leiter and Kumar Rocker, and Texas' Ty Madden. Those three will dominate the headlines, and deservedly so. The trio, along with Arkansas' Kevin Kopps, have been the most dominant arms in all of college baseball in 2021. But, the next tier of stars may be as interesting. 
Here are 11 other players that you should be making appointment television this week in Omaha.
Tanner Allen – OF – Mississippi State
The SEC player of the year is the catalyst of a dynamic Mississippi state offense. While no component of State's offense is elite, it is solid across the board, with Allan acting as a projection of the offense of a whole. Hitting out of the 2 hole, Allen has produced a 392/463/634 with 10 homers, 16 doubles, 5 triples and 9 stolen bases. Together, Allen and Rowdy Jordan make up one of the most dynamic 1-2 punches in the college World Series.
Jacob Berry 1B/3B – Arizona
The most lethal bat in arguably the best offense in college baseball this year, Berry ranked 3rd in NCAA Division-I with 70 RBI, as well as add 17 homers. Throw in his .359/.448/.692 slash line and you have one of the most feared hitters in all of college baseball. 
Daniel Susac – Catcher – Arizona
If Berry's Batman for Arizona, then Daniel Susac is the best Robin in America. The younger brother of big leaguer Andrew Susac, Daniel was named Collegiate Baseball's National Co-Freshman of the Year with Cal Poly's Brooks Lee. Susac is also a Second Team All-American and on the Pac-12 All-Defensive Team this year. Defensively, Susac caught nine base stealers this year and registered a .996 fielding percentage this year. With the bat, the first-year catcher for the Wildcast was as impressive, hitting .329/.389/.581 with 12 home runs, 21 doubles, and 61 RBIs.
Carter Young – SS – Vanderbilt
Vandy's switch-hitting shortstop is one of the most dynamic talents in the World Series. His combination of power, speed and fielding ability is among the most intriguing tool sets in the 2022 draft, and the 15 home runs he's added this year only boost his draft stock. Vandy will rely on him for a sizeable chunk in production if they are going to score enough runs to win this thing.
Enrique Bradfield – OF – Vanderbilt
Blink, and you might miss the most electrifying player in college baseball. The SEC Freshman of the Year stole 46 bases this season, which is more than nearly 150 Division I TEAMS. Speed is one thing; constantly being able to utilize it is an entirely different beast. Bradfield hit .356 as a true Freshman, with a .474 OBP. If anyone can steal a couple of headlines from Leiter and Rocker, it's the speed-demon in the lead-off spot for the 'Dores.
Liam Spence – SS – Tennessee
Tennessee's senior shortstop and lead off hitter gets hits in bunches, and has become the leader of this Tennessee club. While he's been in a bit of a slump lately, his 339 batting average makes him a routinely tough out at the top of the Tennessee lineup. Look for his high-energy style of play to give his club a boost during this World Series.
Andrew Abbott – SP – Virginia
Stephen Schoch is the funniest player in Omaha. But, the 'Hoos need to get to the ninth to use "Big Donkey." Enter Andrew Abbott. Virginia's newfound ace was a key billpen piece for them for his first three years in Charlottesville. Now, 100 innings later as their ace, Abbott has established himself as a late-first or early-second round candidate in July. He's struggled with the walks a bit (30 BB in 100.2 IP), but his 152 strikeouts more than make up for it. He lives with a fastball at the top of the zone which generates a ton of swings-and-misses, but his real M.O. is using a hammer of a curveball to get hitters to chase. 
Zack Gelof – INF – Virginia
The top bat for one of the best programs in America, Gelof has put himself in a wonderful position to go higher than initially thought in next month's draft. He hasn't lived up to the Preseason All-America billing this year (.298 average, 9 home runs), but he's as fundamentally sound an infielder as you'll see in Omaha this week, with late-game heroics as a genuine possibility.
Brock Jones – OF – Stanford
Stanford's best hitter, with an OPS over 1.000, was also a big hitter on the Cardinal football team. He played safety in the Pac-12 in 2019, but is now entirely focused on baseball. He's built like a fire hydrant, and mashes the ball to all fields. In 53 games, his 16 home runs and 54 RBI both led the team and his 48 walks are a top-20 mark in the country. 
Brendan Beck – SP – Stanford
Stanford's Friday starter was tasked with starting Game One for the Cardinal in Omaha on Saturday, and he lived up to the billing he's created for himself. Over 100.1 innings leading into the College World Series, Beck was 9-1 with a 2.96 ERA and 0.95 WHIP. Beck held opponents to a batting average under .200 on the year with a fastball that can reach 93 MPH and solid command of three secondary offerings. His stuff may not be eye-popping, but MLB Pipeline has drawn comparisons to Shane Bieber coming out of UC-Santa Barbara because of the athleticism in his delivery. That's lofty.
Jose Torres SS – NC State
Torres is one of the more interesting cases in Omaha this week. He's a draft-eligible Sophomore because he'll be nearly 22 years-old at the time of the MLB Draft, but he's far more than just a high-ceiling project to take on. Torres accomplished what we thought was the impossible; hitting a home run off of Arkansas' Kevin Kopps, the winner of the 2021 Dick Howser Trophy, in the Fayetteville Super Regional. The bat has some sneaky power and consistent contact, but his glove and arm should make him one of the top college shortstops off the board in July.