Analysis
Five Best Bets to Win the 2023 College World Series
The 2023 NCAA baseball season is right around the corner, and Just Baseball has you covered with the best picks to win it all.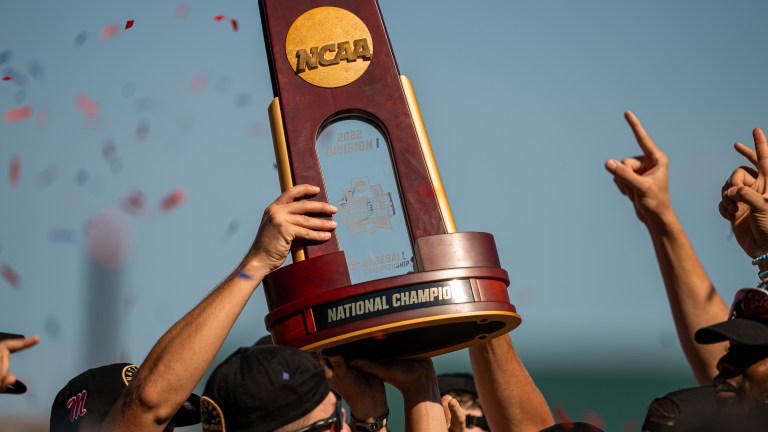 The 2023 NCAA baseball season is right around the corner! We begin the season at Globe Life Field in Arlington, Texas, for a showdown between the 25th-ranked Texas Longhorns and the ninth-ranked Vanderbilt Commodores on February 17th.
College World Series lines are starting to become available on most legal sportsbooks, but for this article, we will look at lines posted by Fanduel.
This isn't an article where you'll find the top five ranked teams listed in order. My top five bets are based on teams with the best value that can win the 2023 College World Series.
1. Wake Forest Demon Deacons (+1900)
Easily my favorite pick to win the 2023 College World Series from a value standpoint.
Tom Walter has been at the helm for 692 games, winning 364, suitable for a 52.6% win rate. This is the most talented and cohesive unit he's ever had in 14 years of coaching the team.
Wake Forest has everything needed to make a deep run in Omaha. Seven ACC teams are ranked in the top 25 by D1 Baseball, but they are the best. I bet on teams who can pitch; this rotation is as good as any in the country.
The team is led by reigning ACC Pitcher of the Year Rhett Lowder, possibly the second best in the country to Tennesse's Chase Dolander. Lowder is projected as a top-ten overall pick in next year's draft. Behind him is Teddy McGraw, a former member of Team USA who is also projected to be a first-rounder. They have a great closer to stack on top of these pitchers in Camden Minacci, who throws in the upper 90s with a great breaking ball.
This team can mash. Wake Forest is led by Brock Wilken and Nick Kurtz, one of the best infield duos in college baseball. Wilken has incredible power, displaying it last year with 23 home runs in 60 games. Kurtz is the better bat-to-ball hitter, but he also totaled 14 doubles and 15 home runs while hitting .338.
They did well in the transfer portal, securing catcher Bennett Lee from Tulane, comfortably a top-20 catcher in all of college baseball.
This team has what it takes to make a deep run after losing out in the regionals last season.
2. Stanford Cardinal (+1100)
Outside of LSU, this is the best team in the country. They are the third-ranked team by D1 Baseball, but the roster is as good as anyone's.
David Esquer is one of the country's best coaches, racking up 182 wins and just 72 losses in five seasons at Stanford. This team reached the College World Series last year and now brings back a solid chunk of their lineup. This lineup can bang with any team in the country, led by one of the most exciting players in college baseball, Braden Montgomery.
Montgomery is the best two-way player in the country, reaching 100 MPH on the mound while displaying incredible power and speed at the plate. He's only one cog in the lineup, as they have the best infield in college baseball. Carter Graham hit 22 home runs last year, Tommy Troy hit .339, and Drew Bowser hit 18 home runs with a .923 OPS.
They have plenty of quality arms in their rotation as well. Quinn Mathews will hear his name called on draft day as one of the better left-handed pitchers. Ryan Bruno and Drew Doud also return after solid seasons in 2022.
Stanford lost three players selected in the draft's first ten rounds. Brock Jones, Kody Huff, and Adam Crampton were all significant contributors for them last year, but this team is still so loaded. Expect Stanford to be fighting for gold in Omaha.
3. Florida Gators (+1100)
According to a preseason coaches poll, this Florida team received almost as many points as number one-ranked LSU, and it's clear why they got them. These Gators are dangerous.
Kevin O'Sullivan has been a winning machine for the University of Florida. In over 15 seasons with the ballclub, he's won about 68% of the time over a 929-game sample. While they lost in the regional final last year, his team in 2023 should be even better.
Having the possible number-one overall pick in Wyatt Langford should help. The outfielder has shown an incredible balance of power, speed, and bat-to-ball skill making him the threat to watch out for in college baseball.
Florida has to be ecstatic about their luck regarding the 2022 MLB Draft. Pitcher Brandon Sproat, a Florida native, was drafted 90th overall by the New York Mets but will return with two years of eligibility remaining. Catcher BT Ripoll was an All-SEC First-Teamer and was expected to go in the draft, but he will also be returning. Infielders Colby Halter and Josh Rivera will also be back after some assumed they'd both be drafted.
Hustron Waldrepp has arrived on the Florida campus. Waldrepp is expected to be an early first-rounder next season, but he will enjoy his junior season to form one of the best pitching duos in the country. He's a transfer from Southern Mississippi and should significantly impact the Gators' championship run.
4. Virginia Cavaliers (+2900)
My favorite dark-horse pick to win it all, the University of Virginia, is criminally undervalued. Frankly, I believe the entire college baseball community undervalues them as they rank between 15-19 in most preseason polls.
This team should be in the top ten, but they aren't getting the shine they deserve.
Coach Brian O'Connor knows a thing or two about winning. This team has been consistently running for a National Championship since he took over 19 seasons ago. He holds a 789-338 record in his tenure at Virginia, but his 20th season could be his greatest since they won it all in 2015.
Two players expected to go within the top 50 picks of next year's draft, catcher Kyle Teel and third basemen Jake Gelof, will suit up for the Cavaliers. Gelof is a monster and should be even better this season after hitting .377 with 21 home runs. Another player to watch is young outfielder Casey Saucke. The Freshman All-American hit .360 with seven home runs and a solid glove.
Virginia appears to be as balanced as any team in the country. They don't seem to have any weaknesses after crushing the transfer portal. They already have Jake Berry at the top of the rotation, but the additions of Connelly Early and Nick Parker form a formidable rotation.
I understand why other publications aren't feeling the hype as much after losing key players from last year's team. Virginia isn't the favorite for a reason, but I believe their balance along with excellent coaching, could win out, so +2900 is well worth it for me.
5. LSU Tigers (+450)
It wouldn't be a college baseball betting preview without the number-one-ranked Louisiana State University. The Tigers are the prohibitive favorites to win, but the best team doesn't always come out victorious. Tennesse had a historic regular season but was bounced early; could we see the same for LSU?
They make this list from a sheer talent perspective and are worthy of a bet.
Before we even talk about the players, this coaching staff looks like a big-league clubhouse. Wes Johnson was hired away from the Minnesota Twins as the pitching coach. This was enough to land the top recruiting class with high-level talent.
Dylan Crews is college baseball's Bryce Harper. He has a ferocious swing that has him firmly in the race for the number one pick in the 2023 draft. He'll man center field for the Tigers, but we can't forget about Tommy Tanks. Third baseman Tommy White leads the transfers from NC State after an incredible freshman year where he hit .372 with 27 home runs.
This team brought in an unheard-of amount of talent through the transfer portal. After White, they also grabbed two-way player Paul Skenes from Air Force. Skenes won the 2022 Jon Olereud award, given to the best two-way player in the country. On the mound, they added Thatcher Hurd, who showed incredible stuff as a freshman at UCLA.
LSU has the best roster in the country and should be the favorite to win it all. From a value perspective, it doesn't make much sense to me with all the pressure on them for this season. We saw this first-hand with Tennessee in 2022. Tennesse had a historic regular season but was bounced early; could we see the same for LSU?
Honorable Mentions
UCLA (+4000)
Maryland (+5500)
Texas A&M (+1500)
Tennessee (+650)