Feature
College World Series 2021 Preview: Texas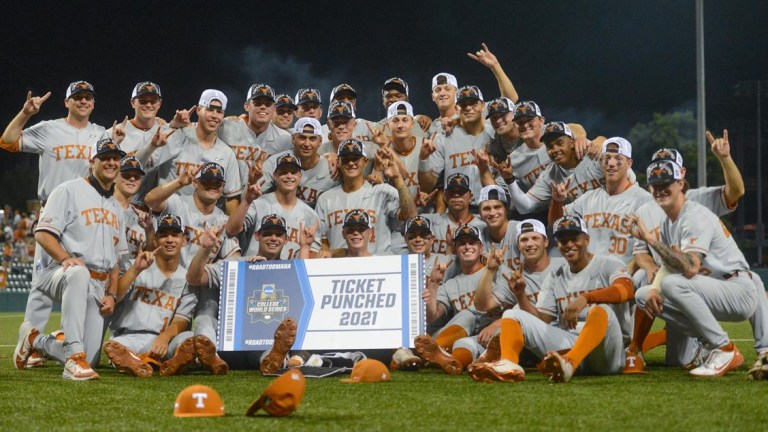 The second National seed heading into the postseason behind only now-eliminated Arkansas, Texas is probably the most well-rounded team in the field. The Longhorns pitching staff, if it weren't for the all-time duo of Kumar Rocker and Jack Leiter for Vanderbilt, would be far and away considered the best in the country.
Texas ace Ty Madden is a surefire first round pick in July's MLB Draft and has the stuff to go toe-to-toe with any pitcher in the country. Where Texas separates itself from the field, including the Commodores, is its pitching depth. Madden, along with Tristan Stevens and Pete Hansen, give the Longhorns an enviable three man rotation that combined for a 2.45 ERA in 2021. While young, the Texas bullpen has been reliable behind freshmen Aaron Nixon (8 saves) and Tanner Witt (5 saves).
Texas may not be the most potent offense in the CWS, but it is still a pretty darn productive lineup. The Longhorns enter the World Series having scored the 19th most runs scored in the country and a balanced lineup that possesses three different players with double-digit homers and five players with at least 40 RBI.
Infielders Ivan Melendez and Cam Williams are two big bats to watch in that lineup, both boasting an OPS over 1.000. Texas isn't afraid to run either with Senior outfielder Mike Antico racking up 39 swipes this year, good for second most in the country.
The Longhorns can also really pick it on defense, tied for 10th best in the country in fielding percentage (.980). The balance of pitching, offense, speed and defense will make Texas a tough match-up for anyone in a three game set.