Feature
Cardinals Prospect Evan Mendoza Bridges His Passions To Grow the Game
The old guard of baseball meets a new-school flavor in the world of NFTs.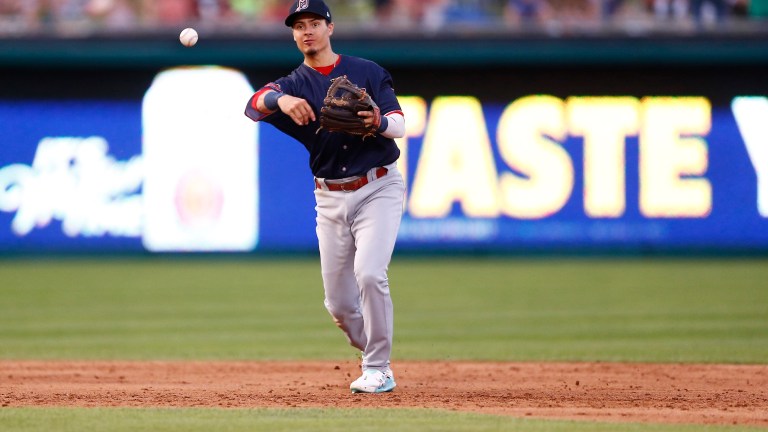 Before Evan Mendoza was drafted by the St. Louis Cardinals or earned a scholarship to play at North Carolina State University, he was a little league baseball player with passions that extended beyond the baseball field.
Mendoza, 26, has climbed his way through the Minor Leagues, working his way to Triple-A much like many others have: hardworking, dedication and talent. But Mendoza has maintained his love and passion for the game by remembering the young kid who used to tear up the Sarasota Little League while looking up to older players.
Even at a young age, Mendoza had a "pen pal" with the Double-A Bowie Baysox, who he leaned on for advice, as well as a friend who played at the Naval Academy who he would speak to about baseball any chance he had.
"Those two experiences in my young childhood made the biggest difference," Mendoza said. "I want to be able to basically do the same thing for the younger generation. A little bit of confidence in the game can go a long way."
A lot has changed in our world since Mendoza would write to Minor Leaguers. The technology revolution is not exclusive to baseball, with contraptions like Rapsodo and Trackman. Athletes and fans have never been able to connect more easily than right now thanks in large part to social media.
Now, we know that can be a good thing and a bad thing. But, Mendoza has used his near half-a-million followers across his social media accounts to help baseball fans see behind the curtain of the life of a professional baseball player, while using his story to encourage young players.
"In your childhood years, there's a lot of failure in baseball," Mendoza said. "If I am able to give some kind of encouragement to these kids to keep on playing, they may turn out to be in my shoes one day."
Not only does Mendoza use his large following to perpetuate words of encouragement, but he has used the platform and creativity to dive into projects that can further his mission.
The 26-year-old had long wanted to learn 3D softwares since is high school days and as the NFT (Non-Fungible Tokens) market began to explode in 2021, Mendoza took it upon himself to learn the ins-and-outs of the industry. It did not take long for Mendoza to start looking to create his own NFT's, but he didn't see immediate success.
Looking for a way to unplug a bit from the grind of the minor league season, Mendoza began playing around with photoshop on his computer, creating different pieces of digital art. He paid the listing fee and put his newly designed NFT's up for auction, but there were no takers.
With money going out and nothing coming in, Mendoza began to ask himself if it was really worth it. He put a cap at $1,000, deciding to cut himself off at that point if nothing sold.
Mendoza borrowed a friend's iPad and took a different approach to what he was creating. He channeled that kid in him once again and created a piece of art inspired by what he used to doodle in elementary school with a bit of a modern spin.
This time around, Mendoza's NFT sold within a few hours of him listing it for roughly $1,600, or 1.5 ethereum, at the time.
That was all Mendoza needed to dive into NFT's headfirst and he immediately bought himself an iPad to create his own art. For Mendoza, it was never really about the money. He knew he wanted to do more with what he was creating but he had to generate a market first.
Mendoza began laying down the framework of his own NFT company, Diamond Dawgs, in August of 2021 with the goal of bridging his love for art and creativity with baseball.
"What I'm trying to do is give a lot more than just the image to people who buy [Diamond Dawgs]," he said. "Holders will be given a utility that can be redeemed in the real world."
Some of the utilities included in Diamond Dawg's NFTs include a 1-on-1 a stadium tour with Mendoza, access to free will call tickets to one of his games, eligibility for giveaways and plans for much more.
The goal for Mendoza is to continue scaling the Diamond Dawgs project through promotional nights for MiLB teams, an Indoor Baseball Facility, enhanced artwork and collaboration with other pro athletes.
Through the company, Mendoza hopes to welcome more people into the game of baseball, while connecting more pros with fans and youth players.
Just last week, the company realized one of its goals already, with a Diamond Dawgs-inspired NFT Classic game between the State College Spikes and Williamsport Crosscutters on July 9th.
State College rocked Diamond Dawg jerseys, with each individual uniform showcasing a unique Diamond Dawg NFT. Williamsport sported jerseys decorated with different Bored Apes, one of the most valuable NFT's owned by countless celebrities including Steph Curry, Shaquille O'Neal, Mark Cuban, Tom Brady and many others.
The NFT holders of each individual Bored Ape or Diamond Dawg featured on a jersey received the jersey after the game. Not only was the game a success in the effort to bridge the NFT space with baseball, but the event also raised money for Mendoza's hometown little league in Sarasota, Florida.
The event was the first of its kind for the NFT space and Mendoza plans to do many more of these kinds of games in the future.
It isn't just about Mendoza though. He wants professional players to join the operation at Diamond Dawgs and connect with their fan base or community. Each professional athlete can attach their own utility to their NFT's as well as use the proceeds to support any cause that is important to them.
Some players may want to attach hitting or pitching lessons, others could attach unique game experiences or something separate from the baseball diamond.
As Mendoza finds success off of the baseball field, he has continued to progress between the lines, on pace for career-highs in home runs, extra-base hits, stolen bases and walks.
In a different sense of the word, Mendoza provides a ton of utility to the Memphis Redbirds, having played five different positions in his two seasons with the team. It may not be long before Mendoza gets his chance at the big league level. Beyond just Cardinals fans, there is a large community pulling for him thanks to what he has built outside of the ballpark as well.