Analysis
2023 Bowman Chrome: Top Autographs to Chase
The most exciting prospect autographs to chase in 2023 Bowman Chrome!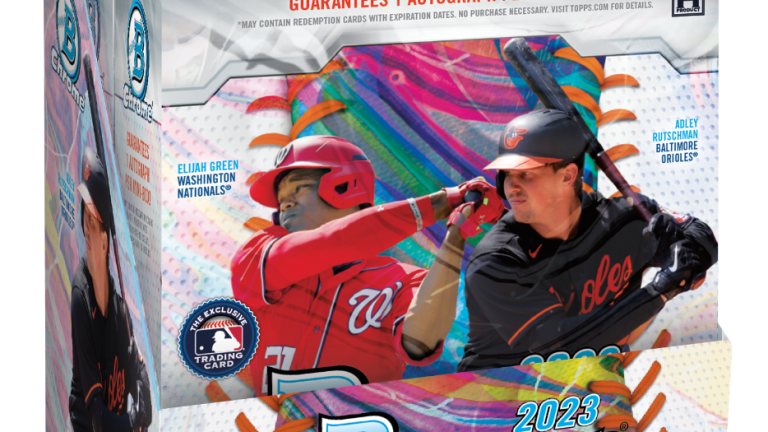 One of the most popular products in the hobby will hit shelves on September 13th as Topps will release the 2023 edition of Bowman Chrome. The checklist includes 132 autographs, mostly prospects, ranging from the rookie levels to the big leagues.
Up from the 112 prospect autos in the 2022 set, there's a bit more volume in this year's product, but there is no shortage of exciting talent that collectors will surely be chasing. With so many intriguing names, I broke down the players worth chasing in three tiers. For the prospects who happen to appear on our top 100 list, you can click the hyperlinked top 100 rank to read the complete scouting reports.
Tier 1
Ethan Salas – C – Padres
This kid has been the talk of the Minor Leagues ever since he caught a big league spring training game as a 16-year-old. He debuted at Low-A prior to his 17th birthday, where he put up strong numbers and flashed exciting tools behind the dish.
Already showcasing impressive impact, Salas hit nine home runs in his first 48 pro games before being promoted to High-A. Though he struggled in his handful of High-A games, the always aggressive Padres pushed him to Double-A to finish the season.
The youngest player at the level by multiple years, it's important to take his numbers with a grain of salt. Salas is one of the most advanced teenage prospects we have seen in a very long time with the potential to hit for average, power and stick behind the dish.
Samuel Basallo – 1B/C – Orioles
An absolute masher, Basallo is quickly becoming one of the most impressive teenage bats in the Minor Leagues. In his age-18 season, Basallo launched 12 home runs in 83 Low-A games before earning the bump up to High-A.
At the High-A level, the left-handed hitter has looked even more comfortable. He cut his strikeout rate well below 20% while upping his walk rate. While first base may ultimately be his home, Basallo has massive power potential along with a developing feel to hit that gives him middle-of-the-order upside.
Luis Lara – OF – Brewers
A switch-hitter with a plus plus hit tool, Lara consistently puts together great at-bats while flashing gap to gap power. His advanced offensive game, defensive ability in center field and impressive overall baseball instincts have helped him earn a promotion to High-A as an 18-year-old.
There's potential for average power, which with Lara's ability to hit and complementary tools, could make him an impactful top of the order threat as an everyday centerfielder.
Felnin Celesten – SS – Mariners
A hamstring strain has delayed the pro debut of the prized international free agent who signed for a Mariners-record $4.7 million during the 2023 IFA period. Looks have been extremely limited on Celesten, but he's a great athlete who is physically projectable with five tool potential. He could quickly become a top prospect with a strong showing in his pro debut next year.
Brandon Mayea – OF – Yankees
While he may not be a top 100 prospect yet, Mayea signed for a whopping $4.35 million as an international free agent at the start of the year thanks to his elite speed and impressive feel for the barrel.
It's hard to have any major takeaways from the DSL, but his first pro season has been a success, showcasing a patient approach while flashing above average exit velocities in his age 17 campaign. Mayea of course has a long way to go, but the tools and projection are exciting. He will surely be a popular chase given his organization and his signing bonus.
Keiner Delgado – INF – Yankees
Another impressive international free agent in the Yankees system, Delgado made the jump stateside after a strong showing in the DSL and was just as impressive in the Complex League. Delgado walked more than he struck out while launching eight homers along with 36 stolen bases.
Smaller in stature, Delgado has sneaky power to his pull side with a plus feel to hit from both sides of the plate and great speed. There's a lot to like from the Yankees middle infield prospect and it is impossible to deny his results thus far…even if we have yet to see him above the complex.
Rayner Arias – OF – Giants
Physically mature with more polish at the plate than most 17-year-olds, Arias commanded the second largest signing bonus in franchise history from the Giants ($2.7 million). It's no surprise that Arias is more advanced than his peers considering his father, Pablo, played professionally in the Tigers system and now works as a scout. He may not stick in center, but there's potential for big power combined with the approach and bat-to-ball skills to get into it consistently.
Joendry Vargas – SS – Dodgers
Another well-regarded prospect out of the 2023 IFA class, Vargas is big, toolsy and projectable, helping him earn a signing bonus north of $2 million from the Dodgers in January. There's potential for both above average hit and power with impressive complementary tools in the right organization to help the 6-foot-4 shortstop develop.
Brailer Guerrero – OF – Rays
While it is a bat-first profile for the big, powerful Guerrero, the Rays have a knack for identifying prospects of that nature and converting them into highly regarded prospects and big leaguers. The Rays shelled out a whopping $3.7 million to sign him in the 2023 class, enamored with the plus power he has already flashed and eye-catching bat speed.
Tier 2
Jacob Melton – OF – Astros
An exciting blend of speed and power, Melton mashed his way through High-A in his first full pro season, earning a late-season bump to Double-A from the generally conservative Astros. The 2022 second round pick slipped out of the first round due to some whiff concerns, but his solid approach and plus power have overridden the yellow flags.
Posting exit velocities as high as 114 mph, while nearly stealing 50 bases through 100 games, Melton has massive upside if he can make enough contact at the upper levels.
Marco Vargas – INF – Mets
Surprisingly traded from the Marlins for David Robertson at July's Trade Deadline, Vargas has a sweet swing from the left side and an excellent feel for the strike zone that helped him feast on rookie-level competition at 16 and 17 years old.
At the conclusion of the Complex League's season, the Mets bumped Vargas to Low-A, where he looked comfortable out of the gate. He is still working to tap into what could be average power, but his strong contact skills and patient approach give him a high offensive floor.
Joey Ortiz – SS – Orioles
An older prospect (25 years old), Ortiz could be a starting shortstop on a handful of MLB teams right now, but he is currently blocked by the Orioles loaded infield. Much like Gelof, the 2019 fourth round selection has a base card in the draft set, but this will be his first autograph.
He has done everything he can control, continuing to produce at the Triple-A level while playing fantastic defense at a premium position. There may not be a superstar ceiling to dream on, but Ortiz can really hit for average as well as more power than most would expect.
Zack Gelof – INF – A's
A second round selection in the 2021 draft, Gelof mashed at every stop, flying through the Minor Leagues on his way to a big league debut in July. He wasted no time getting acclimated to the highest level, raking to an OPS of .887 with a whopping 10 homers through his first 40 games.
Gelof didn't have as much prospect hype as some of the others on this list because of his lack of a clear plus tool as well as how quickly he flew through the minors. That said, he has tapped into plenty of game power along with being a consistent threat to steal bags. The only Bowman card Gelof has to this point is in 2021 Sapphire Draft, so this will be the 23-year-old's first auto.
Deyvison De Los Santos – 3B – Diamondbacks
It's been a disappointing year for a prospect who many expected to play his way into the Tier 1 territory this season, but De Los Santos was challenged by the Diamondbacks with a Double-A assignment in his age-19 season.
He has plus plus power potential and even in a "down" year is likely to finish with 20 home runs. There's plenty to dream on if he can improve upon his extremely aggressive approach.
Justyn-Henry Malloy – OF – Tigers
Traded by the Braves for reliever Joe Jimenez ahead of the season, Malloy has really seen things click at the Triple-A level, mashing to a .940 OPS with 24 homers. He is an extremely patient hitter with average contact rates and slightly above average power, leaving some wondering if the production will completely translate at the big league level, but his ability to drive the ball in the air consistently hedges that.
Kenedy Corona – OF – Astros
A speedster who has tapped into more power since being traded to the Astros from the Mets, Corona has had no problem getting acclimated to Double-A, where he hit 22 homers and stole 25 bases within his first 100 games at the level. He's an aggressive hitter with fringy contact rates, but it's hard to deny the production as well as his intriguing tools.
Tier 3
Alfredo Duno – DH – Reds
Likely a DH, Duno has a lot of pressure on his bat, but the 17-year-old has flashed ample potential in that regard with some monstrous home runs in the Dominican Summer League. He's far off with some swing and miss concerns as well, but Duno is a fun name to monitor.
Ruben Santana – 3B – Diamondbacks
Another teenage Complex prospect with big power potential, Santana put up solid numbers in his age-18 campaign and is poised for a full-season look next year.
Javier Sanoja – 2B – Marlins
A hit-over-power profile Sanoja is scrappy and posts the best contact rates in the Marlins system. There's not much impact, but Sanoja should consistently hit for average.
Carlos De La Cruz – OF – Phillies
Standing at a towering 6-foot-8, De La Cruz has big time power potential along with plenty of whiff concerns. The 23-year-old has been able to keep the strikeout rate under 30% in Double-A, while eclipsing last year's home run total (17) early in the second half.
Jun-Seok Shim – RHP – Pirates
While the aversion collectors have to pitchers is more than justifiable, I will always highlight a couple high-upside arms in Tier 3. One of the more intriguing prospects in the 2023 IFA class, Shim runs his fastball to the upper 90s with a hammer of a curve at just 19 years old.
Luis Serna – RHP – Yankees
His season was cut short due to shoulder fatigue, but Serna has the potential to be an impactful starter when healthy. Flashing a plus plus changeup and low 90s fastball as a teenager, Serna should make up for lost time next season.