Feature
Top Five Most Valuable Prospect Autos In 2022 Bowman Baseball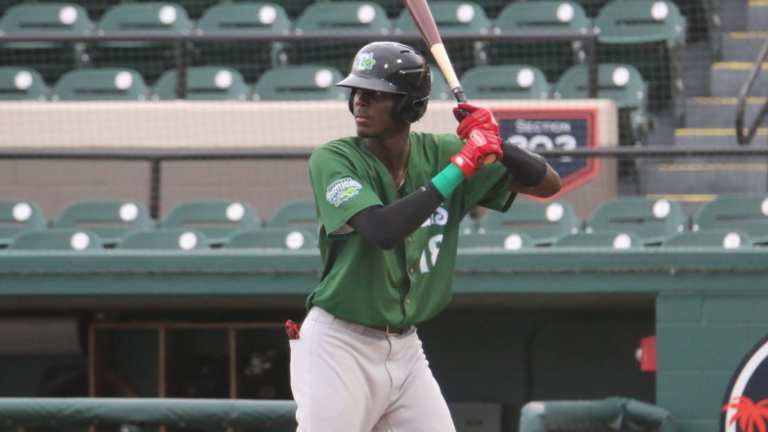 The 2022 version of Bowman's flagship product has been in stores for a few weeks now. If you follow the hobby closely you know that there have been several monster hits pulled in the last several days. While that is to be expected, I have been surprised by the seemingly unsustainable prices some of the first autos are going.
The product itself is somewhat reasonable. We were selling 2022 Bowman Baseball blasters on the Loupe app for $50 and hobby boxes for under $400. It didn't take long for the blasters to sell out along with many of the hobby boxes and other sellers on the Loupe app are seeing their product fly off of the shelves as well.
When many of the bowman first base cards and autographs are fetching the numbers we have seen, its a no-brainer to rip some wax and take your chances. Especially with the $20 credit Loupe is offering by downloading the app via this link.
Below I will quickly run through the top five auto chases, at least from a seller's standpoint, and talk about a few, more established, prospects you could have at that same price. It is truly baffling to me what some of these prospects are going for and, additionally, who you could invest in at comparable price points. In each instance I am referring to the player's raw base chrome 1st auto and the prices come from both eBay and 130point.com. We'll start with number five and work our way towards number one.
5. Colson Montgomery – $175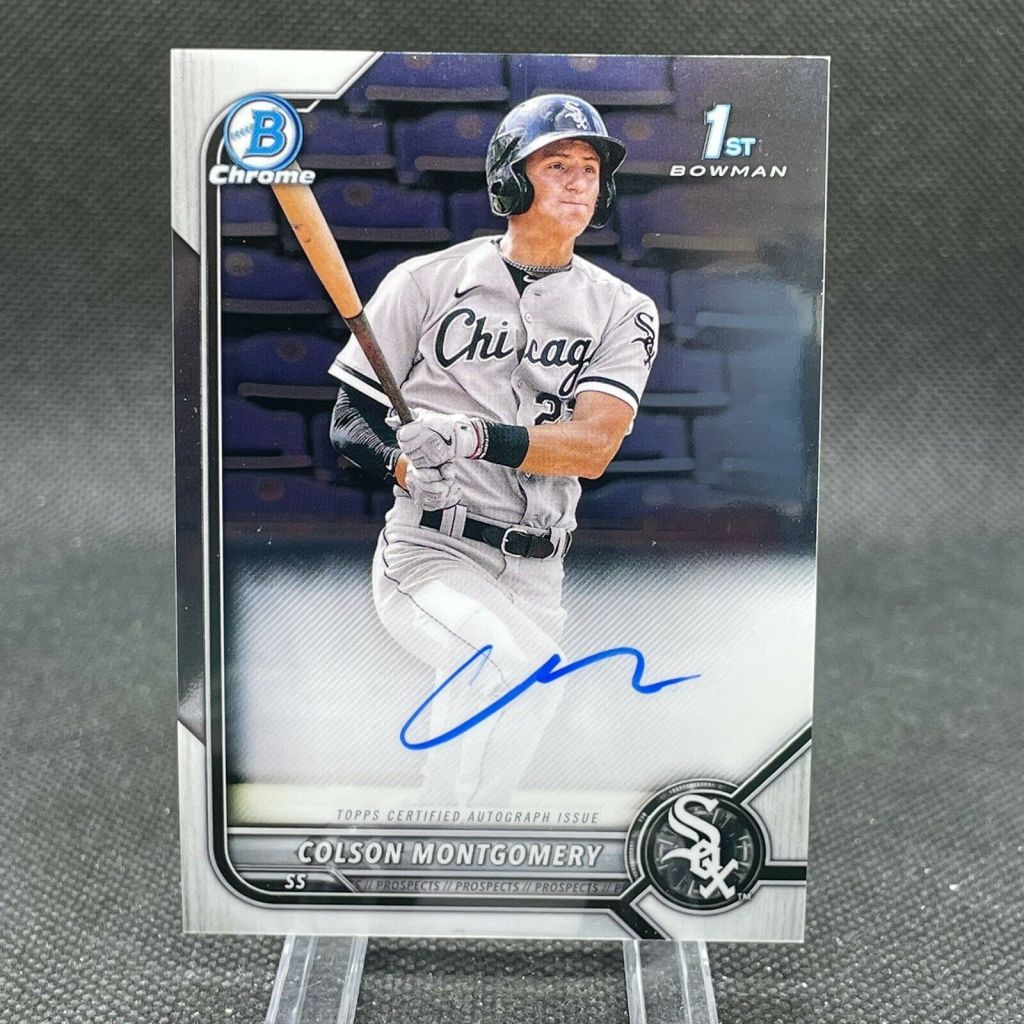 Montgomery's prices are a bit all over the place. In the past three days his auto has sold for as high as $280 and as low as $140, while also having a refractor /499 and a speckle /299 sell within that price range. It's tough to nail down exactly what to expect to pay if you are chasing him. Personally, I can't imagine paying north of $250 for a player like Montgomery and, if I hit his auto, it would be an immediate sell. You can purchase an Oneil Cruz auto for around $150 right now. Do you honestly believe that Montgomery has more upside than Cruz? No chance.
4. James Wood – $225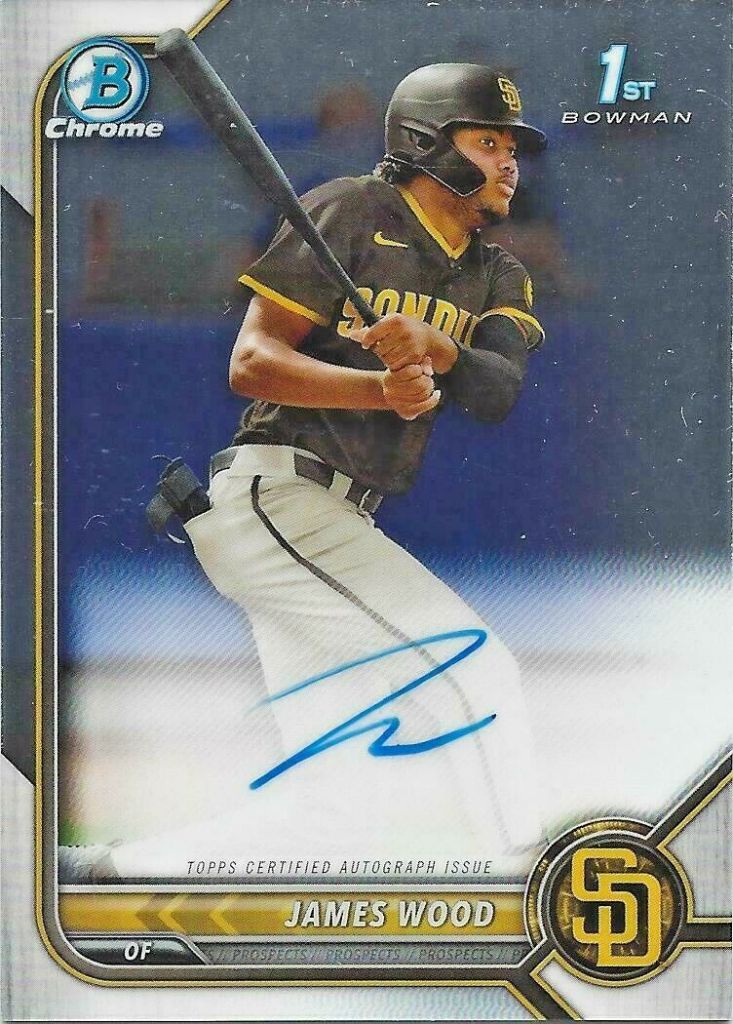 Wood's prices are escalating as his auto went for $150 on the eighth of this month and has now increased to $225 as of yesterday. While a recent wrist injury has slowed him down a bit, Wood is an extremely talented prospect and a guy we are targeting in breaks. Despite our affinity for Wood, we still consider him to be a sell in the current market. Cashing in at $225 and reinvesting in a guy like Corbin Carroll (roughly $275) might be a safer play.
3. James Triantos – $240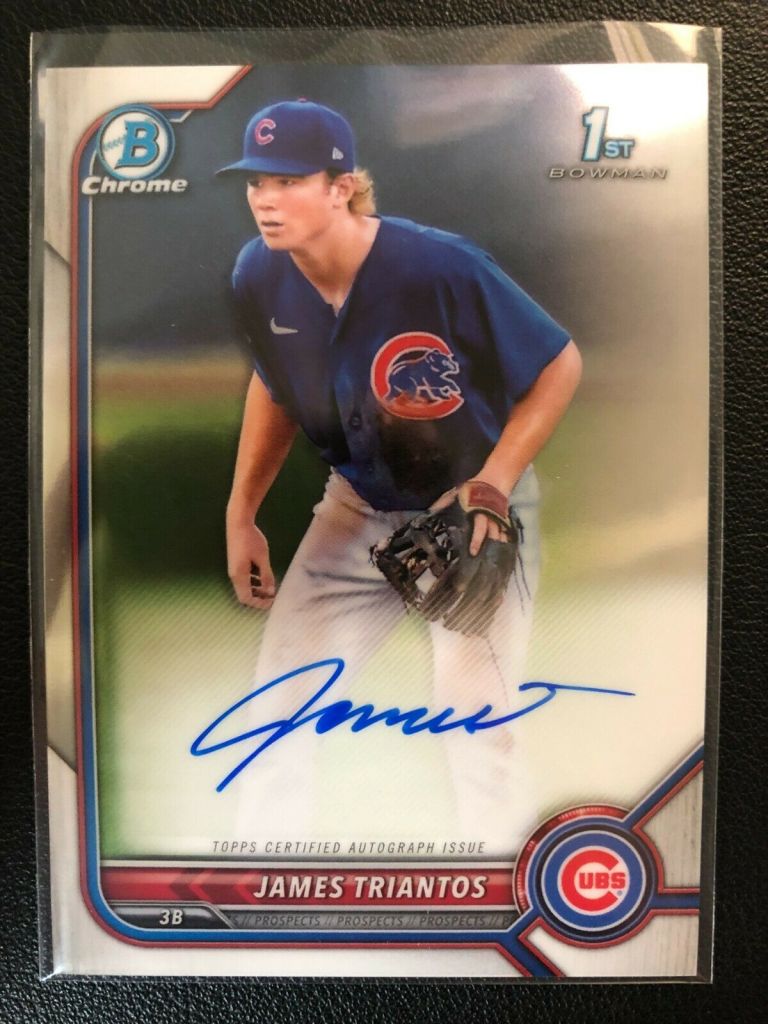 Triantos's prices are probably the most confusing to me out of the entire group. Most of his autos have sold for north of $200, some reaching as high as $290 just a few days ago. His most recent one sold for $185 so maybe we are starting to see a bit of a course correction, but he's still extremely pricey. What is absolutely insane to me is that you can buy a Brett Baty and Josh Jung auto, both of them, for the price on Triantos. Despite Jung being injured, I can't fathom taking Triantos over both of those guys..
2. Elly De La Cruz – $265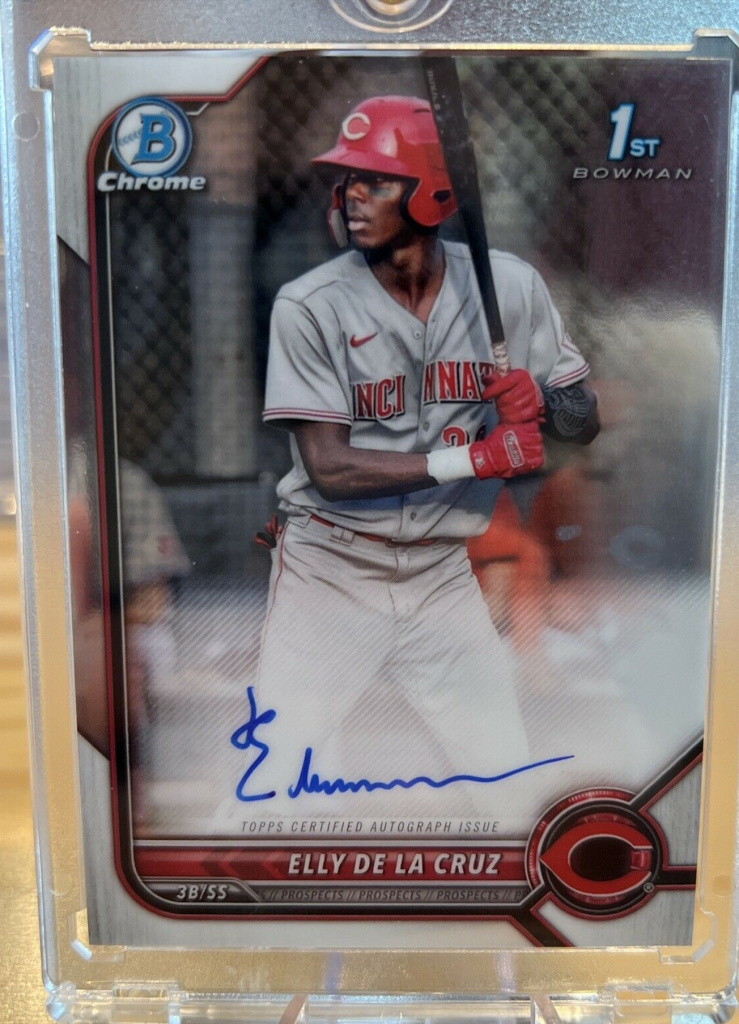 An Elly De La Cruz auto is another card that will net you north of $250, one even eclipsed $300 three days ago. He's an extremely exciting prospect and one of two on this list that sits inside our Top 100. His ability to produce some nice pop with his wiry frame is intriguing, mainly because it signals that his power might continue to increase as he fills out. One player that sits above him in our rankings is one of the current AL ROTY favorites, Jeremy Peña. Peña can still be had for around $200, and at that price point I would think twice about buying into him before I shelled out $250 for De La Cruz.
1. Khalil Watson – $475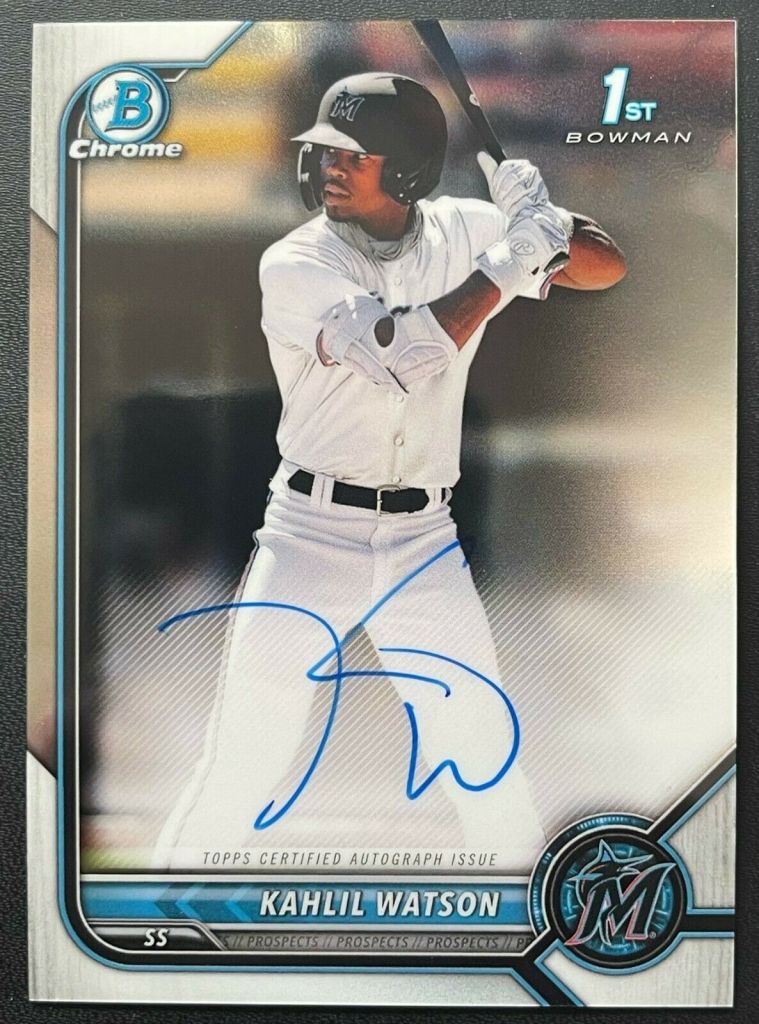 Watson is the chase in this product and his current auto prices reflect that. His auto went for $500 today. That is a staggering number for someone with so much uncertainty. That is not to discredit his potential, because he has that in spades. His natural ability could land the nineteen-year-old in the bigs in just a few short years. But to consider paying $500 for his auto when you could buy guys like Oneil Cruz, Jeremy Peña, CJ Abrams, Marco Luciano all for less? That's not an option for me.
Don't get sucked into the hype around these guys and overpay for their autos. Prices will settle in the coming months. If you pull one in a break or in your own personal rips, I would consider selling at current market prices and reinvesting in those listed above or in the same player down the line when the prices come down a bit.
If you are new to collecting, come give us a follow on Twitter @wilcards_llc, or check us out on Loupe at Wild Cards Trading. We love to break Bowman and always have it in stock!