Analysis
Who Will Win The 2023 Home Run Derby?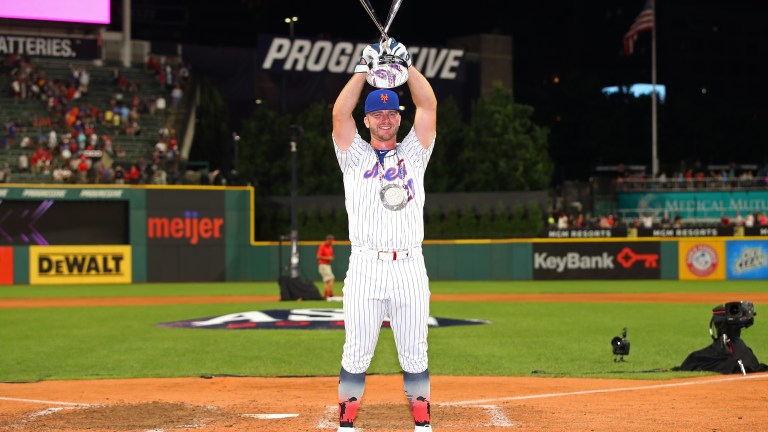 The 2023 MLB Home Run Derby will be held Monday night, July 10th, at T-Mobile Park in Seattle starting at 8 PM EST. Juan Soto will not be defending his 2022 Home Run Derby win, but Pete Alonso will be going for his third Home Run Derby victory in four years against one of the most stacked fields in home run derby history.
The field has combined for 153 home runs this season, and Luis Robert Jr. and Pete Alonso are tied for the lead amongst the field with 26 home runs. For the last two years, I've written an article predicting the winner of the Home Run Derby based on max exit velocity and stamina. In 2021, we correctly predicted Pete Alonso to win the derby at +450. In 2022, Colby predicted Julio Rodriguez would win the Home Run Derby at +1000 odds, and Peter took Pete Alonso again, veering off the system. Julio made the finals but was ultimately beaten by Juan Soto, who fit the mold we will discuss.
Before we dive into the analysis, let's first cover the rules of the competition because they've changed slightly over the years.
Home Run Derby Rules
Each batter will have three minutes in round 1, round 2, and two minutes in the championship round to hit as many home runs as possible. Thirty seconds of bonus time will be granted to each hitter at the conclusion of the round, and an additional 30 seconds can be earned by hitting at least one home run that exceeds 440 feet.
Past Winners
The Home Run Derby can be unpredictable due to the noise surrounding the round-based event, but two traits, max exit velocity, and stamina, separate past winners from the field. Players that can hit the ball as hard as possible will be able to hit the ball further, leading to more home runs. The rapid-fire nature of the competition also adds an element of stamina, so you'll see a trend of younger players winning the derby in recent years.
For example, Josh Hamilton hit 28 home runs in a single round in the 2008 Home Run Derby but actually lost the competition to Justin Morneau as Hamilton was gassed from his historic round.
Max Exit Velocity
As exit velocity increases, potential home run distance also increases, which gives hitters a better chance to hit home runs even on slight mishits. Below are the winners of the HR Derby since 2015 and their max exit velocity from that season.
| | |
| --- | --- |
| Player | Max Exit Velo (MPH) |
| Juan Soto 2022 | 116.6 |
| Pete Alonso 2021 | 118.4 |
| Pete Alonso 2019 | 118.4 |
| Bryce Harper 2018 | 116.3 |
| Aaron Judge 2017 | 121.1 |
| Giancarlo Stanton 2016 | 120.1 |
Max exit velocity from past home run derby winners
There has not been a Home Run Derby winner since 2016 with a max exit velocity below 116 MPH. Even second-place finishers Julio Rodriguez, Joc Pederson, Miguel Sano, Kyle Schwarber, Vlad Guerrero Jr., and Trey Mancini all had max exit velocities over 114 MPH. It's simple, the contestants that hit the ball the hardest win.
Age is not just a number.
Adding a time limit instead of the traditional outs system increased the pace of the Home Run Derby. Players have three minutes with one timeout throughout the round, which creates a rapid-fire scenario. It's easy to get burnt out in the first and second rounds and not have enough gas in the tank to finish strong and win, as we saw last year with Julio Rodriguez. It is hard to quantify stamina, but the basic assumption is that the younger players have fresher bodies and longer stamina.
| | |
| --- | --- |
| Player | Age |
| Juan Soto 2022 | 23 |
| Pete Alonso 2021 | 26 |
| Pete Alonso 2019 | 24 |
| Bryce Harper 2018 | 25 |
| Aaron Judge 2017 | 25 |
| Giancarlo Stanton 2016 | 26 |
Age of past Home Run Derby winners
All six of the past six winners of the Home Run Derby have been 26 years old or younger. It's a young man's game!
Picking the 2023 Home Run Derby Winner
First, lay out the odds for each participant with their max exit velocity and age. The odds are from BetMGM. Also, if you do not have a BetMGM account yet, use code "JUSTBASEBALL" for a first bet offer of up to $1000 on BetMGM.
| | | | |
| --- | --- | --- | --- |
| Player | Betting Odds (BetMGM) | Max Exit Velo | Age |
| Pete Alonso | +275 | 116.5 MPH | 28 |
| Vladimir Guerrero Jr. | +350 | 118.4 MPH | 24 |
| Luis Robert Jr. | +450 | 117.8 MPH | 25 |
| Julio Rodriguez | +500 | 117.2 MPH | 22 |
| Adolis Garcia | +600 | 115.1 MPH | 30 |
| Randy Arozarena | +900 | 114.3 MPH | 28 |
| Mookie Betts | +1000 | 110.1 MPH | 30 |
| Adley Rutschman | +2000 | 111.1 MPH | 25 |
2023 Home Run Derby field
Only Vladimir Guerrero Jr., Luis Robert Jr., and Julio Rodriguez fit the mold for having a max exit velocity over 115 MPH and an age below 26 years old. I gave Pete Alonso the benefit of the doubt last year as a 27-year-old with a history of winning the event, but his price tag of +275 this year and being a year older makes his value unappealing to me.
Both Mookie Betts and Adley Rutschman are immediate stay-away candidates as they are not close to having a max exit velocity of 115 MPH. If you are going to play one of the long shots, Randy Arozarena has more value than Adolis Garcia. They have comparable max exit velocities, and Arozarena is two years younger, but I will not be personally betting on either Garcia or Arozarena.
Colby Olson's Official Home Run Derby Pick
Luis Robert Jr. +450 (1U)
Luis Robert has all of the traits you'd like to see in a home run derby winner. He hits the ball extremely hard, with a max exit velocity of 117.8 MPH in 2022. He already has 26 home runs this season and is hitting the ball in the air more than ever. Robert also has a very simple, snappy swing, which allows him to conserve energy and use time to his advantage, similar to Julio Rodriguez.
Julio Rodriguez +500 (1U)
How can I not take Julio in his home ballpark? Julio should be hungry to avenge himself after losing in the finals last year. At +500, that's too much value not to take a hitter that we've seen can get in a rhythm in an event like this, and as the youngest competitor, he has a huge stamina advantage. I also want to have a player on each side of the bracket this year. Last year both Julio and Soto fit the system, but I only played Julio. I'm not making the same mistake this year.
I also like Vladimir Guerrero Jr., but his value at +350 is not as enticing to me as Julio Rodriguez and Luis Robert Jr.
Peter Appel's Official Home Run Derby Pick
Julio Rodriguez +500 (0.5 U)
Julio not only falls into the system that's been incredibly profitable over the years, but the familiarity combined with it being at his home ballpark puts this over the edge. He proved he can stand with the best of them last year and only lost to a similarly younger player who fit the mold. I like the Luis Robert pick, but I have a hard time believing that he wins it on his first try. Juan Soto won it after losing in 2021. I also like Vladdy to compete, but I think Julio can outlast him.
Julio also has the best odds among the three participants that fit the system.