Analysis
Who Will Win the 2022 Home Run Derby?
Pete Alonso looks to win his third-straight Home Run Derby in a field of sluggers ranging from Albert Pujols to rookie star Julio Rodriguez.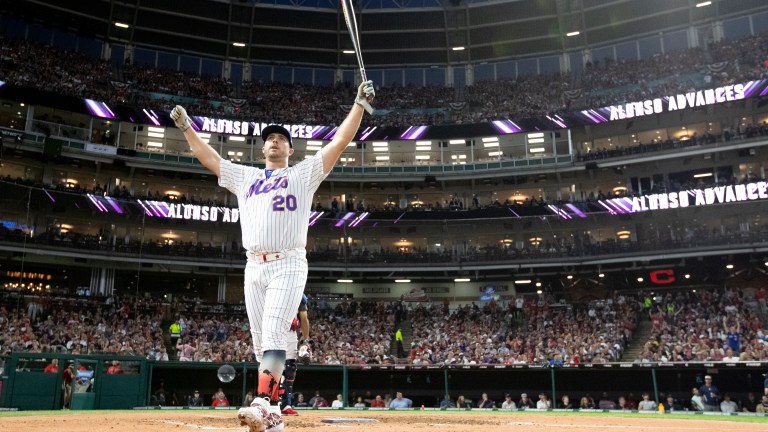 The 2022 MLB Home Run Derby will be held Monday night, July 18th, at Dodger Stadium starting at 8PM EST. Pete Alonso will be going for his third straight Home Run Derby victory against one of the most stacked fields in home run derby history.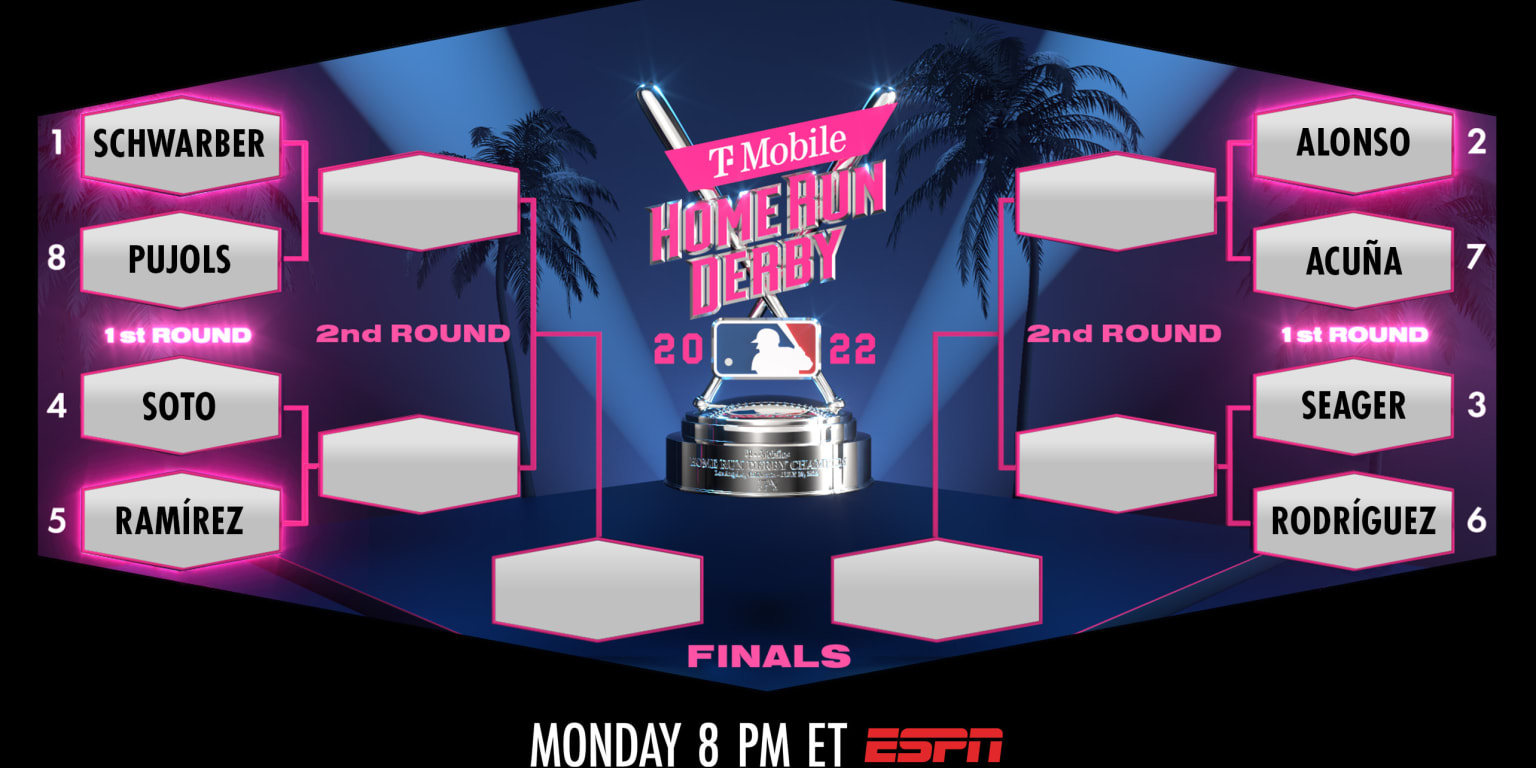 The field has combined for 143 home runs this season and Kyle Schwarber leads the field with 29 home runs. Last season I wrote an article predicting the home run derby winner based on max exit velocity and stamina. Using this method (and a bit of luck), I correctly picked Pete Alonso last season, but in a field with young and strong hitters, Alonso will have an uphill battle to the championship.
Before we dive into the analysis, let's first cover the rules of the competition because they've changed slightly since last year was in Coors Field.
Home Run Derby Rules
Each batter will have three minutes in rounds one and two and two minutes in the championship round to hit as many home runs as possible. Thirty seconds of bonus time will be granted to each hitter at the conclusion of the round and an additional 30 seconds can be earned by hitting at least one home run that exceeds 440 feet.
Past Winners
The Home Run Derby can be unpredictable due to the noise surrounding the round based event, but two traits, max exit velocity and stamina, separate past winners from the field. Players that can hit the ball as hard as possible will be able to hit the ball further and likely hit more home runs. The rapid fire nature of the competition also adds an element of stamina.
For example, Josh Hamilton hit 28 home runs in a single round in the 2008 Home Run Derby, but actually lost the competition to Justin Morneau as Hamilton was gassed from his historic round.
Max Exit Velocity
As exit velocity increases, potential home run distance also increases, which gives hitters a better chance to hit home runs even on slight mishits. Below are the winners of the HR Derby since 2015 and their max exit velocity from that season.
| | |
| --- | --- |
| Player | Max Exit Velo (MPH) |
| Pete Alonso 2021 | 118.4 |
| Pete Alonso 2019 | 118.4 |
| Bryce Harper 2018 | 115.1 |
| Aaron Judge 2017 | 121.1 |
| Giancarlo Stanton 2016 | 120.1 |
| Todd Frazier 2015 | 110.5 |
Max Exit Velocity from past HR Derby Winners
There has not been a Home Run Derby winner since 2016 with a max exit velocity below 115 MPH. Even second-place finishers Joc Pederson, Miguel Sano, Kyle Schwarber, Vlad Guerrero Jr. and Trey Mancini all had max exit velocities over 114 MPH. Todd Frazier is the only exception as he won in 2015 with a max exit velocity of 110.5 MPH, but I don't foresee a player with that low of a max exit velocity winning any time soon. The hardest hitters win.
Age is not just a number
The addition of a time limit instead of the traditional outs system increased the pace of the Home Run Derby. Players have three minutes with one timeout throughout the round, which creates a rapid-fire scenario. It's easy to get burnt out in the first and second rounds and not have enough gas in the tank to finish strong and win. It is hard to quantify stamina, but the basic assumption is that the younger players have fresher bodies and longer stamina.
| | |
| --- | --- |
| Player | Age |
| Pete Alonso 2021 | 26 |
| Pete Alonso 2019 | 24 |
| Bryce Harper 2018 | 25 |
| Aaron Judge 2017 | 25 |
| Giancarlo Stanton 2016 | 26 |
| Todd Frazier 2015 | 29 |
Home Run Derby winners age
Five out of the last six Home Run Derby winners have been 26 years old or younger. Players with a mix of strength and endurance, in the form of max exit velocity and age are built to win the Home Run Derby.
Picking the 2022 Home Run Derby
| | | | |
| --- | --- | --- | --- |
| Player | Max Exit Velocity (MPH) | Age | Betting Odds |
| Pete Alonso | 116.5 | 27 | +200 |
| Kyle Schwarber | 114.8 | 29 | +330 |
| Ronald Acuña Jr. | 116.6 | 24 | +600 |
| Juan Soto | 113.2 | 23 | +600 |
| Corey Seager | 111.3 | 28 | +900 |
| Julio Rodriguez | 115.0 | 21 | +1000 |
| Jose Ramirez | 111.6 | 29 | +1600 |
| Albert Pujols | 110.1 | 42 | +2200 |
Home Run Derby Odds via DraftKings
By the criteria put forth above, just three players, Pete Alonso, Ronald Acuña Jr. and Julio Rodriguez, fit the mold of having a max exit velocity of 115 MPH or greater and an age below 26 years old. Although Alonso is 27 years old, I am still including him as fit stamina wise as he's proven twice he has what it takes to win this event. I will also include Juan Soto in the above criteria as he had a max exit velocity in 2021 of 116.6 MPH.
With this information, the four players to focus on for picking the Home Run Derby winner are Pete Alonso, Ronald Acuña Jr., Julio Rodriguez and Juan Soto.
Colby's Official Pick
Julio Rodriguez +1000
I am picking Julio Rodriguez at +1000 to win the 2022 Home Run Derby. He has all of the traits of a derby winner: 115 MPH exit velocity, youth and elite swing speed. Last week, Mike Petriello released an article teasing a new update to Baseball Savant that will include max swing speed for all players.
For now, only Dodger Stadium and Minute Maid park have been tracking max swing speed, but of all the players tracked so far, Julio Rodriguez ranks first in max swing speed at 96.2 MPH above players like Giancarlo Stanton, Luis Robert, Pete Alonso, and Yordan Alvarez.
The value for Julio Rodriguez at +1000 is too juicy to pass up. The one question for Rodriguez heading into this competition will be if he can handle the pressure and noise, but for a rookie that has a 153 wRC+ since May 1st, he's shown he doesn't let the pressure bother him.
I believe Pete Alonso can win this event again, but I don't see the value at +200 in an event with a ton of randomness. Alonso will also have to go through Acuña and possibly Rodriguez to make the finals, so he has a tough path to three peat.
Peter's Official Pick
Pete Alonso +200
It's as simple as this, Pete Alonso is going for the first three peat in Home Run Derby history and has proven that he is unbeatable in this competition. He has elite max exit velocity and drives power from his massive legs. He is the clear favorite for good reason and it would be silly to put money on anyone else.
Player to Stay Away From
Corey Seager +900
The Dodgers fan favorite makes his return to Dodger Stadium for the first time since joining the Rangers on a massive contract in the offseason. Seager is on a roll this season with 22 home runs and a 1.190 OPS in July, but he lacks the max exit velocity to win this competition.